Reviewed by NEAL GENDLER
Harvey Pekar's conflicted lament over Israel would be more tolerable with more facts and fewer errors, and if Pekar ever had visited the country that so disappointed him.
Real, live Jews didn't produce the ideal state his Zionist parents evidently led him to expect and which he spends his last pages haranguing.
Pekar, who died in 2010, used his job as a VA file clerk in Cleveland as the basis for his acclaimed American Splendor comic books. The series of autobiographical comic books were adapted for film in 2003. He was also a book and jazz critic.
Not the Israel is a graphic memoir — like a hardcover comic book for thinking adults, a format I wouldn't have taken seriously until Art Spiegelman's Shoah masterpiece, Maus.
Pekar shared his parents' Zionism until he began to question nationalism in the 1960s and met leftists who criticized Israel. Their ideas grew on him after the 1967 war and he began, legitimately, to question Israel's morals in occupying territory.
Pekar tells artist JT Waldman of his upbringing, Jewish history and the evolution of his thinking on Israel as Waldman drives him around Cleveland seeking material for this book — a clever device, like a movie about making a movie.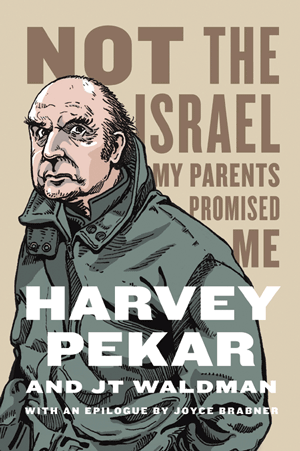 Waldman's black-and-white drawings are well done, some in the manner of eras about which Pekar is talking. Pekar is drawn in persona-capturing detail; others' faces, less vivid, skillfully suggest their natures.
As history, the book is less successful — useful for those knowing little about Jewish or Israeli history, but lacking some balancing details.
Pekar correctly blames Arabs for rejecting the 1947 partition plan and invading. To his credit, he includes Britain's nearly forgotten 1937 Peel Commission. After the 1936 Arab revolt, the commission recommended partitioning the area west of the Jordan — about one-third for Jews, the rest for Arabs. Jews agreed, Arabs refused.
He reminds that Vladimir Jabotinsky — who inspired Menachem Begin — was a founder of the Haganah in 1920, but Pekar too-simply lumps Begin's Irgun with the terrorist Stern Gang. More than once, lest we miss it.
Credibility is damaged by perspective-omitting simplification and by errors. Pekar says the refugee ship Exodus was "captured by the British Navy, which sent it back to France," then Hamburg, where "the refugees were forcibly removed."
In fact, the 4,500 refugees were packed into three British prison ships and sent first to a French port where they sweated nearly three weeks, refusing to debark. Journalist Ruth Gruber got aboard the Runnymede Park, interviewing refugees and taking pictures that included one that became Life magazine's photo of the week.
A full page says: "Many Jewish refugees spent [World War II] in detention camps in Cyprus." No. A few hundred refugees fled to Cyprus, but in 1941 the British moved them elsewhere. Britain created the notorious camps in 1946.
Waldman tells Pekar that he lived in Israel during the second intifada, and grew accustomed to "tank fire outside my window." Maybe so, but did I miss the huge news of Israel cutting down Arab mobs with tank shells?
The book raises serious issues, but Pekar's intensifying kvetch becomes annoying. So Israel didn't meet your hopes, Harvey? So sorry, but it's full of people, not angels. They've been besieged for 64 years, and you didn't move there to try to improve it. You didn't even visit to experience the gulf between Israel's reality and its militaristic, conflict-cauldron portrayal in Western news media.
Even the Almighty came down to see for Himself before condemning Sodom and Gomorrah.
Besides, what do Israelis owe you — or any of us who don't live there? They're the ones "in the arena," in Teddy Roosevelt's term.
Pekar ends up out of a Jewish arena. An epilogue by his wife and sometime collaborator, Joyce Brabner, shows his burial next to Eliot Ness, in a cemetery with gentiles.
***
Neal Gendler is a Minneapolis writer and editor.
(American Jewish World, 7.6.12)