Three Minutes in Poland: Discovering a Lost World in a 1938 Family Film, by Glenn Kurtz, Farrar, Straus and Giroux, 419 pages, $16
Reviewed by NEAL GENDLER
"Three minutes of film impose a harsh limit on the visible traces of Jewish Nasielsk," the Polish town of his grandfather's birth, says author Glenn Kurtz.
That's all Kurtz had, but he certainly made the most of it, using those minutes, plus copious research and a series of lucky coincidences, to build a picture of a community extinguished by Germany on Dec. 3, 1939. The film was shot by his grandfather David, visiting from the United States, on Thursday, Aug. 4, 1938.
"Through the brutal twists of history, my grandfather's travel souvenir became the only surviving film of this Polish town" northwest of Warsaw. Its Jews numbered 3,000 before the war, a scattered 80 after. Fewer still lived there in 2009, when Kurtz began a four-year, five-nation quest to learn the identities, lives and fates of those shown.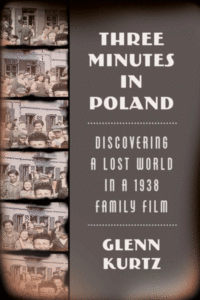 In Three Minutes in Poland, out this week in economical paperback with a new afterword, Kurtz tells how he found the film in a closet of his parents' Florida home in 2009, while coincidentally working on a novel about Jewish brothers who escape 1938 Vienna. The novel was framed by a woman plucking a reel of old documentary film from a flea market's trash.
"She becomes increasingly obsessed with the people in the film," Kurtz says. "Who are they? What became of them?"
Those questions would become his. He knew not to run the rotting film through a projector. He found and watched a videotape copy, then donated the film to the U.S. Holocaust Memorial Museum, which paid for a lengthy, painstaking restoration Kurtz describes in interesting detail. (See the film at: bit.ly/nasielsk-poland. At the museum's running speed, the two segments total 4 minutes, 17 seconds; on Kurtz's videotape, they ran just a little over three minutes.)
He felt the 16mm film, shot mostly in color, was historically important, but "everything meaningful, everything that explained what I was seeing, existed outside or was buried in the frame."
Archival research made inroads into the film's context, but by December 2010, Kurtz could learn no more and resumed working on his novel.
His big break came in December 2011, when he received an email saying that the granddaughter of Maurice Chandler had seen the film and recognized him as a boy of 14 in the foreground of one and a half seconds of film.
Kurtz responded quickly, soon connecting with Chandler — né Moszek Tuchendler — who had escaped the Warsaw ghetto and lived with fake Aryan papers as a farm worker.
"He was the film's Rosetta Stone," Kurtz says.
Chandler linked past and present, identifying people and buildings, explaining families and the community. He put Kurtz in touch with other survivors.
"It became possible to save this small Jewish community… from the fate of so many others that were also destroyed and that have now succumbed to the one-dimensional tyranny of lists," Kurtz says. Seeing Nasielsk's Jews leading normal lives, with no hint of impending doom, is sadly mesmerizing.
A survivor corrected the misimpression that the film was of Berezne, David's wife Liza's hometown, where German police and Ukrainian collaborators marched its 3,200 Jews out of town and shot them into pits on Aug. 25, 1942. Nasielsk's Jews were deported to ghettos on Dec. 3, 1939, most of them later sent to death at Treblinka.
The story of Kurtz's revelations and of the town are fascinating, and he writes clearly and engagingly, pulling you along rapidly. His recorded interviews charm us with survivors' cadences and fractured grammar like that of our immigrant grandparents.
Toward the end, names and relationships become a bit difficult to follow, which would have been ameliorated had the publisher paid for indexing. Annoyingly, abundant photos appear without captions, although placement and Kurtz's descriptions reduce or remove ambiguity. Kurtz favors Polish spellings that reveal their Jewishness when vocalized, sometimes by ignoring a "z" or using the German-style "j" as a "y." For example: Lejzor Finkielsztejn.
Kurtz eventually quit his novel. Near Three Minutes' end, he lists more than two pages of coincidences and connections without which there would have been no book.
"If this were the novel I had intended to write," he says, "these coincidences and connections would have felt contrived."
***
Neal Gendler is a Minneapolis writer and editor.
(American Jewish World, 11.20.15)