This impassioned debate about the prospects for human civilization is a profile in conscience
By MICHAEL FOX
It is not necessary for every new movie about World War II — and there are a surprising number each year — to reference the Holocaust. Even so, many moviegoers consider the calamities inextricably linked, as do most filmmakers.
Contemporary audiences have the benefit of hindsight, and as Jews we are particularly attuned to the Third Reich's crimes against civilians, so we never forget the genocidal campaign happening concurrently with the military operation — even if it's not the movie's focus, or isn't mentioned.
The Holocaust is alluded to only once in Diplomacy, Volker Schlöndorff's marvelously directed and beautifully acted film about the late-summer night in 1944 when Paris' fate hung by a thread of conversation. Yet that passing reference is arguably the crux upon which the high-stakes drama turns.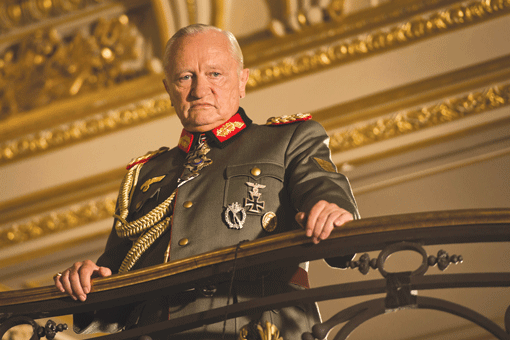 Adapted by Cyril Gely from his play and starring the great veteran French actors Niels Arestrup as German Gen. Dietrich von Choltitz and André Dussollier as Swedish consul Raoul Nordling, Diplomacy (opening Nov. 7 at the Edina Cinema) is at its core an impassioned debate about the prospects for human civilization.
Gen. von Choltitz, you see, has been recently dispatched to Paris with an order from Hitler to destroy the city when the Allies arrive. Choltitz has approved the wiring of explosives that will not only demolish Notre-Dame, the Louvre, et al, but will cause the Seine to flood, killing thousands of residents.
A loyal, seasoned officer, Choltitz has every intention of carrying out his instructions. It doesn't matter that no military advantage will ensue from turning one of the world's great cities to rubble; an order is an order. The logic behind the order is likewise of little interest to him, with revenge (for the bombing of German cities) constituting sufficient grounds.
Enter Consul Nordling, through a hidden entrance to the general's hotel headquarters that Choltitz was unaware of, with a nocturnal plea to defy Hitler's wishes. The impassioned Nordling delivers an array of arguments, all effortlessly rebuffed by Choltitz, but the diplomat does manage to reveal the man behind the uniform.
Not for the first time in movies (although it is a comparatively recent development), the German officer isn't depicted as a one-dimensional, sadistic true believer. He is an educated man with a wider worldview, albeit one only arrived at through the devastating realization that the Third Reich had irrevocably crossed serious lines under the influence of Führer-worship.
At one point in their verbal fencing match, Choltitz informs Nordling that early in the war he had unhesitatingly carried out an order to eliminate the Jews in a town on the Eastern Front. It didn't even occur to him to question Hitler's directive.
To Nordling — though he doesn't say it — and to us, no conceivable justification exists for the targeted murders of a minority. Choltitz, we gather, has reconsidered his behavior during that mass murder as the war ground on and Hitler lost his tenuous grasp on reality.
The question is whether Choltitz will, yet again, obey an immoral and indefensible order from his once-infallible Führer. His decision depends on whether he has enough character to acknowledge that he willingly participated in (at least) one heinous act.
Can a supposedly neutral diplomat outwit a general with his finger on the button? Can a Nazi officer rejoin the civilized peoples of the world? Even if you don't find the latter a compelling conversation starter, and you are well aware that Paris survived the war intact, Diplomacy is an expertly made and deeply rewarding profile in conscience.
***
Diplomacy, a Zeitgeist Films release, opens Nov. 7 at the Edina Cinema, 3911 W. 50th St.
(American Jewish World, 11.7.14)