By DORIS RUBENSTEIN
Earlier this year, the Twin Cities Illusion Theatre company presented a world premiere play with strong Jewish content, Dancing with Giants. Now, hot on the heels of that production, the Minnesota Jewish Theatre Company is presenting another world premiere — its seventh world premiere in the company's 22-year history: Natasha and the Coat, playing April 21 – May 13.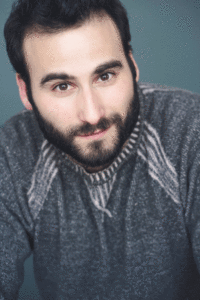 Playwright Deborah Stein admits that this premiere is "part kismet and part patience." It was in 2008 while Stein was a Jerome Fellow at Minneapolis' Playwrights' Center that one of the MJTC's familiar directors, Hayley Finn (who is the PC's associate artistic director), suggested that she submit it to MJTC's Artistic Director Barbara Brooks to consider for future production. Stein never dreamed that "future" might actually be 10 years!
"I assumed this was one that wasn't going to get produced," she admits, but "when Barbara called me with the good news, she said it was just the right time!"
Stein is a New York City native currently living in Los Angeles, commuting to teach playwriting at the University of California/San Diego. Her artistic activity has taken her across the country from Louisville to Boston to the Bay Area, and internationally to several European countries, picking up awards and acclaim along the way.
Growing up in Queens, the family was involved in the Reconstructionist synagogue and she became Bat Mitzva there. Additionally, in Queens she was involved in children's theater, but it was when she was introduced to the work of playwright Paula Vogel that she realized that "I could write plays about everyday experiences. Vogel has such empathy for all of her characters, regardless if they were a bad guy or a good guy."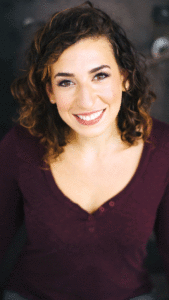 It is Vogel who forges a link between the playwright and Miriam Schwartz, who now plays the title role in Natasha and the Coat. Schwartz most recently was a featured performer in the world premiere of Vogel's critically acclaimed play Indecent at the Guthrie Theatre. Schwartz, Seattle native and graduate of the University of Minnesota/Guthrie Theater BFA Actor Training Program, is thrilled to be marking her seventh production with MJTC.
Schwartz says of her character, "Natasha is close to me, a practicing Jew, but not Orthodox." She grew up at Jewish Renewal synagogue in Seattle (where her father occasionally stepped up to the bima to lead services).
Playwright Stein sees Natasha as an alter ego. She admits that "certain of Natasha's biographical details are true to my life: my grandfather was in the garment industry; I worked briefly in '04 at a design firm that had connections owned by a Hasidic dry cleaner. I was moved by his entrepreneurial spirit. That interaction haunted me. It made me wonder about becoming friends with somebody from such a different background."
In Natasha and the Coat, Natasha has just started a fashion internship at an atelier in Brooklyn. When she clumsily spills coffee on a vintage fur coat, she takes it to the dry cleaner owned by Hasidic Jew Yossi, who restores it perfectly. With each piece of chic clothing Natasha brings to Yossi's shop, the two characters grow to realize the similarities and differences in their visions of their personal futures.
Yossi is brought to life by Twin Cities native Avi Aharoni. The product of a mixed marriage (Iranian/Israeli and Minnesotan Jewish parents), Aharoni grew up in Crystal.
"I always wanted to be an actor," he proclaims. And like playwright Stein, he started acting at a young age. "My first show was at the Sabes JCC in 2003. I was only 12 years old!"
Since then, he's performed non-stop at local venues such as Stages in Hopkins and even toured the country with the Minneapolis-based National Theater for Children. Internationally, he toured England with Stages and performed at Israel's English-language Renanah Guild Theater.
For a young man with a long résumé, this is still Aharoni's first performance with the MJTC.
"I've wanted to work with MJTC for a while. Miriam Schwartz tipped me off about the role in this play," he says.
Preparing for the role of a Hasidic Jew in Brooklyn was not as great a leap of character for Aharoni as one might imagine. To get a feel for Hasidim who exist on the fringes of their community, he viewed and reflected on the documentary One of Us. In addition, he says that "I have religious family in New York and Israel, so I think I have a good base of understanding their point of view."
So, like Yossi and Natasha, you might want to get out of your comfort space (or easy chair) and head over to the MJTC to see and celebrate this world-premiere play. However, you might want to leave your fancy coat at home!
***
Natasha and the Coatruns April 21 – May 13 at the Highland Park Community Center, 1978 Ford Pkwy., St. Paul. For information visit mnjewishtheatre.org.
(American Jewish World, 4.20.18)