Killing a King: The Assassination of Yitzhak Rabin and the Remaking of Israel, by Dan Ephron, Norton, 336 pages, $27.95
Reviewed by NEAL GENDLER
Yigal Amir believed that killing Prime Minister Yitzhak Rabin would prevent transfer of the ancient Jewish heartland to Arab control, and he was willing to die to do it.
Apparently it didn't occur to Amir that Rabin's successor also might fulfill the turnover of lands and authority under the agreement called Oslo II. The deputy prime minister was Shimon Peres, and where Rabin had been cautiously determined to make peace, Peres was ardent.
Whether Peres could have developed Rabin's careful rapport with Palestinian Authority leader Yasser Arafat, and whether Arafat would have kept his part of the deal, remains unknown.
Rabin's assassination at a pro-peace rally on Nov. 4, 1995, "triggered a violent backlash by both Palestinians and Israelis opposed to the conciliation process," says Dan Ephron in Killing a King, which the former Newsweek Jerusalem bureau chief calls his "detailed account of [Rabin's] murder and the two years leading up to it."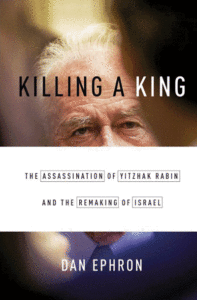 Ephron combines news reports, interviews and video recordings of investigators' interrogations to create a compelling account of how Yigal Amir and his older brother, Hagai — religious, middle-class students living with their Yemini Jewish parents in Herzliya — discussed their perceived need and different means to get Rabin.
"According to Judaism, killing a king is profoundly significant," Hagai wrote from prison soon after the killing. "It affects the entire nation and alters its destiny."
Modest Rabin wasn't a king, but his murder sent Israel into shock; it was unthinkable. The last suspected assassination had been in 1933, when Chaim Arlosoroff was shot on a Tel Aviv beach, an unsolved crime for which Israel's left blamed the right for decades.
"Yigal Amir had done his part to tip the balance in the right's favor by killing the one man who had both a vision for peace with the Palestinians and the public confidence to keep it going, even in the face of terrorist attacks," Ephron says.
In the months between the assassination and 1996 elections, Palestinian Arabs began horrendous suicide attacks that — along with rockets from Lebanon and an ill-fated operation to stop them — discredited Peres and dreams of peace. Peres lost narrowly to Likud's Benjamin Netanyahu, who was not an Oslo agreement enthusiast.
Unregretful Amir told investigators that the killing "needed to be done." He's serving a life sentence, forbidden to talk to journalists. Ephron's interviews do include Hagai, who was released in 2012 after serving 16 years in prison; his mother, Geulah; Rabin's widow, Leah, and daughter, Dalia; Rabin's chief of staff, Eitan Haber; Peres; and witnesses. He also draws from Shin Bet between the Schisms, by Carmi Gillon, then head of Israel's internal security agency, responsible for the prime minister's safety.
The result is credible and revealing.
Hagai, who'd accumulated and hidden explosives, created custom bullets that would penetrate bullet-proof vests, which Rabin was not wearing, for Yigal's 9mm Beretta. Yigal thought himself "a link in a chain of Jewish rebellion and zealotry," from the Maccabees to the pre-state underground, and sought to create a militia, Ephron says. The brothers decided they "would risk spending years in jail… to prevent Rabin from surrendering parts of Eretz Yisrael."
(Hagai was detained Oct. 27 on suspicion of incitement after a Facebook post saying Rabin's murder "was preordained and that God would also cause [Israeli President Reuven] Rivlin to 'pass from the world,'" according to Ynet news. This followed Rivlin's pledge not to release Yigal during his presidency, Ynet said.)
Hagai refused to die for the cause, but not so Yigal, who went to a mikva and said a pre-death confessional prayer, vidui, before attempts on Rabin.
Ephron describes Shin Bet's failures to follow tips on Yigal's indiscreet statements about the need to kill Rabin, and of security guards' failure to confront him as he sat in a supposedly secure area for 40 minutes until Rabin left the stage.
Killing a King seems to suggest rather strongly that Rabin could have bridged substantial differences to conclude peace. The book, with an uncommonly good index, includes a marginally related account of the kidnapping and failed rescue of Israeli corporal Nachshon Wachsman.
The Amirs' objective was to kill Rabin in order to prevent turning over Judea and Samaria to the Palestinian Arabs, the end point for a peace that may or may not have followed. With two bullets, the brothers achieved both of their objectives.
***
Neal Gendler is a Minneapolis writer and editor.
(American Jewish World, 11.6.15)