Kill Your Darlings will open Nov. 15 at the Uptown Theater in Minneapolis
By MICHAEL FOX
When Allen Ginsberg left home for the first time, to attend Columbia University, the characteristics that formed his identity—dutiful son, frustrated caretaker, intellectual Jew, unacknowledged homosexual and aspiring poet—collided with life-changing force.
As depicted in filmmaker John Krokidas' mesmerizing and propulsive feature debut, "Kill Your Darlings," the catalyst was a worldly student named Lucien Carr, who became Ginsberg's first (albeit unrequited) love and introduced the wide-eyed freshman to a circle that included William Burroughs and Jack Kerouac.
The film portrays an unformed, socially awkward Ginsberg, movingly played by Daniel Radcliffe, buffeted by awakened hormones, literary inspiration, amphetamines, Jewish guilt and anti-Semitism.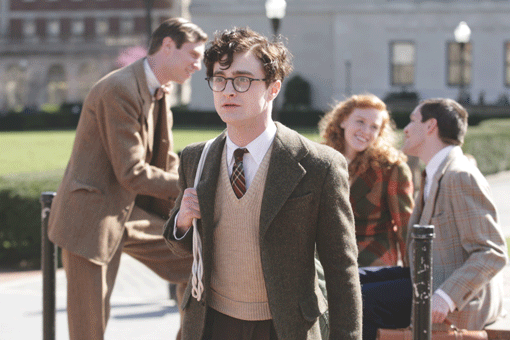 "We didn't want contemporary audiences to forget the way things were back then," Krokidas said in a recent interview at a San Francisco hotel.  "And that includes the fact that a Jewish student would have his religion and cultural heritage brought up in conversation."
During World War II, Krokidas notes, there was a lot of anti-Semitism in the U.S. and even at Columbia, where a quota on Jewish students existed.
"'Kill Your Darlings' is a story about an artist finding his voice, which as Allen Ginsberg includes not only his sexuality but his Judaism," Krokidas declares. "I felt it important to make sure that we weren't whitewashing or ignoring that [anti-Semitism] was definitely one of the struggles that he came up against as a young Jewish man in 1944."
"Kill Your Darlings' opened in selected cities Nov. 1. The movie will debut in Minneapolis on Nov. 15 at the Uptown Theater, 2906 Hennepin Ave., Minneapolis.
Krokidas was raised in a suburb of New Haven, Connecticut where "the Jews outnumbered the non-Jews and you knew how popular you were by how many Bar and Bat mitzvahs you were invited to, so I never knew growing up that Jews were considered a minority." His mother's mother was Jewish, and so was his stepfather; his younger half-brother was Bar Mitzvaed.
Like Ginsberg, Krokidas grew up with an emotionally ill parent, and one deduces—in conversation and from the film—that this shared experience was one of his main motivations for devoting 10 years to writing, developing and making "Kill Your Darlings."
"Allen Ginsberg at that time in his life, when we did our research and looked at the oral histories and ultimately got to look at his adolescent journals, was an emotional caretaker," Krokidas explains. "He was the family member who took care of his mother (played by Jennifer Jason Leigh). Those of us with emotionally ill parents who took care of them know that that becomes somewhat a theme for life. Look who he falls in love with when he gets to school: An extremely charismatic and seductive yet most likely emotionally ill young man (Lucien Carr), who he starts taking care of."
"Kill Your Darlings" excavates a forgotten footnote to the poet's biography that climaxes with obsession, betrayal and murder. While the first year away at college is a period of exploration and growth for most people, in Ginsberg's case it was dramatic, traumatic and life altering.
The filmmaker, who wrote the screenplay with his college roommate and best friend Austin Bunn, confides that Jesse Eisenberg originally signed on as Ginsberg. But after "The Social Network," the actor decided not to play another Jewish Ivy League college student.
Radcliffe, whose mother is Jewish, was subsequently cast and embraced the role with singular dedication, Krokidas says. The filmmaker has Radcliffe's reading of "Howl" on his iPhone, which would make a one-of-a-kind DVD extra.
"The danger that I worried about is I've seen when people tackle famous Jewish characters, they overdo the accents and it becomes a parody of the character," Krokidas says. "So Dan and I worked really hard on listening to early Allen Ginsberg recordings. We didn't want to mimic who he'd later become. It's like a bad wig. It does more harm than good."
Krokidas was determined to avoid the clichés of dusty biopics and to make a visceral film that would connect with younger audiences, whether they'd heard of the Beats or not. Radcliffe's presence, as much as Ginsberg's reputation, will presumably attract moviegoers receptive to the film's overarching theme.
"I was fascinated," Krokidas says, "with the idea of being young and wanting to say something authentic, do something different, make a difference in this world and not just be the person their parents wanted them to be, or what school is teaching them to be."
***
Michael Fox writes about film from San Francisco, California.
(American Jewish World 11.8.13)