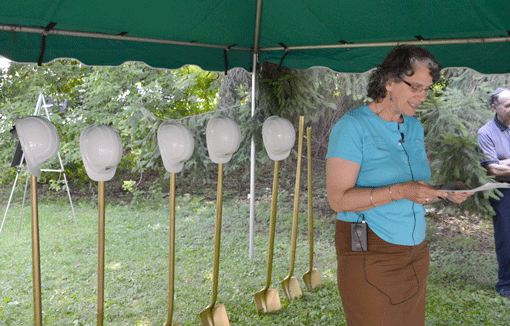 Judy Shapiro, president of Congregation Darchei Noam, read a poem at the groundbreaking ceremony for the new synagogue. (Photo: Mordecai Specktor)
Members of Congregation Darchei Noam attended a groundbreaking ceremony on Sunday for a new synagogue that will take shape on the corner of Minnetonka Boulevard and Joppa Avenue, in St. Louis Park.
The Orthodox congregation, which is comprised of about 60 families, has been meeting at nearby St. George's Episcopal Church, but will soon have its own 5,000-square-foot synagogue.
Representatives of the construction company, Vanman Architects and Builders, and Jay Isenberg, of the Isenberg + Associates architectural firm, took part in the ceremony. Also,  Nisso Khabie and Brett Fine, building committee co-chairs, gave short talks. Rabbi Joseph Ozarowski, Darchei Noam's spiritual leader, delivered a d'var Torah and commended the congregation for embarking on the momentous building project. — M.S.