Since launching in the 1980s, number of festivals in U.S. has grown to an estimated 100
 By HEATHER PORTER
BOSTON (JTA) — At the opening-night celebration of the Boston Jewish Film Festival's 25th birthday, festival volunteers handed out deli-made kugel for ticket holders to nosh while waiting on a line that extended back to the parking lot.
Once inside the Coolidge Corner Theatre in Brookline, the celebration last week continued with a performance by a student jazz ensemble from the Berklee College of Music and tributes to the festival and its founder, Michal Goldman.
That was followed by the Massachusetts premiere of The Zigzag Kid from the Flemish filmmaker Vincent Bal, who at 3 a.m. Belgium time participated in a post-screening Q&A via Skype.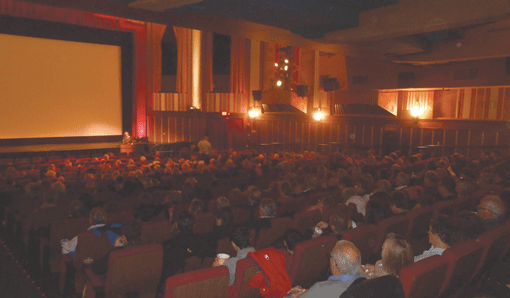 "Some people only connect to their Judaism by coming to the festival," said Judi Burten, a longtime attendee. "Many don't go to synagogue, but they come to the festival religiously."
At a time when Jewish arts professionals have grown concerned over waning communal support for their endeavors, Jewish film festivals continue to thrive.
Since Jewish film festivals in the United States were launched in the 1980s, the field has grown dramatically. Estimates vary, and depend to a degree on what qualifies as a film festival, but the total number ranges from 60 to well over 100 across the country.
There are large festivals in major Jewish centers such as New York, Atlanta, Los Angeles and Philadelphia, and smaller festivals in places like Omaha, Neb.; Baton Rouge, La.; Jackson, Miss.; Honolulu and Fairbanks, Alaska (the Farthest North Jewish Film Festival).
In Dayton, Ohio (Jewish population: 3,500), the festival reported a 25 percent increase in attendance in 2012 over the year before, and an additional 11 percent increase in 2013. The festival remains "one of the largest programs that the federation runs," said Jane Hochstein, the director of the Dayton JCC.
In the south, many Jewish film festivals owe their existence to the Goldring/Woldenberg Institute of Southern Jewish Life, which runs programs to support Jewish life in 13 states. The institute's president and CEO, Macy Hart, hired the director of the San Diego Jewish Film Festival, Lynette Allen, to create Jewish Cinema South, a now-defunct program that launched a host of successful festivals, including those in Nashville, Houston and Mobile, Ala.
Several cities, including Philadelphia and Chicago, have separate festivals devoted exclusively to Israeli films. That's in addition to the Israel Film Festival, which screened six films in New York in its inaugural year of 1982 and now draws thousands to viewings in Los Angeles, New York and Miami. The Israeli festival also has drawn a succession of high-profile Hollywood honorees and presenters over the years, including Sacha Baron Cohen, Danny DeVito, Kirk and Michael Douglas, Dustin Hoffman and Bette Midler.
"My vision when I moved to Los Angeles was to reach the Hollywood community and to attach it to the Israeli film community," said Meir Fenigstein, the Israel Film Festival's founder. "Hopefully I made it happen."
Isaac Zablocki, the director of film programs at the JCC in Manhattan, started a coordinating body several years ago for the organizers of Jewish film festivals. The Jewish Film Presenters Network now has a mailing list of more than 250 people.
The network, which sold out its June conference in New York, aims to help festivals share knowledge and ideas, as well as establish standards of practice.
"We get hardly any support for this conference that is so clearly needed," Zablocki said. "Everyone says that community support for the arts is disappearing, but the Jewish film festivals keep getting bigger. It's the way more people connect to Judaism than anything else, but the organized Jewish community doesn't recognize that."
Lisa Rivo, co-director of the National Center for Jewish Film, attributes the growth of Jewish film festivals to the broader growth of the international film festival circuit. The center has long had a relationship with Jewish film festivals throughout the country.
Esther Broner: A Weave of Women, about the famed women's rights advocate, was produced with the film center's assistance and will screen at the Boston festival on Nov. 17.
"By any yardstick, we would say that most of these festivals are really quite successful," Rivo said.
The Boston festival was inspired by the one in San Francisco, which is regarded as the country's first Jewish film festival. Goldman attended the San Francisco event in the 1980s, and the experience inspired her to make a film about klezmer music, A Jumpin' Night in the Garden of Eden.
With support from the philanthropist Norton Sherman, Goldman screened two classic Yiddish films at Boston University in 1988 that drew a crowd beyond the 200-seat auditorium's capacity.
"We weren't thinking about doing a festival yet," Goldman said.
The Boston festival was launched the following year at the city's Museum of Fine Arts and ran for about a week to sell-out audiences. In 1991, the festival scheduled additional screenings at the Coolidge Corner Theatre
This year, the festival expects to draw more than 10,000 people to more than 40 films screened over 13 days at 12 venues around Boston, including the Mugar Omni Theater at the Museum of Science, home to the world's largest, five-story-tall IMAX screen.
Among the films are a world premiere mockumentary, two North American premieres of Holocaust films from Russia and Germany, a midnight screening of the Israeli thriller Big, Bad Wolves and a screening of the Israeli smash hit Bethlehem.
Approximately 20 percent of festival revenue comes from ticket sales and 2 percent from Boston's Combined Jewish Philanthropies. The bulk comes from individuals and family foundations, with some additional support from the state and the National Endowment for the Arts.
In Boston, Goldman sought to create an independent festival "where anything can be seen and anything can be discussed, however risky.
For the most part, Boston has steered clear of the controversies that have dogged other festivals — most notably the firestorm that erupted in 2009 after San Francisco screened the documentary Rachel, about the American activist Rachel Corrie who was killed in Gaza in 2003 while protesting Israeli housing demolitions. Several board members resigned in protest and funding guidelines for controversial programming were instituted in 2010 by the San Francisco federation.
But for leaders in the Jewish film community, the value of the festivals is less about the controversies they provoke than the sense of community they help build.
"Just to see the material getting out there and the diversity of people buying tickets … and going out to be with other people," Rivo said. "I mean, this is what it's all about."