By MICHAEL A. APPLEMAN
I was terrified, not sleeping a wink. Will I be detained? Will I be falsely charged? The Castro regime is misconstruing tzedaka with espionage.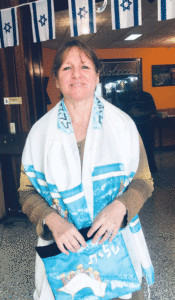 Recently, on Jan. 7, I brought two suitcases filled with Judaica and humanitarian items to Bet Shalom Synagogue, in Havana, Cuba. The wonderful and generous Women's League at Beth El Synagogue, in St. Louis Park, contributed beautiful kipot and a gorgeous tallit; the Hallberg family donated backpacks and toiletries; and the Chabad of Grand Cayman donated 50 Jewish calendars. Hella Eskanazi, director of the Hebrew school, accepted these donations from a Minnesotan living 2500 miles away.
Unbeknownst to me, however, while I was at shul delivering those items, a Cuban immigration officer was hunting me down at my private, rented home. He gave a Spanish note to the house-guard: "Michael Appleman… Inmigracion… Enero 8, 10 a.m.… Calle 20 / 5 y 7." The immigration officer returned to confirm that I was served with the informal summons.
I was petrified, shocked and bewildered. How did the regime know my whereabouts? Why interrogate me? Why are they watching me? Suspected espionage?
No sleep that night — obsessing, tossing and turning. For the last dozen years, I executed numerous, successful and deeply satisfying humanitarian trips. Something was profoundly awry.
My interrogation, to be sure, would be with a non-English-speaking officer. I only spoke essential Spanish. I needed help forthwith. I had less than 12 hours.
Obstacles! The American embassy was closed by Trump after allegations of sonic attacks by the Cubans. In 2009, Alan Gross, an American Jew, was watched, charged, wrongfully convicted and sentenced to 15 years for espionage. Rotting in jail, Gross lost 100 pounds and five teeth. He was denied visitation with his daughter and mother in the U.S., both of whom had cancer. He was released five years into his sentence. It was an international prisoner exchange crisis — one Jew for five Cubans in U.S. prisons.
I needed help, yet there was nowhere to turn. Fortunately, I befriended a history professor, Alberto, at the University of Havana. He published 30 books. He spoke fluent English. When I talked to him, he said, "If you do not go to the interrogation, you will be detained at Jose Marti Airport. You will not leave Cuba."
At 10 a.m. sharp, on Tuesday, Jan. 8, in a small Russian car, we arrived at the immigration building in Miramar, just outside of Havana. I never would have found the building. After seven wrong offices, we finally found Señor Guerra. He was too busy. After waiting for a half-hour in intense intimidating limbo, I was referred to a female officer.
She shouted, "Pasaporte, visa. Porque estas en Cuba?" She wanted my passport and visa. "Why are you in Cuba? Do you have Cuban friends?" she demanded.
Through my interpreter, professor Alberto, I told the officer that "I love Cuban music, art and the people." She looked at me sternly. She was not swayed. She was going to transfer me to her fellow officer.
I then asserted, "I am Jewish. I pray at Bet Shalom Synagogue. I help the Jewish congregants."
She responded in disbelief, "How do I know you are telling the truth?"
The intense interview was rapidly deteriorating. I was deeply concerned that my wife, Mickey, would attempt to pick me up at the airport the next day, but there would be no one to pick up.
I had an epiphany. I had a divine intervention from HaShem. The night before, I had made the decision to bring Hella Eskenazi's business card to the meeting. The card announces, clearly, that Hella is the director of the Hebrew school at Bet Shalom. The immigration officer dubiously took the card and my passport to a different room. "I shall return," she said.
The direction of the interview dramatically changed, for the good. The officer called Hella at the shul to verify my humanitarian work.
The officer smiled and asked, "What do you bring the Jews? How much money do you give them?" When I answered, "religious articles and a few pesos," I was equally shocked. She warmed up to me and said, "The Cuban government believes you and embraces what you do for the Jewish community. We want you to continue to do your work. We want you to visit our country often. There will be no future problems with immigration."
Professor Alberto and I got up and briskly walked away. Out of hearing distance, he said, "It was brilliant that you brought Hella's business card. She called her and verified your work."
To be sure, I was detained but not deterred. The American Jewish Joint Distribution Committee amazingly supports Cuban Jewry. That, however, is not enough. Foreigners, including Americans, need to pray with and help the Cuban Jews.
When you go to Cuba, bring a tallit, a backpack, a nice pen or notebook. Give it to Hella Eskenazi, director of the Hebrew school. Your tzedaka will be given back to you in the most unforeseen, helpful manner.
***
Michael A. Appleman, Ph.D., led a Beth El Synagogue humanitarian mission to Cuba. He sponsors art exhibits for Jewish causes. He and his wife, Mickey, founded Cubano Gallery (CubanoGallery.com) to support Cuban artists and humanitarian work. He can be contacted at: appleman.michael@gmail.com.