The show — a story of friendship between a man and a red balloon — is intended to evoke the joys of recognition and discovery
By DORIS RUBENSTEIN
Balloonacy, now playing at the Children's Theatre Company (CTC) showcases the considerable talents of two of the most acclaimed Jews in the performing arts today whose names you almost never hear. This situation goes to the extreme in Balloonacy, considering that you don't really "hear" the play, either.
Balloonacy is done entirely in mime, inviting its intended audience of "under fives" and their parents to fill in the silence with their own thoughts and feelings about what is happening on stage. And how much is happening!
The sole human performer, "The Old Man," and his unexpected new friend, a red balloon, have a wild and crazy birthday party full of fun, food, games, magic and other surprises — all intended to evoke the joys of recognition and discovery in those in the seats.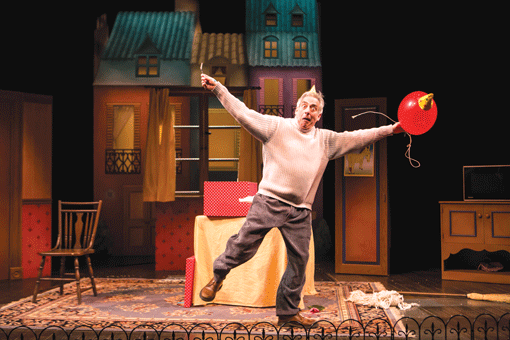 Seeming to be a one-man show, Balloonacy is really an ensemble production, including its headliner balloon. Victor Zupanc's original score provides musical offerings that set and enhance the mood of the moment while providing the young audience with their first introduction to the sounds of France; the use of the concertina evokes a street musician entertaining casual diners near the Place de l'Opéra, and "La Marseillaise" will have them wondering, years from now, "When did I first hear that song?"
Annie Katsura Rollins' backdrop of a residential street in Paris took me back to my brief stay at a small hotel on the Rue de Bac. All that was missing were the window boxes of geraniums. Rebecca Fuller Jensen's lighting works hand-in-glove with Zupanc's score to accentuate the Old Man's joys and sorrows that he displays generously over the course of the play's 30 minutes.
The two Jewish members of the ensemble, referred to above, are Robert Dorfman as The Old Man, and playwright Barry Kornhauser. Neither of these two artists are strangers to the Twin Cities theater scene, and Dorfman (wisely) has decided to forsake his former bicoastal life to settle permanently in our town(s).
Kornhauser has been honored multiple times for his writing, receiving the Helen Hayes Award for Outstanding Play, among other prestigious honors. Balloonacy is the winner of the American Association of Theatre in Education Distinguished Play Award. This is his fourth play written for CTC.
His commitment to Jewish themes shows in many of his works. Having completed Balloonacy, his attention is now focused on adapting the National Jewish Book Award winner The Devil's Arithmetic by Jane Yolen for the stage. On top of that, he is an organizer of a major Holocaust conference being held this month at Millerville (PA) University, where he is a faculty member.
Robert Dorfman's versatility is evident to Twin Cities theater-goers. Just this season, he has performed in the Guthrie Theatre's production of Anton Chekhov's Uncle Vanya and played the title role there in Freud's Last Session.
His flexible talent was groomed first at the Clown College of the Ringling Brothers/Barnum and Bailey Circus in Sarasota, Fla. From there, the Brooklyn native returned to New York City for his classical training.
"My mom was a typical, cautious Jewish mother," Dorfman recalls, regarding his desire to join the circus at age 20. "But my dad was out to help me achieve my destiny and he bankrolled my costs in Florida."
Dorfman hasn't been a shanda to his parents. His résumé reads like a guide to the best in television, cinema and the stage, with performances on Boardwalk Empire, L.A. Law and Murphy Brown, among dozens of others. Despite his Brooklyn roots and the wandering life of an actor, it's the Guthrie Theatre that Dorfman considers his artistic home.
"Garland Wright's Marriage of Figaro was the production that put me on the show business map," he declares.  "Wright and Liviu Cuilei mentored me and I keep returning there."
It was the Guthrie's 2006 season production of The Merchant of Venice — where Dorfman played Shylock — that opened his eyes to the Twin Cities Jewish community. It was a controversial production, but he felt strongly about that particular interpretation of Shakespeare's play — and made his point by traveling from synagogue to synagogue explaining the message.  Now that he has committed to making his life in Minnesota, he wants to expand and share his interest in Jewish literature with the community.
The last piece of the ensemble puzzle, both Kornhauser and Dorfman agree, is CTC Artistic Director Peter Brosius. His commitment to commissioning and staging new plays for diverse audiences of children is unparalleled in the United States, they insist.
Balloonacy is the latest in the CTC's Early Childhood Initiative, supported by the Sheltering Arms Foundation and Thrivent Financial for Lutherans Foundation. The Jewish community should support it by all bubbes and zaidies taking their littlest grandkids to see this show.
***
Balloonacy runs through May 4 on the Cargill Stage at Children's Theatre Company, 2400 Third Ave. S., Minneapolis. For tickets and information, call 612-874-0400 or visit: www.childrenstheatre.org.
(American Jewish World, 4.11.14)