Pamela Gaard's Shalom/Nabad exhibit serves as a bridge to connect with those in the Minneapolis Somali community
By DORIS RUBENSTEIN
When I think of famous Jewish painters in history, many names come to mind: Marc Chagall, Yaakov Agam, Camille Pissarro et al. But there's only one who gained real fame with portraits:  Amadeo Modigliani.
His work has a distinct style of elongated faces and figures. When you see a Modigliani, you know it's a Modigliani.
Pamela Schloff Gaard's early work — now on exhibit in a show titled Shalom/Nabad at the Traffic Zone Center for Visual Art — has a similar hallmark style: angular faces looking at you from the corners of oval eyes. Shalom/Nabad demonstrates Gaard's evolution not only as an artist, but as a link between two cultures in the Twin Cities: the general public and Somali immigrants.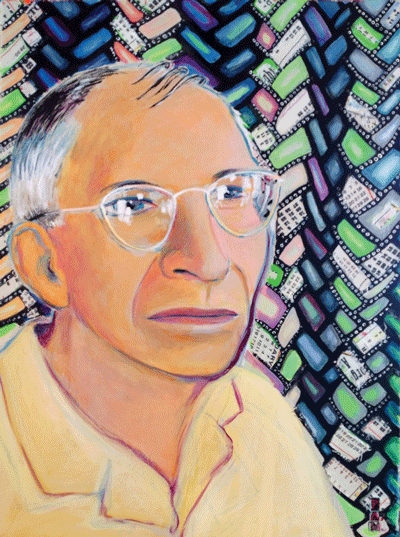 Gaard was born on Minneapolis' North Side and moved with her family to St. Louis Park, where she was enrolled in religious school at Beth El Synagogue.
"All my friends became Bat Mitzva, but not me!" she declared. "I preferred going to the parties."
After graduating from high school, Gaard indulged her love of art at the Minneapolis College of Art and Design (MCAD), but eventually landed at an organic farm in Wisconsin. This gave her the grounding to complete a degree in nutrition.
Along the way there was a marriage, two kids and another marriage to popular Twin Cities artist Frank Gaard. It is his distinctive cartoon-like style that strongly influences Gaard's early portraits.
Gaard admits to always having the artistic inclination, and she made the most of what was available to her in her childhood home. Her family business was in schmattes (fabrics and garment supplies), and several portraits in Shalom/Nabad are really collages of acrylic paint, cloth and other decorative items.
Her portrait of her father, Irv Schloff, contains scattered snippets of old cloth calendars; they symbolize the passage of time and distance for her now 89-year-old dad.
Portraits of her Twin Cities friends, including local Jews such as artists Lu Lippold-Johnson, Paige Dansinger and Ann Silver, might explain the Shalom, but it's the portrait of Matt Spector that best represents the connecting spirit of the show. Spector's face is set against the background of an Islamic-design screen.
Soon after Gaard finished the painting, Spector left to do relief work with Somali refugees in the Dadaab camp in Kenya. This painting marks a transition in Gaard's style and her artistic life.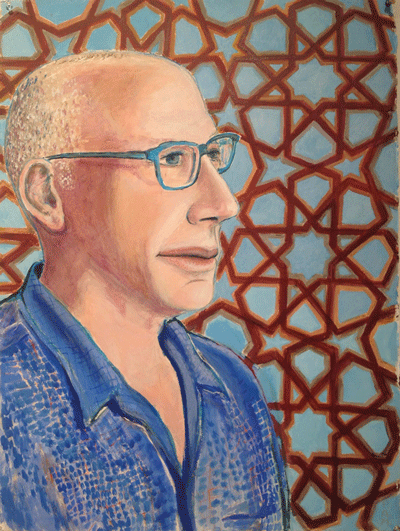 "Nabad" is an approximation of a "Shalom" greeting in Somali. Several years ago, Gaard began work as a consulting dietitian with Somali refugees in Minneapolis. She wanted to paint their portraits, but struggled to overcome the Muslim taboo against human imagery.
Instead, she began an art project involving writing proverbs, assisted by groups of elders at the locations where she does food consulting. Gaard brought art supplies, including old vinyl records and unwanted CDs to paint proverbs on; they are part of the exhibit.
Her research led to the trove of Jewish proverbs, including Yiddish sayings, and even sayings that have become proverbs in American culture. As a result, when Somali co-workers saw her portraits, their curiosity and artistic interests led some to ask for portraits — first a nurse and then a van driver.
After seeing these hand-made pictures that were not photographs, some elders in the community also began to show interest in having their portraits made.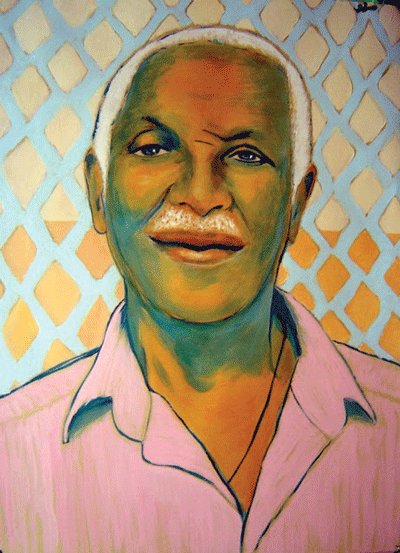 Gaard's portraits of the Somali community are far more photographic than the earlier portraits of her other Twin Cities friends. The early ones were done from life in a short sitting; the later ones are taken from photographs and allow her to include more detail and embellishment.
Each person represented in this large show has his or her own story. This is a problem for the unaccompanied visitor to the gallery. The show lacks any kind of curation: no explanation of the artist, of the person in the painting, how and when they came to be painted or the technique — not even a title plate.
And there is no translation of the Somali or Hebrew/Yiddish words or proverbs. If the show intends to help cross cultural and social barriers, it needs to be more explicit.
Of course, it is always fun for the audience of such shows to make up its own stories about the persons depicted on the walls. And there is one person represented on canvas in the show who bridges the gap, but remains a mystery even to the artist: a man named Rade, an Ethiopian Jew who speaks only Amharic and who has disappeared from the East African community.
Have you seen him at your synagogue? Come to the Traffic Zone to see if you recognize him.
***
Shalom/Nabad is on display through March 7 at the Traffic Zone Center For Visual Art, 250 Third Ave. N., Minneapolis.
(American Jewish World, 2.14.14)