Twins players and coaches laud the accomplishments of their lefty in the bullpen, and hope for another stellar season
By MORDECAI SPECKTOR
Craig Breslow, a left-handed relief pitcher for the Minnesota Twins, had his most active and successful season in the Big Leagues last year (7.4-11.08 AJW).
The only Jew and the only Yale grad (molecular biophysics and biochemistry) on the Twins roster, Breslow, 28, started 2008 with Cleveland, and was claimed off waivers by the Twins last May.
After seeing limited action over the years with San Diego, Boston and Cleveland, Breslow pitched in 42 games for Minnesota — not allowing a run to score in his first 11 outings — and posted a truly impressive 1.91 ERA. The earned run average was second best among American League lefty relievers who posted more than 35 innings pitched.
The personable Twins pitcher talked with the AJW last week, before the final tilt of the four-game series with Toronto.
There's no real job security in the top ranks of professional baseball, but Breslow, after doing well during the 2008 season, was confident about regaining his spot in the Twins bullpen this year.
Breslow said that he thrives on the regular work. "I'm the kind of guy where the more use that I get, I feel the sharper I am. The more times that I got run out there, the more effective I am."
He mentioned that his off-season training regime was geared "to prepare for the season, as opposed to spring training," where he planned to "hone and fine-tune some things."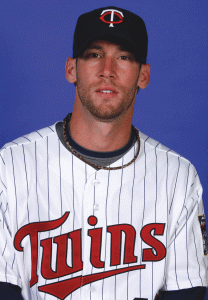 Twins coaches and players like the way Breslow threw strikes and worked out of tough situations last year.
"He had a wonderful year last year," commented Rich Anderson, the Twins pitching coach. "We've always liked the way he throws the ball."
And Breslow also is gaining a fan base in the local Jewish community.
"There have been some people who have reached out to me," Breslow said, and explained that his summer schedule makes it "pretty tough" to attend events away from the ballpark. "I appreciate anyone who reaches out and kind of looks to embrace me."
Perhaps Breslow will contact the local Jewish community, in connection with the Strike 3 Foundation, his charity for pediatric cancer research. Breslow's older sister, Lesley, was diagnosed with cancer at the age of 14; Breslow was 12, and recalls that it was a traumatic time for his family.
Breslow's sister has been cancer-free for 15 years now; but Breslow is using his fame as a professional athlete to raise funds for pediatric cancer research through CureSearch, a partnership between the National Childhood Cancer Foundation and the Children's Oncology Group. A successful fundraiser held near Breslow's hometown of New Haven, Conn., last November raised about $100,000.
After Breslow went back upstairs to the Twins' clubhouse to prepare for the game with the Blue Jays, the pace of activity quickened out on the Metrodome playing field. And a question came to mind: Does a pitcher with an agile and analytical mind have an advantage on the mound? In other words, do brains — coupled with science studies in the Ivy League — help a pitcher?
"I don't know about that," responded Twins catcher Mike Redmond. "I think it would probably hurt you more than it would help you, trying to over-think the situation…. You either have a good arm and you can throw it up there or you can't."
Pitching coach Anderson likewise was dubious about the value of a big brain.
He recalled that his lefty was "struggling a little bit" during spring training. Anderson said that he asked what was going on, and Breslow admitted, "I feel like I'm thinking too much."
Anderson advised Breslow: "You're too smart. You've got to go out there, and don't think."
Now a running joke has developed between pitcher and coach. Anderson told the AJW: "I ask him, 'What are you thinking about right now?' And he says, 'Nothing.' So you kind of keep it simple. If you over-think, you can get in trouble."
The final word on the brains and pitching issue was supplied by Bert Blyleven, who pitched for 23 years in the Big Leagues, including 11 with the Twins. Now the color analyst for Twins TV broadcasts, Blyleven contends that brainpower is no guarantee of success on the mound.
"It's probably better to have no brains — like me," Byleven commented, and added, in his inimitably earthy way, "You just have to throw the f—–g ball."
***
On April 16, in the finale of the Twins' four-game series against the Toronto Blue Jays, Breslow was called to the mound in the seventh inning, after Jays lead-off hitter Marco Scutaro tagged reliever Matt Guerrier for a two-run homer, followed by Aaron Hill and Vernon Wells belting singles.
Hill scored from third on Breslow's wild pitch to Adam Lind, who drew a base on balls. Breslow's second wild pitch, to Scott Rolen, moved Vernon Wells to third. Breslow walked Rolen, loading the bases. That ended Breslow's work for the night. He was relieved by a new addition in the Twins bullpen, knuckleballer R.A. Dickey. Unfortunately, Dickey's first pitch to Kevin Millar ended up in the left field seats — a grand slam home run.
With the Blue Jays putting up seven runs in the seventh inning, going up 9-1 on the Twins, a large part of the 15,169 fans started filing out of the Dome.
"They're not walking out," remarked Clark Griffith, former Twins executive, board member and son of owner Calvin Griffith, who was sitting next to me in the press box. "Look at them — they're running for the exits!"
"It's been a while since I've had to deal with a string of rough outings," Breslow told the Star Tribune after the game. "But I think the most important thing is to keep telling myself, 'I can do this, I did this for a year last year.'"
Breslow likely will regain his rhythm on the mound soon. After the Blue Jays flew away, the Twins swept the Angels in a three-game home stand.
***
For information on the Strike 3 Foundation, go to: www.strike3foundation.org.