Reviewed by NEAL GENDLER
It was his waking thought many mornings: "Something is wrong. There is trouble. I am in trouble."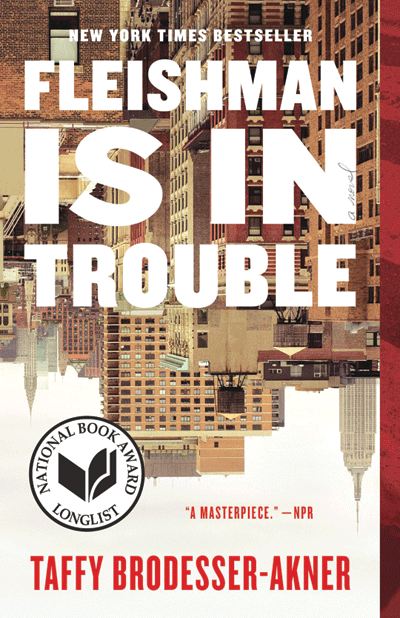 Indeed he was. Toby Fleishman's beautiful, divorcing wife had disappeared, leaving him with their two children supposedly in joint custody.
Rachel, with whom he'd fought bitterly and loudly the last several of their 14 years together, had taken most everything else: the fancy New York apartment, the furniture, the house in the Hamptons and the car.
But then, her huge income as a top talent agent had paid for most of it through relentless work that made her a mostly absent mother. She'd been angry at his contentment as a hospital hepatologist — liver specialist — doing what he loved by healing people instead of seeking higher-paying supervisory jobs.
At 41, Toby was left with his clothes and a set of pans he'd bought that Rachel despised as gaudy. One 4 a.m., while he was sleeping, Rachel had added angry 11-year-old Hannah and loveable 9-year-old Solly. After answering puzzled Toby's call, she vanished.
Sounds grim, but Taffy Brodesser-Akner (hereafter "Taffy" to save space), a staff writer for the New York Times Magazine, makes of this a rollicking, fast-moving comic tale sprinkled with sprightly, clever writing.
For example, grade-school Toby wondered what women looked like unclothed. So he went to the library. Eschewing too clinical biology books, he turned to art. "He sneaked his first volume of Picasso, which was probably the wrong move… in terms of establishing a uniform understanding of anatomy."
Adult Toby, the family cook, loved being a father, and for all his sudden fear soon discovered that being divorced had its compensations. One of his residents put him onto a singles website.
"After a youth full of romantic rejection," available women were flooding the answering machine of a once-fat child — whose growth ended at five feet, five inches — and sending him provocative, revealing photos. Moving his age preferences above 40 provided an oversupply of women aggressively seeking no-strings sex.
All this is told by a female narrator, who we eventually learn is Libby, formerly a writer for a men's magazine. (Taffy has written for GQ and ESPN the Magazine.) During their junior year in Israel, Libby — Elizabeth Epstein — becomes pals with romantically inept Toby and tall, handsome Seth, who easily fills and refills his bed with attractive women.
Toby had remained pals with Seth, as successful in finance as with women, but it was 20 years before divorce-stricken Toby contacted once-zesty Libby. She'd left the magazine and become what she despised: "fat and typical and suburban and boring."
Self-aware Libby becomes a substantial part of the book. Leaving a career for motherhood, marriage to a stable, kind and content lawyer from a wealthy family, left her feeling robbed of herself.
She becomes Toby's sounding board and emotional support, and much later a bit of the same for Rachel, only child of a departed father and dead mother.
Rachel's dutiful but frugal, severe grandmother sacrificed greatly to send Rachel for an excellent, expensive education, making her a double outsider: Jewish and poor in a Catholic school for rich people's daughters. Finding Toby in college years had been a godsend: Finally, someone loved her.
Taffy adeptly submerges her characters' unhappiness beneath their comical self-involvement.
Fleishman, acclaimed last year and now in paperback, is a hoot for those untroubled by Toby's post-divorce cornucopia of sex — not described in carnal detail — and not put off by its deluge of "f" words, for which Taffy must have negotiated an industrial discount.
My only criticism is that Libby "had taken a bus down [to Jerusalem] from Tel Aviv." From Tel Aviv, you go up to Jerusalem, spiritually for some and literally for all.
Throughout are delightful turns of phrase, including rich Rachel lying uncomfortably on a cheap bed, not an accustomed "mattress that was sourced from Sri Lankan unicorn feathers."
Then, after 282 pages of feeling bad for Toby — abandoned by his super successful, hard-driving wife who came to have little time for him and less for their children — the book does an about-face.
Ninety-one-page Part Three is "Rachel Fleishman is in trouble." I'm not going to give away any emotion-tugging surprises, but the book's revealing, raging feminist lament makes me wonder whether it's semi-autobiographical.
***
Neal Gendler is a Minneapolis writer and editor.
(American Jewish World, August 2020)