By CHARLES DUNST
NEW YORK (JTA) — Commentary, the conservative Jewish magazine, weighed in on black-Jewish relations in its June issue, and some are crying foul.
The issue features articles on Black Lives Matter, intersectionality and anti-Semitism in the black community, but it is its stark cover — featuring the words "African Americans vs. American Jews" — that has some accusing the magazine of fomenting a previously nonexistent race war between the two communities.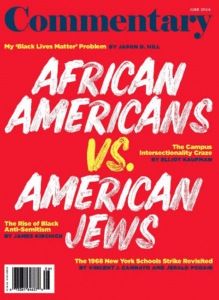 Many drew a comparison to Norman Podhoretz's 1963 Commentary article "My Negro Problem — And Ours," in which the author described a similar conflict between the black and Jewish community, citing anecdotes from his Brooklyn childhood. Podhoretz, now 88, served as Commentary's editor in chief for over three decades, from 1960 to 1995. His son, John, is Commentary's current editor in chief.
The June issue elicited criticism from many left-wing figures, including The Atlantic's Adam Serwer, The New Republic's Jeet Heer, VICE's Eve Peyser and The Forward's Ari Feldman.
Jewish Currents, the secular Jewish magazine, also mocked Commentary's cover on its Twitter page, drawing a comparison to the Norman Podhoretz article. 
"Commentary's work on race has evolved little since Norman Podhoretz's infamous 1963 polemic, 'My Negro Problem — and Ours,'" Jewish Currents Editor Jacob Plitman told JTA. "Stoking black-Jewish antagonism harms black Jews, hinders multi-racial organizing and only serves those invested in bigotry on both sides, whether Commentary magazine or Farrakhan's Nation of Islam. Neither are earnestly dealing with the systems that oppress us all."
"But at least the Nation of Islam gives out free food," he added.
Jews for Racial & Economic Justice (JFREJ), a nonprofit group that defines itself as "inspired by Jewish tradition to fight for systemic change and a just world," expressed similar thoughts.
"Commentary Magazine's June issue presents a tired false binary — one that has been used for decades to divide Black and Jewish communities while invisibilizing those of us who are part of both," a JFREJ spokesperson told JTA on behalf of the organization. "The Jewish community has a choice to make: Embrace the reality that we are a multiracial people whose members have a personal stake in the safety and liberation of others, or remain entrenched in monolithic narratives of Jewish identity that have never been true to begin with. We think the choice is a simple one."
When contacted by JTA, John Podhoretz said that the cover line was not intended as sensationalist, but that the graphic was simply reflective of the June issue's content.
"Commentary's June issue features four articles that reflect on enduring conflicts between African Americans and Jews, from fights over the New York City schools in 1968 to Black Lives Matter and the way its leaders talk about Jews and Israel in 2018," Podhoretz said. "The cover line groups these articles together. The pieces themselves are available for readers to consider and reflect upon at commentarymagazine.com."
The waxing and waning of the black-Jewish alliance has been a perennial subject at least since the 1950s when Jewish groups and activists worked closely with African-American leaders of the civil rights movement. Relations were strained when the Black Power movement pushed out white allies, and when many in the civil rights community embraced the Palestinian cause. Commentary includes an article on the 1968 New York City schools strike, which drove a wedge between Jewish school teachers and African-American parents. In the years to come some Jewish groups would turn against affirmative action.
One Commentary contributor, James Kirchick, says black-Jewish relations are at their lowest since 1991.
"The prevalence of, and insouciance toward, anti-Semitism in the African-American community mirrors a trend within the broader progressive community," he writes. "On the left, anti-Semitism is increasingly downplayed because it supposedly afflicts people who are 'white' and therefore in possession of 'power.'"
Kirchick notes the black intellectuals and politicians who have either embraced or tolerated Louis Farrakhan, the virulently anti-Semitic leader of the Nation of Islam. Another contributor, Jason D. Hill, describes how Black Lives Matter alienated many Jewish allies when it adopted a plank endorsing a boycott of Israel and accusing Israel of the "genocide" of the Palestinian people.
Marc Dollinger, the Richard and Rhoda Goldman Chair in Jewish Studies and Social Responsibility at San Francisco State University and author of "Black Power, Jewish Politics: Reinventing the Alliance in the 1960s", questioned Commentary's framing of black-Jewish relations as a conflict.
"The Commentary cover, in a reformulation of the magazine's role as a leading neo-Conservative Jewish periodical in the 1960s, updates classical though simplistic understandings of the relationship between African Americans and American Jews. It's headline, 'African Americans vs. American Jews' assumes an adversarial relationship between the two communities. Yet, the history proves far more complex," Dollinger told JTA. "While the alliance of the 1950s ended with the rise of Black Power in the mid-1960s, even mainstream national Jewish leaders discounted the import of black anti-Semitism as national Jewish leaders leveraged black activism to bolster American Jewish identity."
"The absence of any women authors on the cover speaks to a much earlier time in American Jewish journalism and history," Dollinger continued, adding, "Most of all, the conflict-based headline makes black Jews invisible, marginalizing a growing Jews of Color community whose perspective as both black AND Jewish forces white Jews to question the boundaries between their Jewishness and their racial privilege."
And yet, a 2016 Anti-Defamation League study reported that 23 percent of African-Americans demonstrated anti-Semitic views. The study subsequently notes that "anti-Semitic propensities within the African-American population continue to be higher than the general population," also adding, however, that these propensities "are in decline."
Whether that amounts to a grudge match between the two communities is unclear. Both groups are among the biggest supporters of the Democratic Party, and, at least among the majority of Jews who are not Orthodox, tend to share a common foe in Donald Trump. In The New Republic, Jeet Heer suggested Commentary seemed more interested in advertising anti-Semitism on the left than dealing with a bigger problem on the right, including white supremacists and anti-Semites who appear emboldened since Trump's election.
"In the age of the alt-right, fighting anti-Semitism is an urgent problem," wrote Heer. "Unfortunately, Commentary magazine doesn't seem interested in the most politically potent form of contemporary anti-Semitism. Instead, the magazine seems to be serving up the 1960s, reheated."