We couldn't get out of January without one more publicized kerfuffle over antisemitism.
Of course, the main outrage last month was the Jan. 15 hostage taking at Congregation Beth Israel in Colleyville, Texas. We're all greatly relieved that Rabbi Charlie Cytron-Walker and the three congregants were able to escape from a crazed gunman who targeted the shul during Shabbat services. The hostage-taker, Malik Faisal Akram, a 44-year-old British citizen, was shot to death by law enforcement officers storming the synagogue.
Akram, according to press reports, launched his attack in the hope of gaining freedom for another anti-Semite, Aafia Siddiqui, a Pakistani national known as "Lady al-Qaeda." Siddiqui, who was convicted for attempted murder and other felonies, is serving an 86-year sentence at the Federal Medical Center, Carswell in Fort Worth, Texas.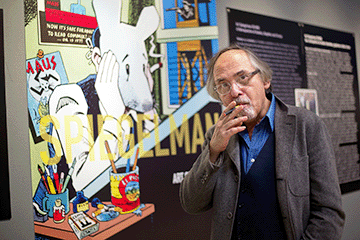 January also saw the spectacle of the graphic memoir Maus, a work of genius by Art Spiegelman, being banned by the McMinn County School Board in Tennessee (see page 2). The stewards of child education in the district were unanimous in their Jan. 10 decision — the vote was 10-0. This follows on a spate of attempts by right-wing school board members to advocate burning books and imprisoning teachers who offer a curriculum that includes "critical race theory," which is not taught to young students anywhere in the United States.
And at the end of the month, videos of a group of neo-Nazis demonstrating in Orlando, Florida, made their way around Twitter and other social media. Of course, this disgusting spectacle was quickly condemned by Gov. Ron DeSantis.
No. Actually, DeSantis, who is being mentioned as a 2024 contender for the GOP presidential nomination, couldn't bring himself to gainsay the vile public display of hate.
"Denounce the Nazi demonstrators in Orlando, Gov. Ron DeSantis," advised a Feb. 1 editorial in the Miami Herald. "It's that simple. Say they are abhorrent. Say they are despicable. Say they have no part in this society or this state. But no. Instead, our governor attacked Democrats during a press conference in Palm Beach County on Monday. Dragged in issues like immigration and inflation and crime. Accused unnamed people — Democrats, of course — of trying to 'smear' him. Said he wouldn't 'play their game.'"
Getting back to the first paragraph in this month's editorial, the sideshow to recent attacks on Jews, Jewish literature and the failure to condemn public displays of Jew hatred occurred on the Jan. 31 episode of The View, a popular ABC talk show. As it happened, the show's moderators were discussing the previously mentioned banning of Maus.
As CNN reported: "During the roundtable discussion, [Whoopi] Goldberg said she was surprised that the nudity in Maus — and not the Holocaust itself — is what appeared to concern the school board, while co-host Joy Behar replied that the nudity concerns were likely 'a canard to throw you off from the fact that they don't like history that makes white people look bad.'
"'Well, this is white people doing it to white people, so y'all gonna fight amongst yourselves,' Goldberg said, referring to the Holocaust."
Apparently, there was some pushback to Goldberg's statement. Then she responded: "If you're going to do this, then let's be truthful about it because the Holocaust isn't about race."
Of course, the antisemitic Nazi ideology was, among other things, an attempt to portray Jews as a race, and one that was both subhuman — rat-like and degenerate — and capable of undermining the pure German Aryan culture.
Whoopi could go to Google and find information about the racist Nazi ideology, such as this terse passage from the website of Yad Vashem, the World Holocaust Remembrance Center, in Jerusalem: "The Holocaust was unprecedented genocide, total and systematic, perpetrated by Nazi Germany and its collaborators, with the aim of annihilating the Jewish people. The primary motivation was the Nazis' anti-Semitic racist ideology. Between 1933 and 1941 Nazi Germany pursued a policy that dispossessed the Jews of their rights and their property, followed by the branding and the concentration of the Jewish population. This policy gained broad support in Germany and much of occupied Europe. In 1941, following the invasion of the Soviet Union, the Nazis and their collaborators launched the systematic mass murder of the Jews. By 1945 nearly six million Jews had been murdered."
Again, as per Yad Vashem, the "primary motivation was the Nazis' anti-Semitic racist ideology."
Ms. Goldberg (née Caryn Elaine Johnson) is now on her apology tour. She tried some new shtick Jan. 31, during an appearance on The Late Show with Stephen Colbert.
She told Colbert that many people were quite angry with her earlier comments. Goldberg said that she saw the Shoah, the destruction of European Jewry by Hitler and his henchmen, as a case of "man's inhumanity to man" — not racism, per se. "But people were very angry," she continued, "and they said, 'We are a race.'"
No, we're not.
On the Feb. 1 episode of The View, Goldberg, who is not Jewish, apologized — after previously posting an apology on Twitter.
"It is indeed about race because Hitler and the Nazis considered Jews to be an inferior race," Goldberg said, according to the New York Times. "Now, words matter, and mine are no exception. I regret my comments, as I said, and I stand corrected. I also stand with the Jewish people, as they know and y'all know because I've always done that."
I recently watched a fascinating new documentary titled Antisémitismes, which looks at the long history of antisemitism from a French perspective. Director Ilan Ziv makes the case that modern manifestations of antisemitism can be traced back to the Dreyfus affair, which played out from 1894 to 1906. In 1894, Captain Alfred Dreyfus, a patriotic French Jew, was falsely convicted of treason and sentenced to life imprisonment. As the documentary notes, among those attending his trial was a reporter for an Austrian newspaper, Theodor Herzl. Based on the official persecution of Dreyfus, Herzl concluded that Jews had no future in Europe and advocated for a return to their ancestral home in the Holy Land.
The film, which is streaming on the Ovid channel, goes on to explicate the dynamic of antisemitism fueled by events in the Middle East that has roiled French society over many years.
If you would like to do a deep dive into the history and current state of antisemitism, I recommend watching Antisémitismes. Perhaps, someone could organize a watch party and invite Whoopi.
Mordecai Specktor / editor [at] ajwnews [dot] com
(American Jewish World, February 2022)