By MORDECAI SPECKTOR
Over eight seasons in the Big Leagues, Ron Blomberg, a Jewish ballplayer from Georgia, had a .293 batting average, with 224 RBI and 52 homers.
However, the unique distinction in Blomberg's career came on April 6, 1973, when he became the first designated hitter (DH) in Major League Baseball history. The New York Yankees stalwart, tagged "Boomer," came up for his first plate appearance that day at Boston's Fenway Park. Red Sox pitcher Luis Tiant walked Blomberg, with the bases loaded.
The bat Blomberg used that day is in the Baseball Hall of Fame, in Cooperstown, N.Y. His 2006 memoir is titled Designated Hebrew: The Ron Blomberg Story.
Baseball fans will get a chance to meet the legendary Jewish athlete when he comes to Temple of Aaron Synagogue on July 13, for the shul's "All-Star Weekend." (The MLB All-Star Game takes place the following Tuesday at Target Field.)
The AJW talked on the phone last week with Blomberg, who was at home in Roswell, Ga. He speaks with a slight Southern accent.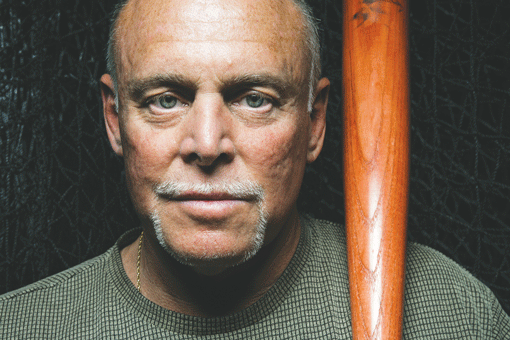 First, I filled in Blomberg on some Temple of Aaron lore: that Sandy Koufax, who did not pitch the first game of the 1965 World Series, against the Twins at Metropolitan Stadium, attended Yom Kippur services at the shul on St. Paul's Mississippi River Boulevard.
"Oh, really," Blomberg responds.
I add that some contend that Koufax stayed in his room at the Saint Paul Hotel, and didn't go to the services.
Bloomberg laughs and says, "You know what, the next time I talk to Sandy, I'll ask him."
The voluble baseball guy says that he talks to Koufax "maybe about once a year. I'll ask him; I don't know if he's gonna tell me the truth, but maybe I'll get some answers from him."
Apart from the mystery of Koufax and Yom Kippur, Blomberg, who is 65, attests to being "very proud" to be part of the Jewish cohort in the Big Leagues. He adds, "Whenever we played against one another in different ballparks, we always communicated extremely graciously with one another."
In his playing days — seven seasons with the Yankees and one with the Chicago White Sox — Jews were a "major minority," Blomberg comments. "When I played [for the Yankees], I think there were like eight to 10 Jewish athletes. We always were extremely close, whenever we did play against one another."
After his extraordinary athletic career at Druid Hills High School, in suburban Atlanta, Blomberg had his heart set on wearing the famous Yankees pinstripes.
"I was very, very lucky — I was God-blessed — and I had about 125 basketball scholarships and about 130 football scholarships," Blomberg recalls, regarding the interest he kindled among college sports recruiters. He signed a letter of intent to play basketball for UCLA.
However, Blomberg "got drafted No. 1 in the country, in 1967, by the Yankees, and that was a no-brainer."
He leaped at the opportunity to play before "eight million Jews up in New York City."
Having the name Blomberg in the Yankees' lineup was a source of pride for the ushers toiling in The House That Ruth Built, according to Blomberg, who told Peter Ephross, author of Jewish Major Leaguers in Their Own Words: Oral Histories of 23 Players: "Most of them were Jewish, with names like Hymowitz or Lichstein, and three or four of them told me they never thought they would ever see a Jew play baseball in Yankee Stadium. They had tears in the eyes and said to me, 'You little Yid, you're someone I can look up to now.'"
However, there were some Jew haters along Blomberg's path to the Big Leagues.
"Half of my teammates growing up were in the KKK and in the John Birch Society," he remarks. "I knew the anti-Semitic things I was going to face when I was in the minor leagues. Luckily, I was just in the minor leagues for a short period of time."
Blomberg played for the Johnson City Yankees (Tenn.) in the Appalachian League, and the Kinston Eagles (N.C.) in the Carolina League. He also played for teams in Syracuse, N.Y., and Manchester, N.H., before his call-up to the Big Show.
He recalls some untoward comments from fans on the minor league circuit. "You could hear little jeers … they thought I had horns and stuff. But my parents always taught me just to look forwards, not to say anything, and I never did."
Blomberg keeps up a busy schedule of personal appearances around the country, including about 100 appearances before Jewish groups each year.
And in 2007, Blomberg was tapped to coach the Bet Shemesh Blue Sox in the new Israel Baseball League. In the IBL's inaugural championship game, the Blue Sox shut out Art Shamsky's Modi'in Miracle, 3-0. As it turned out, that was the league's one and only season.
In a 2010 interview with Rabbi Jeremy Fine, now the assistant rabbi at Temple of Aaron, which appeared in the Jewish Journal of Los Angeles, Blomberg said that coaching in Israel "was the greatest experience of my life. To go there and represent what you love and be a Jew and do what you love, and look at where my heritage was from."
Blomberg is still high on his Israel baseball experience. Were there Israelis on the teams?
"We had two of 'em," he replies. "You had to have two for each team; but, unfortunately, most of the Israelis didn't play. But you know, they just started [playing baseball]."
He praises the league's organization, but notes that "the fields we played on, it was prehistoric fields; and if we played at night, they might have one or two light bulbs — just picture yourself playing in Minnesota, and on the field they had like three light bulbs. And that's what we did…. The Israelis started to love the game of baseball; of course, soccer and basketball are the two biggest sports over there."
In addition to press coverage in Israel, Blomberg mentions that the nascent IBL was covered in the New York Times and the Daily News and on TV in the States.
"It was publicized extremely well, unfortunately, it just did not last," he says.
And what will Blomberg talk about July 13 at the Temple of Aaron?
"I don't know until I get there," he says. He won't need any audio-visual aids, either.
"I look at the people and I determine what I want to talk about," Blomberg explains. "And we all have a great time."
You can safely bet that the topic of being the first DH in the Major Leagues will come up.
"I didn't create it, but I was the first one to help to create it," says Blomberg, about his unique role. "It's just like, God put the animals here, and the mountains, and whatever. Being a Jewish boy, I put the DH in. So, I've had fun with that… it's been great. No one can ever forget me. When I wrote the book Designated Hebrew, that was the topper."
***
Ron Blomberg will be the featured speaker at Temple of Aaron's All-Star Weekend, with a 10:30 a.m. brunch and schmooze on Sunday, July 13, at the synagogue, 616 S. Mississippi River Blvd., St. Paul. The cost is $40 for adults, $10 for children younger than 10, which includes brunch, photo and autograph. For reservations, e-mail: susantervola@templeofaaron.org. For information, go to: templeofaaron.org.
Also, Ron Rabinovitz, of Edina, who was a pen pal and friend of Jackie Robinson, will speak during Temple of Aaron's Shabbat morning services 9 a.m. Saturday, July 12.

(American Jewish World, 7.4.14)