Just weeks after the white supremacist rally in Charlottesville, Jewish schools increase security
By BEN SALES
NEW YORK (JTA) — Each year, the Aleph Bet Jewish Day School in Annapolis, Maryland, would run a monthly fire drill for its 32 students.
Then the school was hit with a bomb threat in February.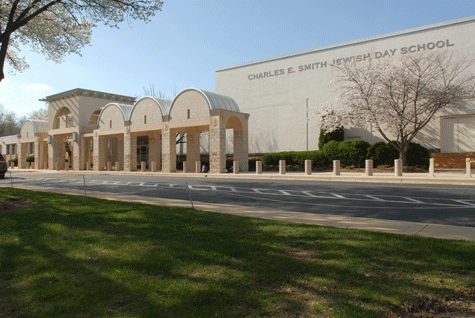 So this year, Aleph Bet is upping the ante, adding monthly evacuation drills to the fire drills.
The bomb threat necessitated "more practice with the kids and the staff, going over who was responsible for what," said Sarah White, its head of school. "Our teachers are very aware of what's around them."
As the new term approaches, Jewish day schools are opening to a nervous atmosphere. The school year follows just weeks after the white supremacist rally in Charlottesville and less than six months after more than 100 bomb threats hit Jewish institutions — including some day schools — across the country. Although a young Israeli-American man was charged with making most of the calls, which were hoaxes, they awakened many school administrators and parents to the risk of an attack.
"It wasn't so much determining where the threat was [from], it was a realization that anti-Semitism comes from lots of places," said Rabbi-Cantor Scott Sokol, head of school at MetroWest Jewish Day School in Framingham, Massachusetts, which was threatened in March. "Whatever people's rationale is going and doing these things, there's just a climate in the country that has placed us all in a precarious situation."
Some schools, like Aleph Bet, have reacted to potential threats by enhancing their security. MetroWest is keeping a close watch on its entries and exits, while the Charles E. Smith Jewish Day School in Rockville, Maryland, has increased police presence at both its campuses.
The Secure Community Network, a Jewish group that advises synagogues, schools and other institutions on security, has long recommended keeping a plan for emergency notification and evacuation, monitoring buildings' entrances and maintaining relations with local law enforcement
"The reality is that we all anticipate there will be more problems in the future," said Paul Bernstein, CEO of Prizmah, a consortium of Jewish day school networks. "The state of the world, the state of uncertainty and attacks that happen generally and against Jews in many parts of the world, the risks of our own national political environment, create situations where threats and attacks can happen."
Effective and frequent communication with parents is key, said Bernstein, so threats are not overstated or misconstrued. Amid the bomb threats this year, some administrators said, interacting with parents was one of the more stressful aspects of handling the threat.
"How you communicate with the families in those schools is a crucial part of the success of that," Bernstein said, noting how social media spreads information quickly and often without context.
Bernstein said some parents might panic upon hearing from their child "that there was a lockdown going on in the school and didn't know it was a lockdown drill."
Prizmah is working with the Secure Community Network to offer security best practices to affiliated schools and help them share relevant experience with each other.
The wave of bomb threats, meanwhile, convinced many school officials who spoke to JTA that their  facilities were secure and that they already had been doing the right things.
"We have the highest level of security for our building, and there was not a need to intensify it because it's already at the point where they're happy with the arrangements," said Jennifer Rosenberg, head of school at the Hebrew Day School of Ann Arbor, referring to parents of her students. The school, which has 48 students, was the target of a bomb threat in February.
Reports of a rise in anti-Semitism or the white supremacist rally in Charlottesville aren't forcing a radical shift at these schools, either. Some have reviewed how teachers should respond to questions about anti-Semitism, and the Charles E. Smith School school sent an email to parents denouncing white supremacy following the rally. But administrators said they expected to fold discussion of anti-Semitism into their existing classes on prejudice, Jewish history and the Holocaust.
"We're not changing our curriculum based on any one event," said Marc Lindner, Charles E. Smith's high school principal. "We will be teaching, as we always do, our students to be aware of the dangers of things like this, and to be able to process and think through and make decisions based on sound reasoning, sound thinking and Jewish values."
Administrators are also wary of creating a climate of fear through security measures. While schools want to keep their doors guarded, there's also the danger of intimidating the students.
"When kids are coming and going, we are always aware of that," Sokol said. "But we don't make them feel really conscious about, 'Oh, get in quickly because we have to close the door.'"