By BEN SALES
EIN RAFA, Israel (JTA) — Surrounded by a lush garden encircling a set of stone steps off a steep road in this small, pastoral Arab-Israeli village, the house of Michal Baranes and Yakub Barhum feels like a tranquil respite from the crowded and hectic country that surrounds it.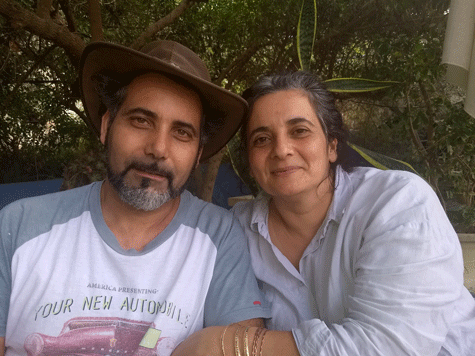 Their life feels removed as well. The couple — Barhum is an Arab, Baranes a Jew — and their children belong to a small minority of Arab-Jewish families in a country where divisions often run along fault lines of religion and nationality. They try not to watch the news.
Instead they have attempted to create a different reality both at home and in their acclaimed restaurant, Majda, on the ground floor of their house. They serve traditional dishes sourced from ingredients grown in the village, giving a largely Jewish-Israeli clientele a taste of local Arab cuisine and, they say, of a world where Jews and Arabs can know and respect each other a bit more.
"This is coexistence, this is what should have been, the mutual respect," says Barhum, sipping coffee in his garden on a recent Sunday, Baranes and their toddler beside him. "But we don't feel it's something political. This is a couple: We needed each other and the love crosses borders."
"You don't give in," Baranes said. "You choose and don't let reality influence your life. You live your life."
But reality sometimes seeps in. In July, after Israel passed a controversial law defining itself as the nation-state of the Jewish people, Baranes translated Majda's menu into Arabic for the first time (almost all its patrons, she said, speak Hebrew). As a response to the government's rightward shift, she hung up a poem by the iconic Palestinian poet Mahmoud Darwish. One of the walls is emblazoned, in English, with the sentence "We shall overcome."
"The things that have happened recently do require us to react, to make our own statement," Baranes said. "I try to bring as many things as possible that say 'Hey, guys, come see something else.'"
The balancing act of couples like Barhum and Baranes was thrust into the Israeli public discussion last month when Arab-Israeli news anchor Lucy Aharish wed Tsahi Halevi, star of the Israeli TV drama Fauda. Israeli lawmaker Oren Hazan said that Aharish had "seduced a Jewish soul." Aryeh Deri, the haredi Orthodox interior minister, called the news "painful" and said that while the wedding was their private decision, "we need to protect the Jewish people."
Israel does not recognize interfaith weddings performed in the country, so Jewish-Muslim and Jewish-Christian couples, and others, have to go abroad to be officially married. Others, like Baranes and Barhum, don't get married at all. According to Israeli government statistics, interfaith couples are rare in the country. In 2016, only 24 Jewish-Arab Israeli couples were married abroad. In 2015, the number was 25.
The Aharish-Halevi wedding wasn't the first time an intermarriage has led to public controversy in Israel. In 2014, during Israel's war with Hamas in Gaza, 200 far-right protesters showed up at a Jewish-Muslim wedding chanting "Death to Arabs."
Intermarriages are especially controversial in Israel because they compound a religious divide with a political conflict, said Rafa Anebtawi, head of Kayan, an Arab-Israeli feminist organization. Nearly all Arab Israelis are Muslim or Christian, and Anebtawi said that while interfaith marriages between two Arabs can be controversial, they are not as contentious as marriages between Arabs and Jews.
"It's very important to consider that we are talking about nationality," she said. "There is difficulty related to the Israeli-Palestinian conflict. It's not just about religion. It's difficult being in conflict with them. I think this is the main issue."
Baranes and Barhum have not been overwhelmed by racist invective from either side in the more than two decades they have been together. But they said their restaurant's customers avoid the place during times of war.
Their families had a hard time at first with the relationship. Baranes and Barhum met in the mid-1990s while both were working in the restaurant at Kiryat Anavim, a kibbutz across the highway from Ein Rafa. Baranes said her mother cried for two days after Baranes told her about Barhum. And the couple did not visit the home of Barhum's parents for nearly a year after they moved to Ein Rafa, even though they all live in the same village of 1,000 people, where many residents are part of one large extended family.
Now, they said, after giving their parents three grandchildren, those problems are gone.
"I said, 'Mom, I'm in love with an Arab man,"' Baranes said. "She knew I was in love. She cried for two days. Then she asked, 'Is he good to you?' I said yes. She said, 'Are you happy?' I said yes. … The more she got to know him, the more she understood who I lived with, the quiet I was looking for."
Part of the reason they have been able to live largely undisturbed, the couple said, is the attitude of their village and its surrounding area, just west of Jerusalem. Arabs and Jews, they say, have always worked and lived alongside one another there. Barhum remembers his father frequently welcoming Jewish guests into his home.
"This particular area is one Israel and the rest of the country is a different Israel," said Musa Barhum, another Ein Rafa resident who runs tours for Jewish youth groups in the village with his wife, Yasmin. "In this part of Israel, Arabs and Jews are similar, exactly similar. A Jewish friend of mine, they come into my house exactly as they come into a Jewish friend's house. There's no barrier with us here."
Musa Barhum said that in Ein Rafa, even though nearly all of the residents are Arabs, they will often speak Hebrew at home and use the language on their cellphones. A couple times as he was speaking in English, he paused to remember the translations of Hebrew phrases.
Musa and Yasmin are in a mixed marriage of sorts: They are both Muslim, but she is an immigrant from Great Britain. That, not Yasmin's religion, worried Musa's mother: She feared that Yasmin would take Musa to live in the United Kingdom, far away from their tight-knit community. But now that the couple have made a life in Ein Rafa, Yasmin said, Musa's family has embraced her.
"No woman wants her son to get married to someone like that and to leave home," Musa said. "The culture here is that the son is married close to the family. You stay in the place, you're not leaving the place, so that's what my mom was very worried about."
Both couples, however, said maintaining a shared society has become more difficult of late, due both to recent legislation and the wave of Palestinian stabbing attacks in Jerusalem in 2015. Young Jews and Arabs, they said, don't interact as much as the older generation did.
"People are still striving to keep that [coexistence], but the political climate and laws that are being passed and that kind of thing make it more and more and more difficult," Yasmin Barhum said. "Teenagers don't mix like they did when Musa was a teenager."
Baranes and Barhum, meanwhile, are not sure of their future in the place where they have built a life and successful business. They have been raising three children here, living in an Arab village and sending them to study in the Hebrew-speaking school system in a country where Arab and Jewish students are, with rare exceptions, segregated by language.
But they say recent developments have led them to consider moving to Europe or farther afield.
"We always think about leaving," Baranes said. "I can't take it. It's boorishness, it's a world of darkness, what's happening here. You can't grow up in it. You can't do anything."