Sir Nicholas Winton organized eight trains that saved 669 children during World War II
By JAN RICHTER
PRAGUE (JTA) — A 105-year-old man known as the "British Oskar Schindler" — having saved hundreds of Jewish children from the Nazis — received the Czech Republic's highest honor Tuesday.
Sir Nicholas Winton was flown on a Czech military plane to Prague, where Czech President Miloš Zeman awarded him the Order of the White Lion. Seven of the 669 children he rescued were present at Tuesday's ceremony, which coincided with the Czechoslovak Independence Day.
"I want to thank you all for this tremendous expression of thanks for something which happened to me nearly 100 years ago," Winton said after receiving the award.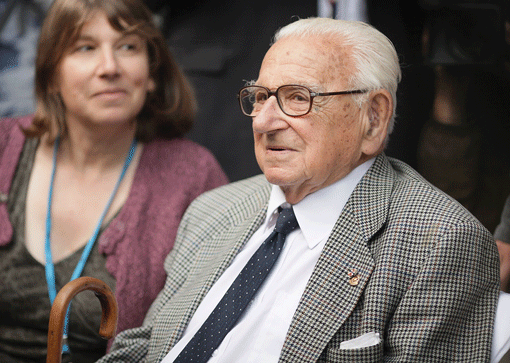 Winton was 29 when he first arrived in Prague in December of 1938. He was planning to go on a skiing holiday in Switzerland but changed his plans when he heard about the refugee crisis in Czechoslovakia.
In the following months, he organized eight trains that carried children, the vast majority of them Jewish, from Nazi-occupied Czechoslovakia to safety in the United Kingdom.
"I'm delighted that so many of the children are still about, and they are here to thank me," Winton said.
Winton, a baptized son of German Jewish parents who settled in the United Kingdom in the early 1900s, worked as a stockbroker before World War II. In Prague, he joined efforts by several other Britons trying to help the refugees.
"These people were the guilty conscience some in Britain had over their country's role in the Munich Agreement, and came to help," historian Michal Frankl from Prague's Jewish Museum told JTA.
Signed in 1938, the Munich Agreement permitted the Nazis to annex parts of Czechoslovakia.
"Winton's crucial role was in negotiating permits for the children with the British authorities. He also found families willing to take care of them," Frankl said.
Ruth Halova, now 86, left Prague on one of the trains, known as Kindertransports, in June of 1939, less than four months after the Nazi occupation of the country. "It was a very emotional and joyful moment," Halova said of the ceremony. "I'm happy I could shake [Winton's] hand for all those who could not be here."
Also in attendance was Asaf Auerbach, another child Winton rescued. Auerbach was 11 in July of 1939, when he boarded the London-bound train along with his brother. "It was very moving for me when I sat there today," he said. "I noticed that even the president shed some tears."
The final Kinderstransport left Prague on Sept. 1, 1939. However, it was forced to return because of the outbreak of the war, and none of the 250 children it carried survived the Holocaust.
Winton's story only came to light in the 1980s, when his wife discovered lists of names of the children he rescued from Prague. In 1988 he met around 80 of those children for the first time since the war in an emotional encounter captured in a BBC documentary.
In 1998, Czech President Vaclav Havel decorated Winton; Queen Elizabeth knighted him five year later.
Matěj Mináč, a Slovak-born director, made three films about Winton and his war time efforts including the 2002 documentary The Power of Good, which won an Emmy Award.
Mináč told JTA that Winton, at first, "did not want to talk about himself at all."
"It took us several months to convince him that those nine months he spent in Prague was probably the most important time in his life" the filmmaker said. "His story is amazing because he was no James Bond. He just did what any decent person should have done but didn't."