Reviewed by NEAL GENDLER
Israeli attorney Ory Slonim likely gave up much potential income in a three-decade effort to bring home captive or missing Israeli soldiers — mostly to find disappointment.
Slonim, already busy with a successful law practice, volunteered for a two-part, conflicting role.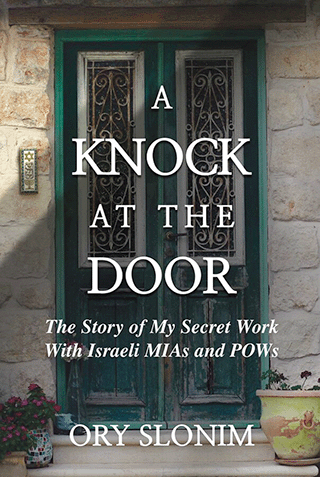 One part was with government teams seeking to determine whether captives were alive and to get them — or their bodies — returned. The other was as liaison to the distraught families, usually without being able to disclose what he was doing for them.
A Knock on the Door peeks inside those families' despair and efforts to cope with "nothing but an infinite void, a truly bottomless pit," Slonim says.
He regularly visited the families, even without news, and when there was news, he gave it carefully to avoid creating expectations. "I had to keep the faith and hope in the hearts of the families," he says, "but without allowing them to live in illusion."
He participated in one of the longest efforts: to learn what happened to Israel Air Force navigator Ron Arad, who ejected successfully over Lebanon in 1986, was known to be alive — even being photographed and writing letters home — and then vanished.
Slonim developed a friendship with Arad's mother, Batya, regularly visiting her and Arad's wife, Tammy, and young daughter, Yuval. In a foreword, 1998-2002 Mossad chief Efraim Halevy calls Slonim "a model of personal empathy and a major contribution to the anxious family" but adds: "It became increasingly difficult to explain why the Israeli intelligence community was unable to resolve this painful matter, given its dramatic success on other issues."
Slonim became part of other families' lives, including those of Zachary Baumel, Yehuda Katz and Zvika Feldman, captured in Lebanon in the 1982 battle of Sultan Yacoub, and of Gilad Shalit, captured by Hamas and held for five years until a lopsided exchange of prisoners.
"Securing the return of the men and women who were ordered to go to war on behalf of our country and our people" is a sacred duty, Slonim says. "Every effort must be made, and any price can and should be paid."
Approached in 1986 by then-President Chaim Herzog, Slonim, 44 with three children, didn't realize that "I would be swallowed up in this endless activity" while still practicing law, doing reserve duty and leading the children's charity Variety.
At first, "my role had no official designation," he says. He called himself the "Knocker on Doors": "I knocked on the door of anyone I thought could be of help."
Difficulties working as an outsider diminished when he was appointed special adviser to the defense minister, paid one shekel a year.
We learn more — and more often — than necessary about those beginnings, and I wondered whether the book wasn't too much self back patting. Of 22 photos, Slonim is in all but three. Mysteriously and very unfortunately absent are photos of the missing soldiers.
Halevy says Slonim's "international experience gave him the capacity to negotiate with seasoned lawyers and senior intelligence officers in many countries. Operators of this cloth are far and few around."
Knock is praised by Israeli President Isaac Herzog and former Prime Minister Ehud Barak.
The most compelling chapters come in the book's second half, when Slonim finally starts delivering on its promise. He tells a bit of his work, including negotiations with big shots and terrorists, and we hear from missing soldiers' families — chapters set apart in what looks like typewriting.
Yusef As'ad, brother of Israeli Druze soldier Samir As'ad, kidnapped in Lebanon, shown to be alive and later executed, says: "It's better to lose what's dearest to you on the battlefield than to live with its absence, because not knowing is the most difficult situation. … If Samir had been killed, we would be grieving for a while and then reconciled with his death. Instead, we went through eight and a half years of madness."
Hadassah Fink, mother of Yossi Fink, kidnapped with Rahamim Alsheikh during a 1986 ambush in Lebanon, says: "For 10 years we lived in uncertainty. … Hezbollah was constantly playing with us," for five years leading them to believe Yossi was alive.
Identifying Yossi's and Rahamim's returned bodies, Slonim kept Yossi's death secret while attending Fink's daughter's wedding, not wanting to spoil the joy. But Hadassah says his face showed his turmoil.
Anat Cohen, Zvika Feldman's sister, says that her mother kept saying that he was alive and insisting they try to live normal lives — but leaving a door wide open for him. He's still missing. "Ory entered our new life, too, and has not left it to this day. … He was part of the house."
A call that Gilad Shalit was released reached Slonim during a long-planned trip to Tibet; he and wife Tamy flew home at once.
But during Gilad's welcoming ceremony, he stayed home, in front of the TV, to be "alone with myself, my thoughts, and my feelings after five difficult and exhausting years. "
"Gilad Shalit was the only captive soldier that I ever got to see come back to Israel alive."
***
Neal Gendler is a Minneapolis writer and editor