By MORDECAI SPECKTOR
Richard Lewis says that his wife, Joyce Lapinsky, a St. Paul native, has decided that they will be buried together at Temple of Aaron Cemetery. At some point in the future.
"My in-laws are buried there," the comedian and actor notes. "My wife, she decided one day — talk about a breakfast talk! — she went, 'I know you're a Brooklyn boy and you're not that sure where you want to go at the end,' and I said, 'Well, is it the end?… So what are you saying?'"
His wife explained: "You're going to be next to me for the rest of eternity…. You're going to come to Temple of Aaron Cemetery."
Lewis responded, "Really?"
Admitting to be being "a little bit of a narcissist," Lewis says that he always thought it would be "more fun" to be buried in the cemetery of the Hollywood stars, Forest Lawn, in Los Angeles. "I'd probably try to get next to Marilyn Monroe," he remarks, during a recent phone interview with the Jewish World.
However, his wife "tweaked" the proposal, noting that his final resting place would be an attraction in the local cemetery — kind of like Jim Morrison, in Père-Lachaise Cemetery in Paris.
"More like the Lenny Bruce of the Twin Cities," the comedian clarifies, in reference to his comedy idol. "Real diehard fans will have to find Temple of Aaron [Cemetery] and put a rock by my stone. Am I depressing you too much with this?"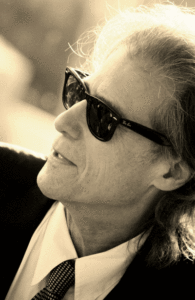 Not depressing, from the comic billed as "the master of angst and neuroses." Lewis will try to live up to the hype when he hits the bima for "An Evening of Laughter and Memories," Sunday, Nov. 1 at Temple of Aaron Synagogue in St. Paul.
In addition to the comedy shtick, the annual tribute event will honor the memory of Wendy Goodman, who was the congregation's beloved director of the Rabbi Bernard S. Raskas Religious School and Richard and Rossy Shaller Hebrew School for 17 years.
The featured entertainer at last year's Temple of Aaron event was Mel Brooks, who said, "Richard Lewis may just be the Franz Kafka of modern day comedy."
In the way of a thumbnail show biz biography, Lewis, 68, a graduate of Ohio State University, began his stand-up comedy career more than 40 years ago, while working days as a copywriter at an ad agency.
He caught the proverbial big break with his 1974 appearance on The Tonight Show Starring Johnny Carson. Amid a successful run of TV and comedy club appearances, Lewis starred with Jamie Leigh Curtis in the ABC sitcom Anything but Love, which ran for four seasons, from 1989 to 1992. He also has had roles in a number of movies, including that of Prince John in Robin Hood: Men in Tights, which was directed by Mel Brooks; and more serious roles in Leaving Las Vegas and Drunks.
In recent years, Lewis had a recurring role over eight seasons of the hit HBO show Curb Your Enthusiam. He played Larry David's friend, Richard Lewis. The last Curb show aired in 2011; and Lewis, a lifelong friend of David, says, "I think it will come back."
(Larry David wrote and starred in the new Broadway comedy, Fish in the Dark; and he drew rave reviews for his impersonation of Sen. Bernie Sanders, in the most recent episode of Saturday Night Live.)
And Lewis can currently be seen as Dr. Weiss, a psychotherapist for a TV network, on Blunt Talk, the Starz comedy series created by Jonathan Ames and starring Sir Patrick Stewart, as a semi-deranged talk show host. (The show is also available on Hulu.) Lewis is known for his comic persona as a miserable wretch and hypochondriac (in dozens of appearances on The Late Show with David Letterman, and elsewhere); so the psychotherapist character plays against type.
The AJW last talked to Lewis in 2001, when he was doing publicity for his memoir, The Other Great Depression, an honest and gritty account of his alcoholism and recovery. He has been sober for more than 21 years.
Also on the literary side, Lewis has a new book, Reflections from Hell: Richard Lewis' Guide on How Not to Live (powerHouse Books), a collaboration with artist Carl Nicholas Titolo. The volume consists of Lewis' pithy statements ("Today I made the worst of a great situation," for example), with illustrations by Titolo. The book includes a foreword by Larry David.
Getting back to Mel Brooks, the star of last year's Temple of Aaron tribute event, Lewis listens to a recap of Brooks' performance last year, and announces, "Expect none of Mel Brooks from me — unless I do an impression of Prince John, from Robin Hood: Men in Tights. That's it. Mel is Mel, and he's one of the gods of Jewish comedy. I just expect to unravel myself, as I usually do, and humiliate myself."
"Underneath all of it," Lewis adds, "I'm so proud to be a Jew. I just don't want Jewish children to think that it's because of all the Jews go through that I feel this way. It's more of a psychological problem."
He then asks somewhat apprehensively if children will be in the synagogue audience.
At the conclusion of the phone chat, ruminating on the upcoming gig at Temple of Aaron — "like a Borscht Belt stage with an ark behind you" — Lewis declares, "I'm a Jew and if they don't laugh, I'm still proud to be a Jew, and that's that."
***
Richard Lewis will be the featured entertainer for Temple of Aaron's annual tribute event, "An Evening of Laughter and Memories," which will honor the memory of educator Wendy Goodman, 7 p.m. Sunday, Nov. 1 at the synagogue, 616 S. Mississippi River Blvd., St. Paul. For tickets, email: KenAgranoff@TempleofAaron.org, or call 651-698-8874.
(American Jewish World, 10.23.15)