(JTA) — American rock band Bon Jovi announced it will perform in Israel for the first time.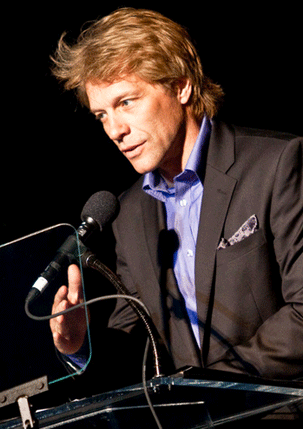 The band on Tuesday, through the Israeli company BlueStone Productions, announced Oct. 3 as the date for its concert in Tel Aviv, the end of a 13-country concert tour.
The date does not appear yet on the list of concert dates posted on the band's official Web site. According to the list, Bon Jovi will appear in Abu Dhabi on Oct. 1 prior to leaving for Israel.
"We've toured around the world performing over 2,900 concerts in more than 50 countries and today I am excited to announce that for the first time ever we are performing in Tel Aviv. See you on October 3," read a statement from the band issued on Tuesday.
Among the band's hits are "It's My Life," "You Give Love A Bad Name" and "Livin' On a Prayer." It has produced 12 albums in its 30 years.
Promoter Marcel Avram told the Times of Israel that band frontman Jon Bon Jovi has always wanted to perform in Israel. He said the band does not care about pressure from supporters of the Boycott, Divestment and Sanctions movement.
"Jon Bon Jovi couldn't care less. He is not the first or the last one to come to Israel… We are a proud country where a lot of people enjoy music; everyone wants to perform in Israel," said Avram, according to Times of Israel.
The band announced in 2010 that it would put Israel on its list of stops during its "The Circle" world tour in 2011. The promise never materialized.
Several high-profile musical artists have canceled shows in Israel in recent years, bowing to political pressure from pro-Palestinian groups.