By ERIN ELLIOTT BRYAN / Community News Editor
The story of B'nai Abraham Synagogue has come full circle over the past 100 years.
In 1905, Jews in the small Iron Range town of Virginia, Minn., formed a congregation; they built their synagogue, B'nai Abraham, in 1910. In 2005, a group of concerned citizens formed the Friends of B'nai Abraham; in 2010, the group's restoration of the synagogue is nearing completion.
B'nai Abraham, in its new role as a museum and cultural center, will stand as a testament to Jews' contribution to 20th-century life on the Iron Range.
"The whole point of the building is documenting the history of these people and making certain that it remains visible even though there is no longer a Jewish community there," said Marilyn Chiat, Ph.D., an art and architectural historian, and member of the Friends group. "The building has an agenda and the agenda is to educate people."
Education will be a key component of B'nai Abraham's centennial, which will be celebrated July 9 and 10 in Virginia. The celebration will begin Friday with the hanging of a mezuza that once hung on the doorpost at Mount Sinai Hospital in Minneapolis.
"My dear friend Bobby Cohen, who was a president of the Mount Sinai Auxiliary and who knows Judaica, managed to save it and, knowing that we were going to be doing this, gave it to us to put on the building," said Friends president Marjorie Ostrov. "That's, I think, a wonderful, symbolic, historic part of this Jewish community of Minnesota's history."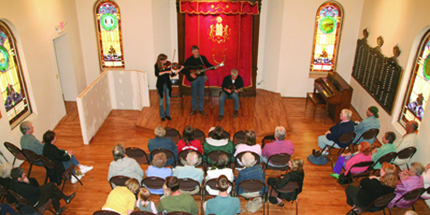 On Friday night, a short musical program will be presented by the Northern Lights Chamber Players, led by artistic director Veda Zuponcic, who grew up in nearby Aurora, Minn. A reception will follow in the Berman Social Hall, where Friends member Leighton Siegel has mounted an exhibit of historical photographs of Jewish businesses on the Iron Range, beginning in the 1890s.
Display cases also feature Judaica from the synagogue or its members, including the wedding dress worn by Ida (Schwartz) Karon in 1917. Her daughter, Dorothy Karon, celebrated her 90th birthday at B'nai Abraham last year and will attend Friday night's events.
"The remarkable part was that they built this little building and they maintained this little building, and they passed on their tradition and their religion successfully to their children," Chiat said. "We have to celebrate that."
Saturday will begin with a Shabbat morning service led by the Alan Milavetz and Bonnie Reznick family, using a loaned Torah scroll from Mount Zion Temple in St. Paul. The rededication of the synagogue will be followed by a Kiddush lunch.
Saturday afternoon will include an open house, at which Chiat will offer a historical perspective on the building, and project manager Mike Blehert will speak about the history and restoration of the stained glass windows. Chiat also arranged a walking tour of Jewish sites in Virginia.
The celebration will conclude with two concerts from klezmer group Millie and the Mentshn. The group's lead singer, Millie Johnson, is Blehert's sister.
As the AJW went to press, capacity crowds were expected for all of the weekend's events and guests were scheduled to arrive from as far away as England.
"We're not sure how many people we can get into the building," said Charlie Ostrov, M.D., treasurer of the Friends group and a native of Virginia. "We've got a lot of people coming, the families of Jews who lived there."
As a young boy, Ostrov worked at his father's grocery store, which was just two blocks from B'nai Abraham. One day when he was taking out the garbage, a car pulled up and the two men inside yelled to him.
"Hey Ostrov, get in the car, we need a minyan," he recalled, laughing. "And then I came back to the grocery store and my dad said, 'Where were you?' I said, 'I had to go to shul.'"
Ostrov said it's important that the synagogue continues to represent the community that once lived on the Iron Range.
"[The synagogue] was always there," he said. "It just brings back some of the memories of what was there before everybody left."
Chiat described B'nai Abraham as the "cornerstone of the community."
"Even though there was really no overt anti-Semitism on the [Iron] Range and they didn't have the housing restrictions that Minneapolis and, actually, St. Paul had as well — the Jews could live everywhere — they still clustered around the synagogue," Chiat said.
The restoration of B'nai Abraham has been extensive. Most recently, the synagogue received new flooring and a new furnace, its stained glass windows, social hall and ceiling were restored, and the building is now handicap-accessible.
"The proportions of the building are amazing, they are just ideal proportions," Chiat said. "Considering these were not skilled architects who were designing it… it just came together into this absolutely lovely little building."
Using almost entirely local, Iron Range labor, the project has invested approximately $500,000 into the Virginia community and surrounding areas.
B'nai Abraham is the only remaining synagogue north of Duluth and the only synagogue in Minnesota that is listed on the National Register of Historic Places.
"The properties that are listed on the National Register of Historic Places are the places that have been deemed worthy of preservation. That listing doesn't guarantee their preservation, but it means they're worth preserving," said Britta Bloomberg, deputy state historic preservation officer for the Minnesota Historical Society (MHS). "[This building] needed a new use and it needed people to come forward and be advocates for its preservation. And that's really what this Friends group did. I think it's been a great example, showing how people who care can become wonderful stewards of a historic resource for our state."
Bloomberg has worked with Friends of B'nai Abraham since its inception and helped the group organize a reuse study, which was done in September 2006 using a matching grant from the Minnesota Historical Society.
Friends of B'nai Abraham, a nonprofit group, has received several grants from the Minnesota Historical Society in the past five years and was a recipient of some of the first grants from the Arts and Cultural Heritage Fund, the Minnesota historical and cultural grants program, which is one of four funds created by the state's 2008 Clean Water, Land and Legacy Amendment.
The group has also received grants from the Iron Range Resources Board, the Virginia Community Foundation and the Minnesota Humanities Center, among others. Contributions have been received from the Minneapolis Jewish Federation and the United Jewish Fund and Council of St. Paul, as well as other Twin Cities organizations, synagogues and individuals.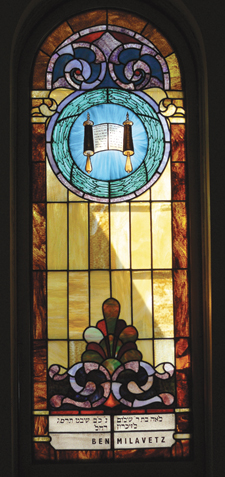 "It shows the broad range of support that we're getting," Chiat said. "They recognize the historical significance of that little Jewish community that really contributed so much to what the [Iron] Range is."
Because a majority of the grants are public monies, the building can no longer function as a synagogue. But, as noted in the Talmud, the synagogue can be reused for honorable purposes. A partnership with the Virginia Area Historical Society ensures that its uses will be appropriate — whether for the local Virginia community or for Jewish groups from around the state, who are all encouraged to spend time there.
"Because of its public use, that really makes it that much more accessible to the community and to people of the state," Bloomberg said. "It helps tell an important story about the development of the communities on the Iron Range and that whole chapter of our history… about the people who settled this particular region of the state. It embodies all of those stories, so it can be a great statement about just how important those stories are and how important it is for the future to be able to preserve those places now, so generations in the future can continue to enjoy them and appreciate all it took to build this great state of Minnesota."
(American Jewish World, 7.9.10)