Bert and Gayle Blyleven were curious about the group of elderly women singing "Happy Birthday" recently at the Good Day Café in Golden Valley. On the way out of the restaurant, the Blylevens stopped by the table and asked who was celebrating a birthday.
Rose Averbach announced that it was her birthday. She was celebrating her 90th birthday with her four sisters.
Bert Blyleven asked Averbach and her sisters if they were baseball fans, and invited them to be his guests at a Minnesota Twins game.
For those who don't follow baseball, Blyleven pitched for the Twins and four other teams during his 22-year career in the Big Leagues. He works as the analyst for Twins TV broadcasts — and, in July, he was inducted into the Baseball Hall of Fame.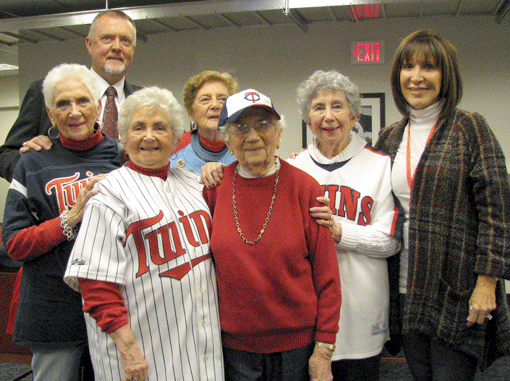 On Tuesday night, Averbach and her four sisters — Shirley Jacobson, Mickey Kaplan, Lillian Benenson and Sylvia Field — were picked up by a limousine at Knollwood Place in St. Louis Park (Averbach and Field are Knollwood residents). It was their first trip to Target Field in downtown Minneapolis.
After arriving at the ballpark, they were brought up to the broadcast booths and press box area, where they posed for photos and chatted with the Blylevens. Patrick Klinger, Twins vice president for marketing, also stopped by to greet the enthusiastic elderly fans, who were all wearing Twins regalia.
The sisters, who range from 81 to 95 years old, are from the Groll family in North Minneapolis. They reportedly enjoyed their trip to the ballpark, staying through the eighth inning of the game. And, of course, the group was briefly caught on camera during the broadcast, and circled by Blyleven's famous Telestrator. "You are hereby circled," he announced.
Although they loaded the bases with no outs in the bottom of the 9th, the Twins fell to the Seattle Mariners, 5-4. — Mordecai Specktor
***
The American Jewish World talks to the Twins' Jewish third baseman, Danny Valencia, who admits to having a frustrating and disappointing season, after a breakout 2010 rookie year. The story will appear in the AJW's Sept. 30 print edition.