Peter Himmelman's creativity seminar, Big Muse, is open to all on Nov. 17 in Minneapolis
By MORDECAI SPECKTOR
The traditional music business — where an artist records music and then a record label sells "x" number of units — has more or less disappeared. St. Louis Park native Peter Himmelman has pursued the traditional route — many AJW readers are fans of his old local rock band, Sussman Lawrence — and, in recent years, he has tried to adapt to the new media regime, with the Furious World webcast and other extravaganzas.
As the AJW reported last year, Himmelman has launched creativity seminars under the brand Big Muse. The singer-songwriter, film and television composer, etc.'s project employs a songwriting exercise to integrate the left and right brain hemispheres and spark participants' imaginations.
The Big Muse seminars have been rolled out for various corporations and trade associations; but on Nov. 17, the public is invited to attend a Big Muse seminar at Creation Audio in Minneapolis, "for a life-changing, mind-opening musical experience."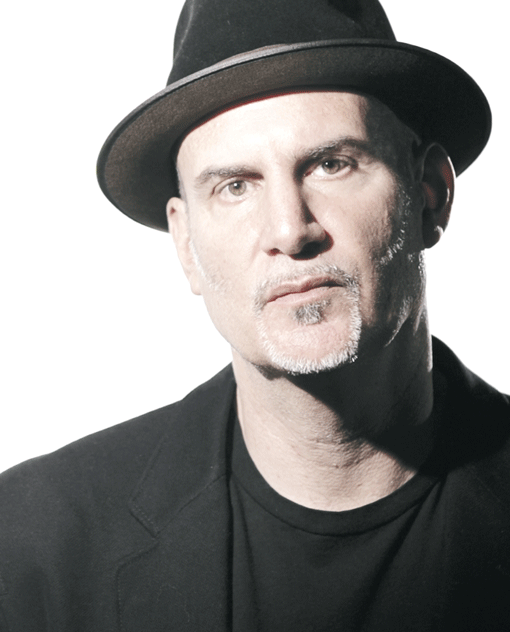 In a brochure for the event, Himmelman suggests that the seminar will be of value to "farm equipment salespeople, parents, artists, poets, dancers, postal workers, lawyers, traffic cops, students… anyone who wants to become more boldly creative in their personal and professional lives."
During a recent phone conversation with the AJW from somewhere in the Himmelsphere of southern California, the Artist Still Known as Himmelman talked about Big Muse and his forthcoming album, The Boat That Carries Us, which is being crowd-funded through Kickstarter.
You would think that a talented musician like Peter Himmelman, would be at home in the realm of creative self-expression, but the 52-year-old artist, husband, father of four children, and observant Jew points out artists, too, can fall into rote behavior, "just repeating things that we've learned during these moments of creative inspiration."
Himmelman explains, "Creativity extends to every interaction. This phone call you and I are having, if it develops and we make a connection to one another, definitely we'll call that a creative experience. Or playing with a kid, or interacting with your young adult sons — is it creative or just kind of status quo? Making a meal for somebody? It's kind of a different way to look at life… a way to inject a sense of awe and wonder back into the world that has, through many means — commercial and otherwise — sort of leached that childlike sense out of us, myself included."
Part of the Big Muse approach involves silencing your "inner critic." Himmelman has personified this facet of personality as "Marv," and even has drawn a cartoon image of the censorious character. He's also working on a book about Marv and Big Muse; and the AJW will relay breaking news about that when it becomes available.
In short, the Big Muse seminar sounds like a blast, and the 60 spots for the Minneapolis session are starting to fill. Also, Himmelman's cousin, Jeff Victor, an ace on keyboards, will provide musical support for the Big Muse seminar here.
In the wonderful world of records, Himmelfans can participate in the roll out of The Boat That Carries Us, by going to the Kickstarter page (kickstarter.com) and search for "Peter Himmelman." You'll find it, no problem. And you can support it, Kickstarter-style, with contributions on various levels. In addition to the music, wonderful prizes are available, in addition to the music, of course.
For the new album, Himmelman rounded up a couple of heavyweights, so to speak, in drummer Jim Keltner and bassist Lee Sklar. These cats have played with everyone in pop music, from most of The Beatles to James Taylor to Carole King, et al. Sklar happens to be a Jew from Milwaukee. The lineup on The Boat That Carries Us also includes guitarist David Steele. I've heard the title track and six of the other tunes, and I like it. As Duke Ellington said, "If it sounds good, it is good."
Also, the Himmelmans are doing well. "Thank God, everybody's good." The youngest son has just applied for college — he's six-foot-seven. "A basketball player, a giant," Himmelman remarks.
***
To make a reservation for Peter Himmelman's Big Muse seminar, 1 to 3:30 p.m. Sunday, Nov. 17 at Creation Audio, 2543 Nicollet Ave., Minneapolis, go to: bigmuse.com. And to participate in the launch of The Boat That Carries Us, navigate to: kickstarter.com and search around.
(American Jewish World 11.8.13)