Millennium Adult Day Care offers engaging activities for seniors, which can allow them to remain independent and delay out-of-home placement
By ERIN ELLIOTT BRYAN / Community News Editor
Lena Merman was a teenager when she and her extended family — including her grandparents — immigrated to the United States from Russia. While she described the transition as an "exciting move" for the younger generation, it was very difficult for her grandparents, who struggled to learn English and to find a place where they felt they belonged.
Lena went on to attend the University of Minnesota, where she studied occupational therapy. She knew she wanted to work with people, though initially she didn't want to work with seniors.
"When I was a student, seniors kind of scared me, because I didn't have any experience except for my personal experience," Lena told the AJW. "After I graduated, I went to different areas and worked with different populations, and I realized that seniors are really close to my heart, I have a soft spot for this population."
As her grandparents continued to age, the family grew. Lena spent some time in Israel, where she met Leo, who had immigrated to the Jewish state as a teenager from Minsk, Belarus, and was serving in the IDF. The two eventually married and started their own family.
But Lena and her family were finding it increasingly difficult to balance taking care of all of the physical and emotional needs of her grandparents.
"We have kids, we had jobs, my mom had her work and my uncle also was working," Lena said. "Even though our intentions were awesome toward our grandparents, we really couldn't spend that much time with them, and we felt that they were feeling kind of useless."
And when her grandmother's health began to decline, the family felt there were only two options: move her into a nursing home or have someone stay at home with her.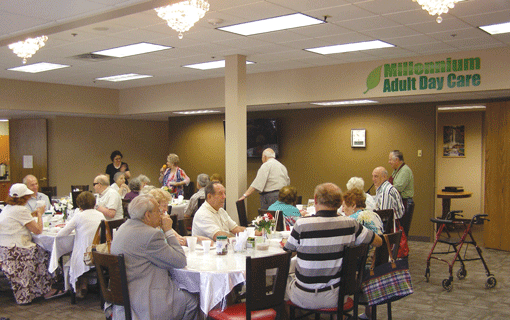 "We decided to stay home with her because the nursing home wasn't an option for us," Lena's husband, Leo Merman, said. "We started to look around and we found a few places where she could stay in the middle of the day."
However, the day centers lacked engaging activities, he commented. They were places where seniors could sit and watch TV.
So the Mermans decided they could do better. They opened Millennium Adult Day Care 12 years ago. According to its Web site, the mission is to "provide a safe, caring, warm environment for the elderly to promote their independence in the community and help them with individualized service in a culturally respectful manner."
Nearly all of the clients are Jewish.
Millennium's original location was in Edina; the company moved to a new space in the Opus Business Park in Minnetonka a year ago. Its second location is now open at the original site, which has been newly renovated.
The Minnetonka location offers senior programs and services from 8 a.m. to 3 p.m. five days a week, while the Edina location is currently open two days a week.
"Millennium is a really good alternative to a nursing home or assisted living, or just a social place where people can live a normal life and stay home," Leo said. "Sometimes it has nothing to do with a nursing home, they're just elders and are absolutely healthy and just need to be socialized with each other, they don't want to stay home alone. They just want to be engaged."
Among the services Millennium Adult Day Care offers is health monitoring by a registered nurse and occupational therapist, massage therapy and acupuncture, nutritionally balanced meals, beauty and barber shop services, and a licensed on-site pharmacy.
Millennium also maintains a fleet of four 24-passenger buses, two 10-passenger vans and two minivans to offer round-trip transportation within a 30-mile radius and ensure that no client is on a bus for more than 30 minutes at a time.
And at the heart of Millennium's programming are a varied palette of activities and educational opportunities.
Each day, clients can choose from a variety of outings, such as to a park, museum or casino; or they can opt to stay on-site to play games, watch a movie or use the computer. Staff members also lead group discussions on a variety of topics that interest clients, including art and literature, or improving memory and stress management.
There are also birthday and holiday celebrations that feature musicians and guest performers.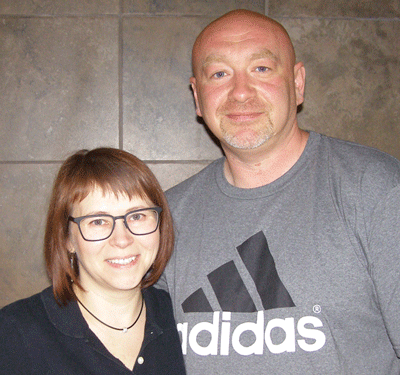 Leo said all of the current clients were touched directly by the Holocaust and have incredible life experiences to share. He noted, however, that Millennium staff discourages discussions about politics.
"We learned our lesson," Leo allows. "We never touch the topic of Bush, Obama or Israel, or government or anything like that."
Clients also have the opportunity to participate in Millennium's dance group, which is directed by Lena, a former professional dancer. The group performs at other senior living facilities in the Twin Cities.
Millennium's Minnetonka location serves about 45 people each day, and clients are not required to attend every day. Leo says the average client comes to the facility three days a week, and Millennium can be very flexible with scheduling.
The private-pay cost for Millennium's services is $75 per day plus transportation (the average is $8 to $10 each way), though Leo said some clients' costs are covered by insurance or state aid. And Millennium has also offered some services pro bono.
"Money is not everything, it's related to tikkun olam [repairing the world]," Leo said. "It's a moral thing to help people to live independently… We don't concentrate on financials, we concentrate on the service and making clients happy."
And the Mermans have made their clients very happy. Both Leo and Lena referred to their clients and staff as family, and are often invited to birthday and anniversary celebrations.
The family members of their clients are also satisfied with the care Millennium provides and credit staff with allowing their loved ones to remain at home longer or avoid a nursing home.
In a testimonial posted on Millennium's Web site, George, a caregiver for his mother, referred to the program as "a lifeline, providing a badly needed respite."
"What I love especially is the small size of the Adult Day Care program, which is intimate and perfect for my mother who tends to get too distracted and loses focus in larger groups," George wrote.
Another caregiver, Ken, wrote: "We would not have been able to keep (our mother) at home as long as we did without the help we got from you."
Inevitably, the Mermans and their Millennium staff are forced to deal with death. When a client's spouse dies, the programs and supportive services offered can help a client to move forward with life.
"There's so many people here who have gone through this loss that they really know how to support each other," Lena said.
And when they lose a client, the Mermans attend the funeral.
"A lot of people are very ready, they just look at this as the next stage," Lena said. "And they want to talk about death, they want to share their thoughts with you, which I feel is a privilege… And it's amazing to know that people, at 95, are still searching for the meaning of life."
Lena becomes emotional when talking about her clients and her business, which she says is "my life." (Leo refers to Lena as the "heart of the operation.") If a client doesn't show up, she's on the phone to check on them, again referring to them as family.
As for her own family — the Mermans' children are now 15, 13 and 4 — she wants them to have an appreciation for each client and to see them for the valued individuals they are.
"Our vision is for people to come here and be themselves. No matter what age they are, to bring their knowledge, to use their imagination, to use their abilities, to have them explore, to have them learn, to have them share their experiences," Lena said. "I really want [my children] to understand that getting old is not scary. This is the major thing that I learned for myself. It can be exciting, really fulfilling, it can be really happy."
***
For information on Millennium Adult Day Care, call 952-681-7372 or 952-930-2168, or visit: www.millenniumadc.com.
(American Jewish World, 7.18.14)