The 2011 Twin Cities Annual Yom HaShoah (Holocaust Remembrance Day) Commemoration took place Sunday evening at Bet Shalom Congregation in Minnetonka. About 300 local survivors, family members and others packed the sanctuary for the solemn ceremony.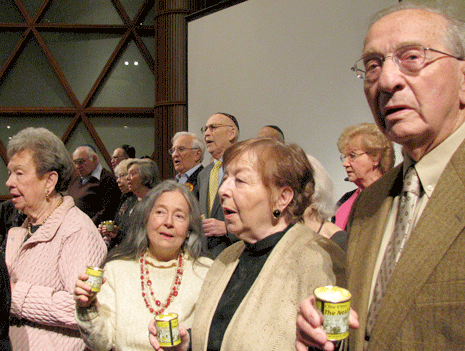 The featured speaker was Christos Nicola, author of The Secret of the Priest's Grotto: A Holocaust Survival Story. Nicola's talk and PowerPoint presentation concerned his exploration of the world's largest underground cave system in Ukraine, and the story of a Jewish family that survived the Shoah by hiding in the caves.
The theme of this year's commemoration was "Legacy: The Writing of Survivor Stories," and stories from the Shoah were read by, among others, visiting IDF soldiers, and Talmud Torah of Minneapolis student participants in the Adopt-A-Survivor program, which partners Holocaust survivors with Jewish students.
The Twin Cities Yom HaShoah Commemoration was co-sponsored by the Jewish Community Relations Council of Minnesota and the Dakotas (JCRC), Children of Holocaust Survivors Association in Minnesota (CHAIM), Minneapolis Jewish Federation, United Jewish Fund and Council of St. Paul, and Bet Shalom.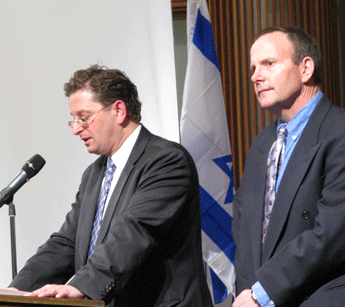 A special presentation was made by Steve Hunegs, JCRC executive director, who bestowed the 2011 Courage to Teach Award to Neil Anderson, a teacher in the Minneapolis South High School social studies department for the past 27 years. Some 1,027 students have taken Anderson's course on the Holocaust; and he has led student trips to the United States Holocaust Memorial Museum in Washington, D.C.
The commemoration also featured a photographic exhibit of Holocaust survivor portraits, "Transfer of Memory." The exhibit is a collaboration between the JCRC and local photographer David Sherman.
— Mordecai Specktor