Amid the escalation of violence in the Jewish state, a video is released of a teen being beaten by Israeli Border Police
By URIEL HEILMAN
(JTA) — For Israelis, the enduring image of the past few weeks may be the montage of the three Israeli teens murdered last month after being abducted from a hitchhiking post in the West Bank.
But another enduring image has emerged in the last few days that is unlikely to garner much sympathy for Israel: a minute-long video in which a Palestinian-American teenager is beaten by two Israeli border policemen. One officer is seen pinning Tariq Abu Khdeir to the ground while the other pummels the 15-year-old with his fists and kicks to his head.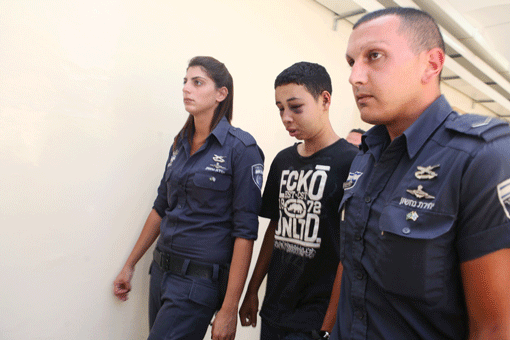 After the incident, photos of the boy's bloody face, including black eyes and a severely swollen lip, rocketed around the globe.
It was but one episode in a gruesome few days that saw Tariq's cousin, Mohammed Abu Khdeir, burned to death by Jewish extremists, Gaza rocket crews fire scores of missiles into Israel, and the Israeli army respond with an expanded bombing operation of targets in the Gaza Strip.
Amid the escalation of violence, Tariq's beating received even wider attention because it was captured on video and he is a U.S. citizen from Tampa, Fla. And the beating was doled out not by extremists but by Israeli authorities — Border Police wearing the green uniforms of the Israel Defense Forces.
"We are profoundly troubled by reports that he was severely beaten while in police custody and strongly condemn any excessive use of force," State Department spokeswoman Jen Psaki said in a statement. "We are calling for a speedy, transparent and credible investigation and full accountability for any excessive use of force."
Israeli police have accused Tariq of rioting and attacking officers; he is under house arrest while the incident is being investigated. The teen and his family say he was observing Palestinian protests of the killing of his cousin but was not participating in rioting.
"I was just watching," Tariq told ABC News. When the Israeli police set upon him, he said, "I was blown. I was like, why is this all happening? Why would you attack me like that? At least try to tell me why would you do that to me if I didn't do anything to you."
This is hardly the first time that video footage has emerged that fueled accusations against Israeli soldiers or police of excessive use of force.
In mid-May, Israeli authorities faced questions after videos surfaced showing two Palestinian teenagers being shot to death while seemingly idle. The incident took place outside Ofer Prison in the West Bank, where Palestinians marking Nakba Day, the anniversary of the "catastrophe" of Israel's birth, clashed with Israeli authorities during protests that at times turned violent.
Palestinians said no rocks were being thrown at the time that Muhammad Abu Thahr, 15, and Nadim Nuwara, 17, were shot with live ammunition. Israeli authorities at first said only rubber bullets were used during the clashes, then suggested that the video footage may have been doctored. An autopsy conducted on Nuwara's body showed that live fire had been used, according to Israeli media reports.
For the time being, Tariq's case is receiving plenty of media attention in the United States. Tariq and his parents have given interviews to CNN, ABC News, the Washington Post and a host of other outlets. The Council of American-Islamic Relations in Florida has taken up the cause, calling for Tariq's speedy release and portraying him as a regular American kid who likes playing soccer and video games.
"Tariq, as you know, is a young American boy who last week on Thursday was brutally attacked on his family land in Palestine where Israeli police officers in uniform brutally shackled his hands and proceeded to brutally, brutally attack him and beat him," Hassan Shibly, an attorney for the council, said Monday at a Florida news conference.
Among Jewish groups, the incident hasn't prompted much comment. While Jewish organizations across the political and religious spectrum condemned the killing last week of Mohammed Abu Khdeir once it became clear that Jewish extremists were responsible for abducting him and burning him to death, they have hardly remarked on Tariq's beating.
One exception was J Street, which called it a "vicious beating."
A spokesman for the Anti-Defamation League told JTA that it was withholding judgment for now.
"Tariq Abu Khdeir was arrested for participating in a violent demonstration against Israeli authorities, and he remains under house arrest. The circumstances of his detention are currently under investigation," the spokesman said. "We will await the outcome of that investigation before drawing any conclusion about his alleged treatment."