By DORIS RUBENSTEIN
Jewish-American novelist and "saloniste" Gertrude Stein is said to have invited only "interesting people" to her living room soirees. St. Paul Jewish artist Carolyn "Carrie" Kleinberger invites not only interesting people to her salons, but also people who are interested in interesting people and subjects. Among those subjects are art in general and her own art, in particular.
Following a long career as a public defender with Ramsey and Washington counties, Kleinberger was able to follow her true passion: oil painting. And she went at it with the same passion with which she defended her innocent clients in court. Her first step: learn how to paint well.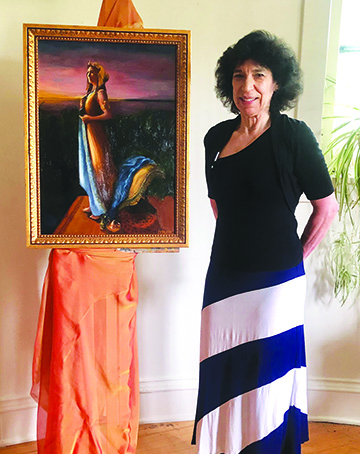 Kleinberger strives for excellence and so she went to the best. She is now part of a lineage that includes Richard Lack — the founder of the American Atelier movement — and local acolytes of Lack, Dale Redpath and Cyd Wickes. She studied full-time for four years with them at the Atelier Studio of Fine Art in Minneapolis. Her skill grew and so did her collection of paintings and studies for paintings. Where to put it all? What to do with these paintings while they waited patiently for a buyer who truly appreciated them?
Kleinberger has exhibited her work at multiple venues across the metro Twin Cities. Her work has been seen at the Edina Art Center, the Hastings Art Center, the St. Paul JCC and William Mitchell College of Law, among others. But exhibiting at multiple Art-a-Whirls and Art Attacks was not the atmosphere that Kleinberger felt her paintings deserved.
The purportedly haunted Griggs Mansion on St. Paul's Summit Avenue called to her. The brownstone mansion was her companion while she waited at the bus stop that would take her to classes at William Mitchell College of Law; she met her husband, attorney Daniel Kleinberger, at that very bus stop. (They now live in Mendota Heights and are members of Temple of Aaron.) Was the ghost of Chauncey Griggs watching her from the third-floor studio skylight windows? As soon as she learned that the studio was up for rent, she grabbed it.
From the start, Kleinberger intended to make the space not only a studio for creating her art; inspired by Lack and Stein, she wanted it to be a place for people interested in the arts and the ideas connected to the arts to gather and learn from each other in an atmosphere of warm refinement. The "Sunday at Summit Salon" idea was born.
The Griggs Mansion is now broken up into over a dozen apartments and artist studios. Climbing the shabby stairs to the Kleinberger studio gives guests no idea of what awaits them. The door opens to a dazzling array of colors and images — all of it representational paintings by your hostess. Gertrude Stein would feel at home with the eclectic collection of antique chairs and couches that beckon the guest to sit down and leave the hurly-burly of the internet age behind. You sigh and relax. And maybe you buy a piece of art afterward.
Now, it's time for the salon to begin. Kleinberger's original featured salon artists were supposed to address the paying guests for the first time in February 2020. Clearly, that didn't happen. But the eclectic group of artists will likely be there when the program is relaunched later this year: Professor Vernon Pollard; F. Scott Fitzgerald scholar Dave Page; and Cass Gilbert expert architect Tom Blanck are all potential speakers in the salon.
Kleinberger describes herself as "an imaginative realist" who works in oil on canvas and on wood panels. Her work includes figure drawings, portraits, still life, landscapes, seascapes and florals. Much of her artwork is influenced and inspired by her travels and the people she has met. That includes a substantial collection of images of and particularly portraits of "Strong Women of the Bible"; and we're not talking about the Virgin Mary or Mary Magdalene here. "Sarah Lighting the Sabbath Candles" deserves a home in a Twin Cities dining room; "Miriam in the Reeds" could be a little girl from St. Louis Park searching for frogs in the cattails at Westwood Nature Center.
Don't be intimidated by the spooky exterior of the Griggs Mansion. Carrie Kleinberger will make sure that no ghosts will disturb your enjoyment of Sunday at Summit Salons. But she keeps the guest list small to ensure the intimacy of the group. To get a reservation for a future salon, contact: CarolynKleinberger.com . If you can't get into a salon (tickets are limited), you might find Kleinbergeer at Temple of Aaron or Beth Jacob on the High Holidays.
(American Jewish World, August 2021)