Renowned singer-songwriter returns Sept. 14 to headline Herzl Camp's 'Music & Musings' event
By MORDECAI SPECKTOR
Peter Himmelman understands that his role will be that of "featured entertainer, performer, facilitator," for the Sept. 14 Herzl Camp benefit, "Music & Musings at the Mercaz." (The mercaz is the amphitheater at the camp.)
The event, which will be held at the summer camp in Webster, Wisc., "is going to have a little bit of a Big Muse aspect to it," says Himmelman, 54, referring to the creativity seminar he developed and has presented to a variety of groups across the country (11-8-13 AJW).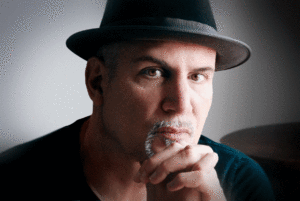 During a recent phone interview with the Jewish World from his home in southern California, the St. Louis Park native talked about the Herzl Camp gig; his new album, The Boat That Carries Us, on the Himmasongs label, which features rock legends Jim Keltner on drums and Lee Sklar on bass; and his first "war song," a recent tune titled "Maximum Restraint," which was inspired by widespread criticism of Israel's war in Gaza.
The publicity for the Herzl Camp benefit mentions that Himmelman will also be playing some of his "greatest hits" from his days with Sussman Lawrence, a popular Twin Cities rock band of yore.
"I don't know if there are too many of those," he replies modestly. "There's a couple songs that I do play. Not all of them made it through the pinhole of time."
Regarding how the "Big Muse method" will fit into the show up in Webster — "I'm not going to give away the magic sauce of this" — Himmelman says that he might do something to help the audience "focus in a fun and unique way on their personal connections to their Judaism… and that's the oblique way I'm going to describe what may go on there."
And, of course, there will be lots of songs and stories — the always entertaining stuff of a Himmelman concert.
Turning to The Boat That Carries Us, which is new in the record bins, Himmelman managed to wrangle music journeymen Keltner and Sklar into the studio. If you Google these names, you'll see that they've played with everyone and their third cousin who's bopped the blues: Ray Charles, George Harrison, John Lennon, Ringo Starr, Diana Ross, Carole King, J.J. Cale, Ricky Skaggs, Poco, Lisa Loeb, Bob Dylan, Crosby, Stills, Nash & Young, et al.
"In the Hour of Ebbing Light," one of the infectious rocking tunes on the new album, features a shuffle beat reminiscent of some J.J. Cale songs.
"That's one of my favorites on the album," says Himmelman. And when I mention the J.J. Cale-sounding, sinuous rhythm, he notes, "J.J. Cale, by the way, had died the night before we recorded that…. I had written the song with a much different groove… and [drummer] Jim Keltner… he keeps his head down till he finds something, he just wasn't finding it…. I said, 'Jim, check this out: pretty J.J.Cale.' And all of a sudden, he perks up; and we just played that, there wasn't any rehearsal. That's the first take in that new style."
As it happened, the day before our phone interview, it was announced that the late J.J. Cale, Jim Keltner and some other musicians would be inducted into the Oklahoma Music Hall of Fame.
Lee Sklar, who plays bass on The Boat That Carries Us, is a Jewish native of Milwaukee. Album producer Sheldon Gomberg — "a brilliant, brilliant musician" — called Sklar in for the recording session. Sklar has his full share of credits on albums by illustrious musicians (see list above). Rounding out the cast on the new album are David Steele, guitars; and Will Gramling, keyboards.
I also mentioned the song "Double Time Sugar Pain." It's an extremely sad song, an elegy with the refrain, "Oh, Susie / Susie Q, I'm on my knees over you." It comes from a personal tragedy.
Himmelman explains that after the album was recorded — following a Big Music seminar in Minneapolis — he was at his mother's home. Usually, the house is full of people, he says. "I came in, it was 10 o'clock at night, and it was dark and it was cold, it was wintertime. And I sat down at the piano, and the piano had a song for me. And I start playing, and my mom has all these pictures of Susie around. And there it was."
Peter's sister, Susan Himmelman-Shapiro, a bright light of our community, who helped found the Minneapolis Jewish Film Festival, died tragically in a 2003 car crash in northern Wisconsin. She was 41, with a husband and three daughters.
It's a sad song. "It really is," Himmelman agrees. "I like a good sad song, a good happy song. I like a song that crosses over that threshold."
It's not easy to segue from the events behind the writing of "Double Time Sugar Pain"; but AJW readers will be interested to know that Himmelman is writing music for another TV show. He previously wrote music for Judging Amy, Men in Trees, Bones and other shows (in addition to his many solo albums for children and adults); and there has been a long dry spell in the TV category.
The new TV series is Dig, as in an archaeological dig, on the USA Network. A murder mystery with international intrigue, the show is set in Jerusalem. The co-creators are Tim Kring and Gideon Raff, the latter known for writing and producing the Showtime hit Homeland, and Tyrant, an FX drama set in a fictional Middle East country.
Speaking of the Middle East, Himmelman waded into the Gaza war controversy with "Maximum Restraint," a sarcastic topical song: "When someone comes to kill you / In the middle of the night / Don't try to defend yourself / Don't use an ounce of might / Just sit there quietly and try hard not to faint / As the world calls out for — maximum restraint."
Himmelman unabashedly takes Israel's part in the ongoing conflict with Hamas, and decries the "moral relativism" that puts Israel on the same plane with Hamas, "a murderous regime."
Regarding the song, and his recent colloquies on Facebook and in columns for the Huffington Post, Himmelman says that he's trying to establish relationships with those who stake out opposing views.
"I just did an interview with Haaretz yesterday," he comments, about the liberal Israeli daily. "I like to read all points of view."
He mentions reading Israeli novelist and peace campaigner David Grossman's novel, To the End of the Land: "It just doesn't get any better. Whether I totally agree with his politics or not, I just agree with his humanity. There's something I can learn from him."
***
Peter Himmelman will perform 12 p.m. Sunday, Sept. 14 at Herzl Camp's outdoor amphitheater overlooking Devils Lake. The concert, which will raise money for camp scholarships and inclusion services, will be preceded by a kosher barbecue. For information, call 952-927-4002, e-mail: info@herzlcamp.org, or go to: herzlcamp.org.