By MORDECAI SPECKTOR
Andy Statman, a musician's musician, who has played with everyone from Bob Dylan to Itzhak Perlman, returns to Minneapolis for a rare concert appearance Dec. 2. He will pack his mandolin and clarinet, and schlep from his home in Brooklyn for the show at the Cedar Cultural Center, the music hub on the U of M West Bank.
Like during his last gig here, on April 3, 2008 at the Cedar, Statman will play with his trio, featuring his longtime musical collaborators, Jim Whitney, bass, and Larry Eagle, drums. The musicians will stop in Minneapolis during a Midwest tour that also includes dates in Iowa City, Milwaukee and Chicago.
During a recent phone interview with the AJW from his home in Flatbush, Brooklyn, Statman talked about his upcoming show here; his last album, a two-CD set titled Old Brooklyn; and his upcoming sessions for a new album.
I recalled that each member of Statman's trio shared the spotlight, so to speak, in their last concert here. In addition to the bandleader's virtuosity on both mandolin and clarinet, Whitney stretched out on innovative melodic solos, and Eagle unleashed some magic around his trap set.
"With a trio everyone gets space to do things," Statman noted. "It gives everyone a chance to experiment and do different things."
Experimentation and pushing boundaries are hallmarks of Statman's hybrid music. The native of Queens, N.Y., was exposed to hasidic music in his family, which included some cantors, and both classical and vaudeville musicians. When his older brother brought home a vintage record by Lester Flatt and Earl Scruggs, the 13-year-old budding musician got hooked on bluegrass.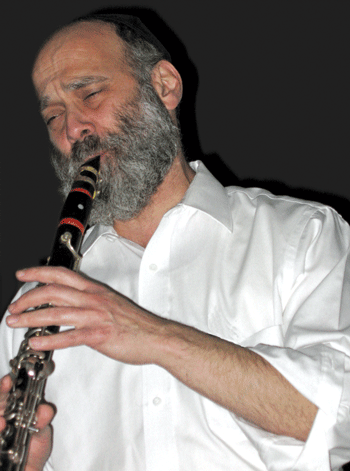 In 1965, Statman came across renowned mandolinist David Grisman, a star of the Greenwich Village folk scene, and asked him for lessons. "I always tell people that if the only thing I ever did was give Andy his first mandolin lesson, it would have been a life well spent," Grisman said.
Statman also studied with masters of varied ethnic musical traditions, including legendary klezmer clarinetist Dave Tarras. And his approach to improvisation also owes much to the influence of great jazz players in New York City, especially the spiritually oriented music of saxophonists John Coltrane and Albert Ayler.
When we spoke, Statman was preparing to go into the studio and record tracks for a new album. In addition to his trio, the new record, which should be out next spring, will feature two prominent contemporary bluegrass players, singer-songwriter Tim O'Brien and young fiddle sensation Michael Cleveland.
Statman explained that the sessions will focus on some of his new compositions. "We'll see exactly where it goes. Tim will sing one or two songs… When you go into the studio, at least for me, I just sort of let things take on a life of their own. I don't try to force anything — I just let it go where it wants to go."
When the sessions are done, Statman "will have a better idea where things are at." The new tunes will be based on "original melodies covering a wide variety of roots styles. It should be a lot of fun."
Statman adds that he wants to put his collaborators in "a much edgier place, going to places where they drop out of their normal comfort zone, so to speak. I'm looking to do something very creative with these musicians."
When Statman talks about an "edgier place," he is referring to the varied musical styles in which he has fearlessly voyaged over the course of his recording and performing career. He has recorded two albums with Grisman (Songs of Our Fathers and New Shabbos Waltz), which are comprised mainly of Jewish folk and liturgical melodies, and many other albums of hasidic melodies adapted for clarinet and mandolin.
"My experience of Jewish melodies really informs everything I do," Statman told the AJW in 2008.
And 2012 has been an auspicious year for Statman. The National Endowment for the Arts (NEA) named the 62-year-old musician as one of its National Heritage Fellowship recipients, the nation's highest honor in the folk and traditional arts. Statman and his trio jammed with Tejano accordion legend Flaco Jiménez and his band last month at the NEA Heritage Award Concert at George Washington University in Washington, D.C.
You don't need to be familiar with Statman's recorded work to enjoy the exciting and virtuosic music that will be presented Dec. 2 at the Cedar; but his most recent album, Old Brooklyn (Shefa), which was released last year, showcases Statman, along with a supporting cast of superstar musicians, ranging over bluegrass, blues, roots rock, a Greek dance melody and Jewish tunes. The album begins with actor John Goodman's sonorous voice intoning the name of the title song, and then it's a romp over 25 tunes on two CDs.
In addition to Statman's trio, Old Brooklyn is buoyed by appearances from country music star Ricky Skaggs (singing "The Lord Will Provide," an 18th century hymn); Béla Fleck, banjo; Paul Shaffer, keyboards; Lew Soloff, trumpet; Bruce Molsky and Byron Berline, fiddle; Marty Rifkin, pedal steel; Art Baron, trombone and tuba; Jon Sholle and Bob Jones, guitar; et al.
"Mah Yedidus (How Beloved Is Your Rest)" gets an uptempo treatment on the album; Statman has recorded it previously at a statelier pace. Shaffer comes in mid-song with a rousing, bouncy klezmer-tinged solo on the Hammond B3 organ; and he's followed by Soloff's blazing turn on piccolo trumpet. Then Statman brings it home on mandolin.
How did Shaffer, known to many as the CBS Orchestra bandleader on The Late Show with David Letterman, hook up with Statman?
"I went to see Ricky Skaggs at Carnegie Hall, because my wife is a huge country fan," Shaffer told the AJW during a phone interview last week. "Ricky brought out his friend, Andy Statman, to play bluegrass… I saw an Orthodox guy come out and play. Ricky Skaggs is a phenomenon himself, and so is Andy Statman. I never forgot it."
A few years later, a member of Shaffer's Orthodox shul, Mount Kisco Hebrew Congregation, in surburban New York, booked Statman to perform for a fundraiser and asked Shaffer to play with him.
"We had a wonderful time," recalled Shaffer, who is likely the most prominent Jewish native of Thunder Bay, Ontario, up on the north shore of Lake Superior. "We did a number of sets together that evening."
Then Statman invited Shaffer to record on his new record. The recording session in Brooklyn was a mix of overdubbing parts, and cutting a couple of songs live with other musicians in the room.
"That's how it happened," Shaffer said. "And then Andy did me the honor of playing at my son's Bar Mitzva, just last January." Statman brought a sextet for the simcha.
"It was phenomenal," Shaffer remarked. "When he gets going, there's nothing like it. All six guys are equally as comfortable playing his bluegrass repertoire, as they are playing his klezmer repertoire, which kind of blows your mind."
Shaffer added, "We'll always remember that Bar Mitzva, because of Andy; and my son was pretty good, too."
I can wax rhapsodic about Statman's nonpareil musicianship; but better to hear it from someone who really knows from music.
"He is impeccable in everything he does," Shaffer said about the genius from Flatbush. "He plays all the styles he plays with equal prowess. He's a consummate musician. What more can I say?"
***
The Andy Statman Trio will perform 7:30 p.m. Sunday, Dec. 2 at the Cedar Cultural Center, 416 Cedar Ave. S., on the Minneapolis West Bank. Tickets are $30 advance, $35 day of show; for tickets call 612-338-2674 (between 12 to 4 p.m. Monday-Friday, $2 fee per ticket). Tickets also can be purchased through Ticketweb; go to: thecedar.org.
(American Jewish World, 11.23.12)