The Israeli clarinetist's new album features both jazz and the captivating sounds of Brazilian choro
By MORDECAI SPECKTOR
After Jewish music lovers complete their fast from leaven, a reward is surely in order.
The Anat Cohen Quartet, which returns to the Dakota Jazz Club for two shows on April 12, fills the bill.
There's beer and cocktails, too.
Cohen, a Tel Aviv native who's risen to the top of the jazz scene on clarinet, is touring behind a scintillating new album, Luminosa (Anzic Records), which combines jazz and Brazilian music, the latter of which has captured the musician's musical imagination over recent years.
Anat Cohen Quartet
April 12 at the
Dakota Jazz Club
Ace Brazilian guitarist Romero Lubambo — who has played the Dakota twice over the past year, with classical guitar virtuoso Sharon Isbin (a St. Louis Park native) — plays on four of the Luminosa tunes. And Cohen's Brazilian group, Choro Aventuroso — Vitor Gonçalves, accordion; Cesar Garabini, guitar; and Sergio Krakowski, pandeiro (Brazilian tambourine) — play on two songs.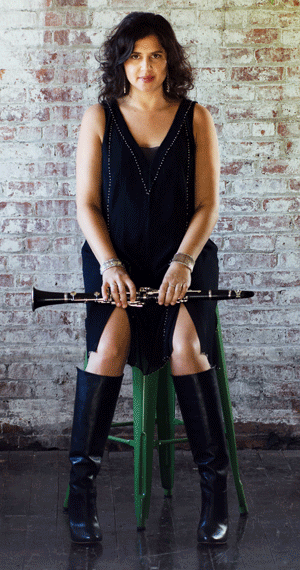 The ensemble heard on Luminosa played five nights in New York City in early March.
"I'm excited about presenting choro in an official way in one of my albums… Brazil has been a big part of my life, so we're doing an official nod to Brazil," Cohen told the Jewish World, during a recent phone conversation from her home in Brooklyn.
Choro (SHO-roh), a lilting lyrical, pulsing kind of music, has been described as the "New Orleans jazz of Brazil."
During her interview, Cohen admitted to being a little jet-lagged, not her usual talkative self. She had just returned from a two-week tour of Japan, with jazz pianist Bruce Barth's quartet.
"Last year, I was doing part of the ["Newport Jazz Festival: NOW 60"], we were touring and playing more straight-ahead jazz," she mentioned, regarding the band of all-stars celebrating the venerable music festival. "I always go back and forth between different things. I want to play more choro this year, and figure out what the next step is."
The press release for the new album quotes Cohen: "The sound of Luminosa reflects my musical life in New York City. I flow between modern and traditional jazz, between samba and choro — all maybe in a week's time."
Luminosa was produced by Cohen; keyboards wizard Jason Lindner, who will be with the quartet at the Dakota; and Oded Lev-Ari, Cohen's longtime friend and Anzic Records partner.
Joining Cohen and Lindner for the Midwest tour dates will be bassist Linda Oh, who has led her own groups and accompanied Dave Douglas, Joe Lovano and other top flight jazz artists; and drummer Adam Cruz, who will return to the Dakota with pianist Danilo Pérez's trio April 22.
It should be a wonderful show at the Dakota. Cohen, who played here since 2012, is an animated character onstage, cheering on her follow musicians and dancing to the music.
In addition to his producing chores, Lindner plays a ton on Luminosa, turning in brilliant solos on most of the tunes. He brought Cohen the Flying Lotus song "Putty Boy Strut," and gave it a whole new arrangement.
The new album also features Israeli guitarist Gilad Hekselman, on Cohen's song "The Wein Machine," a tribute to Newport Jazz Festival founder George Wein. Hekselman, one of the large contingent of Israeli jazz musicians now living in New York City, played Studio Z in downtown St. Paul several months ago, with trumpeter John Raymond, a Twin Cities native now working and living in New York; and drummer Colin Stranahan.
Cohen also performs and records with her siblings, trumpeter Avishai, of the SF Jazz Collective and other groups; and soprano saxophonist Yuval, who lives in Tel Aviv, where he plays with some younger musicians and teaches. Yuval also is one of the nicest guys in the world (7-19-13 AJW).
Unfortunately, Anat Cohen told the AJW that the 3 Cohens have no upcoming shows scheduled. One still can imagine an evening, sometime in the future, when they appear together on the Dakota stage.
***
The Anat Cohen Quartet will play two shows 7 and 9 p.m. Sunday, April 12 at the Dakota Jazz Club and Restaurant, 1010 Nicollet Ave., Minneapolis. For tickets, call 612-332-1010, or go to: dakotacooks.com.
(American Jewish World, 3.27.15)