The most prominent Arab writer in Israel, Sayed Kashua cements his status with a critically acclaimed third novel
By MORDECAI SPECKTOR
When one thinks of celebrated contemporary Israeli novelists, the names Amos Oz, A.B. Yehoshua, David Grossman, Aharon Appelfeld and Meir Shalev might come to mind. They are all Jewish Israelis, but Sayed Kashua, an Arab Israeli, has emerged as one of the most inventive and compelling Israeli writers.
Several critics contend that with his third novel, Second Person Singular (Grove Press), Kashua has vaulted into the top ranks of Israel authors. Kashua, who writes in Hebrew, won Israel's prestigious Bernstein Prize in 2011, for his recent novel, which is now out in a U.S. edition.
In his rave review of Second Person Singular in Haaretz, fellow Arab Israeli novelist Ayman Sikseck pronounced Kashua "one of the most important contemporary Hebrew writers."
And in his review, Ranen Omer-Sherman wrote in the Forward that Second Person Singular "triumphs as a tragicomedy composed of two suspensefully intertwined stories tracing the lives of two unnamed Arab protagonists, illuminating their fraught condition as insiders and outsiders and their painful struggle to create a life of meaning."
The novel, which benefits from a wonderfully felicitous translation by Mitch Ginsburg, follows the story of two Arab Israelis: a young social worker from humble roots, and a prosperous lawyer who has relocated his office to King George Street in west Jerusalem. The novel features the proverbial plot twist at the end, which ties together the two disparate characters.
Kashua visited the United States during a book tour earlier this spring, and spoke with the AJW during his stop in Boston. The 37-year-old author discussed his new novel; Arab Labor, the popular sitcom he created for Israeli's Keshet television network; and his position as a "Jewish" humorist, who happens to be Arab and Muslim.

Sayed Kashua: I truly admire and love Jewish humor and comedy. (Photo: Dan Porges)
Second Person Singular was published about two years ago, in a Hebrew edition. Although the novel focuses on two Arab Israeli characters, the book has not yet been translated into Arabic. Kashua noted that his first two novels were translated into Arabic, and he's hopeful that an Arabic edition will be forthcoming.
Contrary to Omer-Sherman's previously quoted comment about "two unnamed Arab protagonists," the social worker in Second Person Singular is named Amir. The status conscious lawyer, however, remains unnamed. "I don't know why, but 'the lawyer' would be the best name that I can give him," Kashua commented on this point.
The lawyer, who frequents a used bookstore, happens to pick up a copy of The Kreutzer Sonata by Tolstoy one day, and finds a love letter inside the volume. It is in Arabic, in his wife's handwriting, and addressed to someone named Yonatan.
An insane jealous rage overtakes the lawyer, who turns on his wife, Leila, as he tries to solve the mystery of the love note. The lawyer's story is told in the third person; Amir's story is developed in a first person narration, and involves an ingenious investigation of the issues surrounding ethnic identity in Israel.
Amir takes a job as a personal care attendant for a Jewish Israeli, who happens to be named Yonatan and lingers in an irreversible coma. Caring for Yonatan during the night, Amir begins to explore his client's books and music. Without spoiling the plot of the novel, it can be said that Amir manages to see Israeli society from the other side, from a Jewish perspective.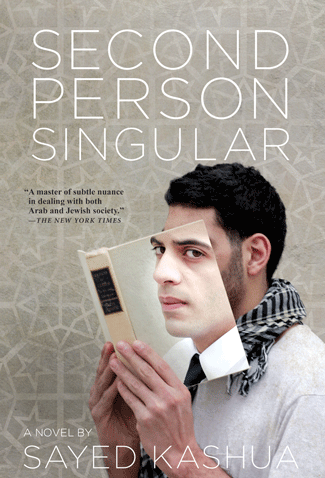 Kashua allows that much of his writing concerns the question of identity in his native land. "I am trying in this novel, at least, to check this thing called identity… and how we make identity and background so holy, both Jews and Arabs. I am trying to play with it… and, again, what does it mean, identity? Is it national identity, or socio-economic identity?"
The situation of Arabs in Israel is grist for the humor mill in Arab Labor (Avoda Aravit), which became one of Keshet TV's top 10 programs. The sitcom concerns a middle-class Arab Israeli family negotiating life in the Jewish state. "I wanted to bring likable Arabs into the average Israeli living room," Kashua told the New York Times several years ago, regarding his writing for Arab Labor. (The title of the series is a derogatory Hebrew expression for substandard craftsmanship.)
There are two more episodes yet to air in the third season of Arab Labor, according to Kashua. "I'm writing the fourth season right now, hopefully to shoot it at the end of this year," he said. The series has been a "huge success," he remarked, one of Israel's most popular TV comedies ever; but Kashua mentioned that the work is "very demanding," as he is sole writer of the series. "I think I would like to take a break," he mentioned.
There are some clips of Arab Labor, with English subtitles, on YouTube. Also, you can read Kashua's columns on the English Web site of Haaretz.
In his novels, TV series and columns, Kashua explores the quotidian lives of Arabs in Israel. In a way, Kashua's outsider perspective, as a member of an ethnic and religious minority in a Jewish nation, bears some similarities to Jewish humor in the Diaspora.
"I truly admire and love Jewish humor and comedy," he told the AJW; but when Jews become the dominant group in Israel, "the humor immediately becomes very bad — you make aliya and you immediately forget your humor."
In this vein, Kashua mentioned that one critic called him the "only Jewish writer" remaining in Israel, regarding his humor that derives from a minority perspective.
"It's a kind of humor I call, 'I can be funny, please don't shoot me,'" he explained, about "minorities trying to survive and to protect themselves" with jokes.
"It's called 'Jewish humor' because they were maybe the first minority to be educated in Europe and around the world," Kashua continued. "And now I can see that in other minorities' way of writing, in England and in Holland, immigrants that arrived there used this protective kind of writing, which can also be compared to the Jewish way of writing and humor, I think."
(American Jewish World, 6.8.12)