Shoah survivor Sam Rafowitz is the subject of new documentary
By MORDECAI SPECKTOR
Sam Rafowitz, a native of Warsaw, Poland, recalls how the Nazi invaders of his homeland forced him to clean out apartments in the ghetto. Then events took a turn for the worse.
"About 15 and a half, they took me already," relates Rafowitz, in a new 30-minute documentary. "I went to work and I never came home, never came home. They loaded us up on big trucks and we didn't know where we were going. We found out that this place was a concentration camp — Majdanek, Lublin."
Majdanek served the Nazi regime as a forced labor, concentration and extermination camp. More than 360,000 souls, mostly Jews, were murdered at Majdanek. Rafowitz, who was pressed into slave labor, somehow survived Majdanek, and four other concentration camps — Auschwitz (1943-1945), Buna, Dora and Bergen-Belsen.
On April 15, 1945, British soldiers liberated the tortured inmates of Bergen-Belsen, including Rafowitz, who was down to 78 pounds.
A documentary on DVD, Sam Rafowitz: Remaking a Life, which depicts the Minnetonka resident's survival in the Shoah and his new life in America, premiered Aug. 22 at the Sabes JCC theater. A packed house enjoyed live music performed by Ivan Rafowitz, Sam's son, keyboards; Adam Rafowitz, Sam's grandson, electric guitar; and Steven Greenberg, drums.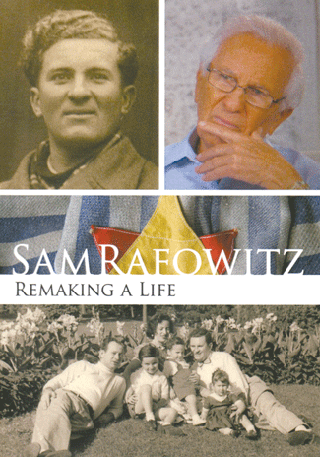 Steve Hunegs, director of the Jewish Community Relations Council (JCRC), spoke prior to the video screening. The documentary was produced by Laura Zelle, director of the JCRC's Tolerance Minnesota program. The DVD will be made available to schools in the Midwest to use as an educational resource.
Maxine W. Davis, the writer and director of Sam Rafowitz: Remaking a Life; and Ken Rafowitz, Sam's other son, also spoke prior to the screening, which was followed by a brief talk by Sam Rafowitz and a dessert reception.
Executive producers of the documentary are Ivan and Ken Rafowitz. Ivan also narrates the documentary, and composed and performed songs and ambient music for the soundtrack.
(Full disclosure: Ivan Rafowitz is a partner in Minnesota Jewish Media, LLC, the parent company of the American Jewish World; he also is a member of the company's board of governors.)
The affecting documentary tells the survivor's story in the hell of Nazi-occupied Europe, then recalls his new postwar life as a "displaced person." In the DP camp at Bergen-Belsen, Sam Rafowitz met and fell in love with Cyla Bonk, a survivor from Vilna, Lithuania. They were married at Bergen-Belsen, then Sam traveled with his wife, a singer and actress in the camp's Yiddish theater troupe, across Europe, including performances in Paris. Cyla Rafowitz died in 2007.
In another touching story, Rafowitz tells of trekking through Austria and Italy, and reuniting with his sister, Helen, who was in a DP camp in Reggio Emilia, Italy. She was amazed to be reunited with her brother; she had heard a rumor that he had died in a camp.
Finally, the documentary traces how Rafowitz, who learned to sew caps in the camps, established a business that prospered. The family business, Northern Cap Manufacturing Co., became a successful apparel enterprise, which was sold to a private equity firm some years ago.
Asked about the apparent "miracle" of his father's survival in the Shoah, Ivan Rafowitz told the AJW that his dad was fortunate to be "young enough to be able to go without food" for extended periods. "You had to have a lot of smarts to survive," he added.
And Rafowitz said that his father, during a trip back to Auschwitz for the March of the Living, in 1996, told him that survival depended largely on a "will to live."
Young Jews, and non-Jews, will benefit from watching the well-crafted documentary. One cannot comprehend the enormity of the industrialized murder of six million Jews in the Holocaust; but with a focus on one who survived, the viewer can ponder a life reborn out of brutal repression.
Sam Rafowitz deserves enormous credit for telling his often painful and emotionally fraught story. The hardest heart will melt when Rafowitz tells about the last time he saw his mother at Majdanek — she tried to give her son a sweater — and weeps.
As the credits roll, Sam's granddaughter, Mia Rafowitz, says, "I think his best feature is his positive attitude toward life — everything he's been through, how he can still smile and be so happy."
***
For information about the DVD documentary Sam Rafowitz: Remaking a Life, contact Laura Zelle at 612-338-7816, or e-mail: laura@toleranceminnesota.org.
(American Jewish World, 9.2.11)