The new documentary about Amy Winehouse humanizes the story of an immensely talented and troubled singer
By MORDECAI SPECKTOR
I cheated myself / Like I knew I would / I told you, I was trouble / You know that I'm no good.
— "You Know I'm No Good," by Amy Winehouse
Amy Winehouse rose to international fame as a gifted singer in the jazz and soul vein. Her retro look and catchy lyrics, often written as a sort of self-therapy, elevated Winehouse among her generation of young singer-songwriters.
Then she disintegrated, in full view of TV cameras and tabloid photographers. Winehouse died from alcohol poisoning on July 23, 2011. She was 27.
The tragic rise and fall of Amy Winehouse is chronicled in Amy, a new documentary film directed by Asif Kapadia. The film, which features previously unreleased music and never before seen footage from the singer's early years, opens locally July 10.
The film tells an amazing rags-to-riches story, along the lines of Kevin Macdonald's compelling 2012 documentary Marley, about Jamaican reggae superstar Bob Marley. Although both musicians died young, Winehouse's demise coincided with the omnipresence of digital social media, and her struggles with drugs and drink were reported in lurid detail.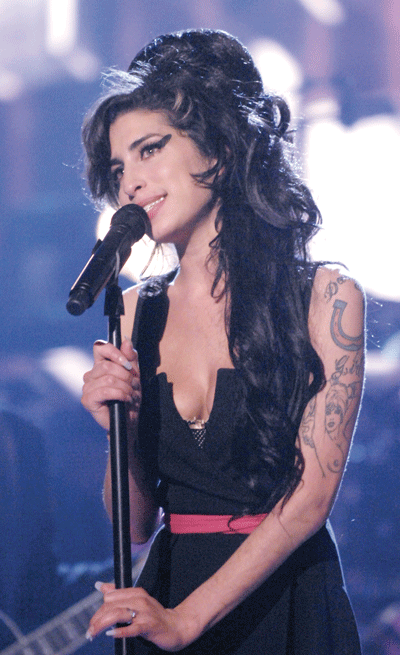 "Something happened with Amy Winehouse, and I wanted to know how that happened in front of our eyes," said Kapadia. "How can someone die like that in this day and age? And it wasn't a shock: I almost knew it was going to happen. You could see she was going down a certain path."
Winehouse was raised in a Jewish family in North London, and Kapadia — who is best known for Senna, his 2010 documentary about Brazilian Formula One racing driver Ayrton Senna — also is from that neighborhood.
"It's bizarre, [Kapadia] went to the same school as her father [Mitch Winehouse], we realized when we were interviewing her dad. So that was a funny coincidence," commented James Gay-Rees, producer of Amy.
Gay-Rees talked to the Jewish World via phone last week from Los Angeles, just before the West Coast premier of the film.
The director "is very much from that part of North London, so I think he was very intrigued by that aspect of it, how someone who was just a regular lower-middle class girl from North London can end up going on such a crazy journey."
And Gay-Rees added, "Every superstar starts off as a just a kid somewhere, don't they?"
The film project originated when Gay-Rees was approached by David Joseph, chairman and CEO of Universal Music UK. The producer had met the music mogul socially on occasion. "He just takes me out of the blue, said, 'Would you ever consider making a full-access, very honest film about Amy Winehouse, in the way that you did Senna?'"
Gay-Rees, who was one of the executive producers of Senna, knew that "there was a story to be told out of that narrative… The more we got into it, the more we learned about her, this whole different side of her. And then it became a mission to show that to the rest of the world."
The challenge began to get old school friends, and the "nearest and dearest" to Amy Winehouse to participate in the film. Gay-Rees mentioned that Winehouse's friends and her musical associates, like rapper Yasiin Bey (a.k.a. Mos Def), wanted the film "to show the real her, because they were all very much aware that the residing image of her, especially in the U.K., of this kind of junkie tabloid monster was just a cartoon, it wasn't the real person. So they wanted to put the record straight and tell people who she really was — and why what happened happened. That was the… journey and that was the objective, to reeducate people."
Another aspect of the film was "to show off her talent," according to Gay-Rees; and the musical scenes showcase Winehouse's exceptional gifts as a singer and composer. Winehouse had a big hit with "Rehab"; but she was a devotee of jazz and vintage R&B music.
No less a music icon than Tony Bennett extolled Winehouse's talent. He compared her to legendary jazz singers Billie Holiday and Ella Fitzgerald. The touching scene of Bennett and Winehouse in a recording studio is worth the film's price of admission. Winehouse gets frustrated when she feels that her vocal is not quite right; and Bennett, her musical hero, encourages her to keep at, that her part keeps getting better.
In 2012, Winehouse posthumously won a Grammy Award for Best Pop Duo/Group Performance, for her recording with Bennett of "Body and Soul." The song is part of the album Tony Bennett: Duets II.
"We shouldn't be here," said Mitch Winehouse, who accepted the Grammy Award for his daughter. "Our darling daughter should be here. These are the cards we're dealt. We miss our daughter so much…. Tony's collaboration with Amy meant so much to her and to the family as well. She was so excited about 'Body and Soul' because it was my favorite song."
Amy, the film, is unsparing in its depiction of the singer's downward spiral. The viewer learns that Winehouse suffered from bulimia, the binge and purge eating disorder, in her teenage years. She was a livewire and fun personality, amid of circle of dedicated friends; but the pressures of fame proved to be her undoing. Her boyfriend, and later husband, Blake Fielder-Civil, introduced her to crack cocaine and heroin. The proverbial marriage made in hell. The paparazzi and late night comedians had ample fodder as Winehouse's life spun out of control. The omnipresent flash of cameras and the insensitive jokes are jarringly depicted in the 128-minute documentary.
And, as Kapadia mentioned, nobody was able to intervene effectively to save Amy's life.
According to an article in the recent issue of Rolling Stone magazine, Mitch Winehouse was extremely displeased with the final cut of Amy, and told the Guardian newspaper, of London, "They are trying to portray me in the worst possible light."
The film shows the elder Winehouse visiting his daughter while she was recuperating on a Caribbean island; and he brought along a camera crew for a reality show he was doing. Doubtless Winehouse loved his daughter and the feeling was mutual; however, the viewer of Amy senses that the singer also was the meal ticket for many individuals in her orbit. When she was ill, she was still being pushed to perform. Footage of a disastrous appearance by Winehouse at a music festival in Belgrade shows the frail artist too drunk to perform; she was pushed onto the stage and really didn't know where she was.
"We only use her words — we're not fabricating anything," said Gay-Rees, regarding the objections of Mitch Winehouse to his portrayal in the film. "We go out of our way to say that she was very fond of her dad and they undoubtedly had a lot of great times together."
The producer allowed that Mitch Winehouse "probably had a different idea about what he wanted the film to be; but we had no idea what we wanted the film to be, because we weren't there and we didn't know her, and we didn't know the story."
Finally, the filmmakers have created a critically acclaimed work of art, which returns Amy Winehouse to her place as an extraordinary singer. She was a complicated person with a lot of personal problems that led to her untimely death. We are left to ponder what went wrong in her short and exceptional life. Amy likely will thrill music lovers and bring them to tears.
Amy opens July 10 at the Landmark Lagoon Cinema in Uptown, and the AMC theaters at Rosedale and Southdale.
(American Jewish World, 7.3.15)
* * * * * * * * * *