(JNS.org) — A group of American war veterans, many suffering from post-traumatic stress disorder (PTSD), recently finished a 10-day journey to Israel as part of an effort by a new nonprofit group called Heroes to Heroes.
Heroes to Heroes was founded last year by Judy Schaffer, a mother of two from New Jersey, after she learned about Israel's tremendous services for disabled veterans. It brings disabled American war veterans to Israel to meet with disabled Israeli war veterans as part of a bonding experience to facilitate the healing process for the veterans.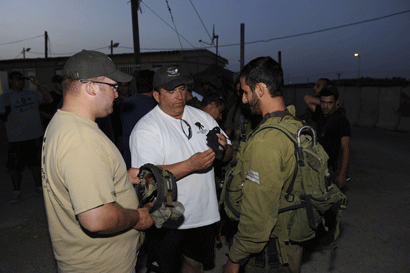 Participants in the "Soldier Ride" program, which cooperates with Friends of the Israel Defense Forces (FIDF), arrive in Israel. The program gives a unique opportunity to American and Israeli wounded soldiers to ride bicycles together across Israel. (Photo: U.S. Embassy Tel Aviv)
"A major comfort for [the American veterans] was that so many Israelis are veterans. While in the United States soldiers are a minority… here they could speak to almost anyone in the street," Schaffer said in an Israeli Embassy press release. "They could talk about things that happened in Iraq and Afghanistan with Israelis and have it validated that they're not crazy. It exorcised some of their ghosts."
She added, "How Israel treats its vets and how they were welcomed made it so much more than we ever expected."
The visit included talks on global terrorism, trips to Israel's holy sites, meetings with disabled Israeli veterans, fostering relationships between American and Israeli veterans built on support and post-war experience, and visiting Israeli facilities for disabled veterans.