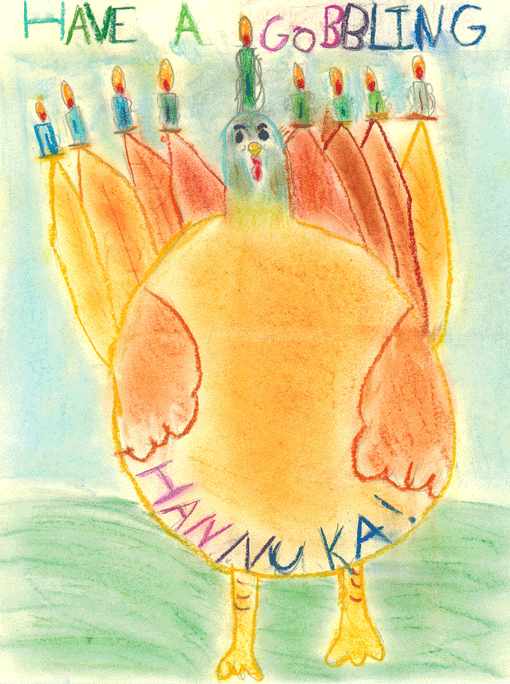 This year marked the 22nd annual AJW Hanuka Cover Contest, for students in grades 1-8, which inspired more than 60 young artists in the community to reflect on the meaning of the Festival of Lights — and of Thanksgiving, which falls on the second night of Hanuka.
The turkey was a popular motif in many of the lovely works of art that were submitted this year. However, one piece displayed a slightly higher standard of creativity and painterly skill.
We are proud to announce that Mara Fink is the winner of this year's Hanuka Cover Contest.
Mara, who lives in Eagan, is in the 6th grade at Black Hawk Middle School. She also attends the Talmud Torah of St. Paul George Kaplan Afternoon School.
During an interview this week with the AJW, Mara, 11, explained that she used chalk pencils to create her turkey with plumage forming a hanukia. And her artwork encourages AJW readers: "Have a gobbling Hannuka!" It's a wonderful sentiment.
It should be noted that Mara is no stranger to the AJW's popular art competition: Her 2011 cover art submission took the 2nd Runner-up spot. So, her victory is a lesson in perseverance.
Asked what she liked best about Hanuka, Mara replied, "Being together with family, and gifts."
In middle school, in addition to drawing, Mara enjoys gym and band, where she plays trombone. She also likes cooking and sewing in "home ec" class. At the Talmud Torah, she enjoys Rabbi Yosi Gordon's Torah class.
Mara is the daughter of Laurie and Jason Fink. Her sister, Naomi, 8, also was present at the interview with the AJW (and she entered the AJW Hanuka Cover Contest, too). The Fink family belongs to Beth Jacob Congregation in Mendota Heights.
As this year's winner, Sara receives a Target gift card, courtesy of the AJW. She also received a large-format volume, Inside Anne Frank's House: An Illustrated Journey through Anne's World, some chocolate Hanuka gelt, etc.
We congratulate all of the artists who entered our contest this year. You're all winners in our book. We hope to see your work again next year!
— Mordecai Specktor
***
Hanuka Cover Contest Runners-Up
1st RUNNER-UP
Maya Shlomit Halpern, 5th Grade
Heilicher Minneapolis Jewish Day School
2nd RUNNER-UP
Adam Weitz, 7th Grade
Wayzata Central Middle School
3rd RUNNER-UP
Tally Shaver, 5th Grade
Heilicher Minneapolis Jewish Day School
YOUNG LIGHTS HONOREE
Chaya Dalya Berezovsky, 2nd Grade
Torah Academy
Click HERE to see the artworks by runners-up.
(American Jewish World 11.22.13)