By MORDECAI SPECKTOR
Sam Kaplan, a prominent Minneapolis lawyer and leading DFL activist, enjoys reading the American Jewish World. However, over the last few months Kaplan and his wife, Sylvia, get their copy of the newspaper a couple of weeks late.
It is delivered in a diplomatic pouch with other personal mail to the United States embassy in Rabat, Morocco. On Oct. 6, 2009, the Kaplans arrived in the northern African nation, where Sam Kaplan is the new U.S. ambassador.
He is one of the few Jews to serve as a U.S. ambassador to an Arab nation.
In a telephone conversation with the Jewish World this week from Rabat, Kaplan discussed his new role as an American diplomat, some drastic lifestyle changes, and Morocco's relations with the U.S. and Israel.
"This is a fascinating place to be," says Kaplan, and mentions that he and Sylvia had just returned from a weekend visit to Tunisia. "We've been all over [Morocco]; we're doing everything we can to show the presence of the American ambassador and his wife, and to show our great interest in this country, so we've done a lot of traveling."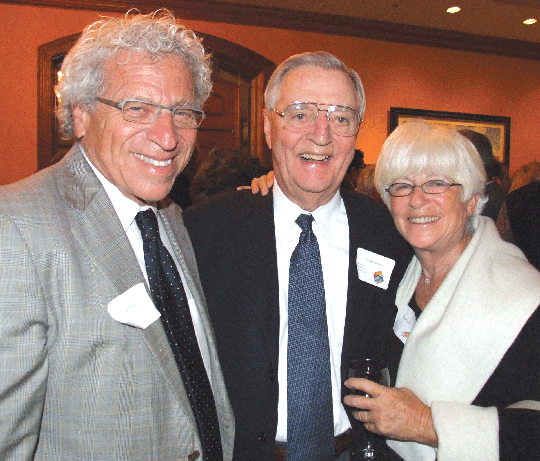 Unlike life in Minneapolis, where the Kaplans could pop out for a restaurant meal, Kaplan comments, "We have heavy security, so we travel in a motorcade."
Later in our conversation, when discussing Morocco's "aggressive" stance against Islamist terrorism, Kaplan elaborates, "The security that I have is different — no [other diplomat has this kind of] security, only the American ambassador. There's a team of security guards, there are seven or eight of them, with me all of the time. We travel in armored cars. When we get to another town, the police meet us there with their flashing lights and sirens. It helps to get you through traffic; but it can be inhibiting because I can't go out without them. Sylvia and I can't go out for a walk down to the corner to have a cup of coffee without my calling the security guard, and he'd have to call seven other guys."
Kaplan, who's 73, qualifies his comments by noting that the security issue only crops up on the weekends; during the week, the Kaplans have a busy schedule and are out and about.
"The people in Morocco have been marvelously friendly, they just have been wonderful," he says. "They are our longtime friends here."
Regarding the latter comment, Kaplan refers to the fact that Morocco was the first nation to recognize the nascent United States of America.
Further on the subject of U.S.-Moroccan relations, he points out, "Morocco was the only Arab country that I know of that had a memorial day service to remember the people killed in 9/11."
The Kingdom of Morocco is a model of political moderation in its region, according to Kaplan, who points out that the nation "has completely suspended its relationship with Iran."
Kaplan also wants Jewish World readers to know that "there is a long history in Morocco of being sometimes a meeting place, sometimes a telephone-operator kind of role, sometimes a role that is not fully described, in helping the Israeli-Palestinian peace process. After all, this is the only [Arab] country where Jews come back in large numbers [to visit]. In fact, they still may have Moroccan passports."
Many of the Jewish tourists are Israelis with roots in Morocco.
With the birth of the modern State of Israel, Morocco's Jewish population dwindled. Kaplan says that the Jewish community, predominantly living in Casablanca, now numbers about 5,000.
According to Jewish Communities of the World (Lerner), edited by Dr. Avi Beker, Morocco's Jewish community dates back more than 2,000 years. Jewish fortunes waxed and waned during the centuries in the Maghreb (the Arabic word for "western," referring to Morocco, Tunisia and Algeria, and lately expanded to include Libya and Mauritania).
Morocco became a French protectorate in 1912, and during World War II, King Mohammed V prevented the deportation of the country's Jews by the anti-Semitic Vichy regime ruling France. In 1948, there were 270,000 Jews living in Morocco; many of them were in poverty and chose to leave for the U.S., Canada, Israel and France. Conditions for Jews — who became Moroccan citizens when the nation gained independence in 1956 — worsened after the 1967 Six-Day War, and many middle-class Jews left.
Kaplan has met some Moroccan Jews in his travels, and was looking forward to a formal meeting this week with the Casablanca Jewish community.
He mentions that Israeli elected officials occasionally visit Morocco — Tzipi Livni, leader of the Kadima Party, "was here a month ago, other representatives of the Labor Party have been here."
Of course, the Palestinian cause elicits widespread support in Morocco and across the Arab world. Kaplan says he recently attended a conference on Jerusalem; which was the first time he was in the company of Mahmoud Abbas, president of the Palestinian Authority, who spoke at the gathering.
"The American ambassador is always invited to be there in the front row," Kaplan remarks.
At another conference in Morocco, attended by Secretary of State Hillary Clinton, Kaplan participated in meetings with the Moroccan foreign minister, "and then she and I flew to meet with His Majesty, King Mohammed the Sixth."
There are ongoing discussions about resolving the Israeli-Palestinian conflict, and Moroccans think that they have a role to play, comments Kaplan.
"They are very much on the side of the Palestinians, you shouldn't make any mistake about that," Kaplan says, and adds that the Moroccans also have contact with Israelis who are working toward a peace settlement.
In his one meeting with the 46-year-old king, Kaplan recalls that they had a "nice conversation."
He explains, "I think they like to call this a constitutional monarchy; it is not a constitutional monarchy, it is a monarchy with a constitution, because the king is the secular leader and he is also the religious leader."
Human rights groups note that Morocco is making some progress in the areas of political rights and press freedoms. As is widely known, there are three areas that the Moroccan press does not write about: the conflict over the Western Sahara, the legitimacy of the monarchy and Islam.
On the lighter side, the Kaplans have been busy visiting their colleagues in the diplomatic corps, especially visiting with ambassadors from smaller nations. They also meet with Americans visiting on various exchange programs, and military officers attached to AFRICOM, the United States Africa Command.
Regarding their home in the Moroccan capital, Kaplan allows that the ambassador's residence is "quite large… a very American kind of house," which lacks the "Moroccan touches that are really quite attractive" in other ambassadors' homes. The Kaplans have visited "about 20" other embassy residences, so they can make an informed judgment about their digs.
"So we are trying to make this house into something that feels homey and warm, and Sylvia, of course, is very talented at this. Hopefully, it will ultimately turn out to be something that everybody enjoys seeing."
Interior decorators have come from Washington, D.C., to work on the embassy, a process that takes place every 18 years, says Kaplan.
The Kaplans also have brought some of their furnishings and accessories from Minneapolis; and he mentions that through the State Department's Art in Embassies program, "Sylvia has been able to obtain from the Minnesota Historical Society and the Minnesota Museum of [American] Art a number of wonderful paintings from the period between World War I and World War II, many of them WPA pieces of artwork…. They just went up last week."
The Kaplans obviously are making the most of their new life in Morocco. "There hasn't been one moment that has been boring for either of us," he remarks.
The trade-off is that the Kaplans miss their friends and family in Minnesota — and the hurly-burly political activities in which they were enmeshed.
Asked for a final message for AJW readers, Kaplan says, "Just tell them I miss them all."
(American Jewish World, 1.22.10)