Conclusions of the latest investigation will not be legally binding on Israel, but could further ratchet up international criticism
By BEN SALES
TEL AVIV (JTA) — The United Nations probe into the Gaza conflict hasn't even begun, but Israel already is convinced that it won't end well.
In a resolution adopted by a vote of 29-1 with 17 abstentions, the U.N. Human Rights Council moved last month to establish a commission of inquiry "to investigate all violations of international humanitarian law and international human rights law in the Occupied Palestinian Territory." The United States cast the sole vote against.
Last week, Israeli Prime Minister Benjamin Netanyahu criticized the council for choosing to investigate Israel rather than nearby crisis zones such as Iraq or Syria, and implied he would not cooperate with U.N. investigators.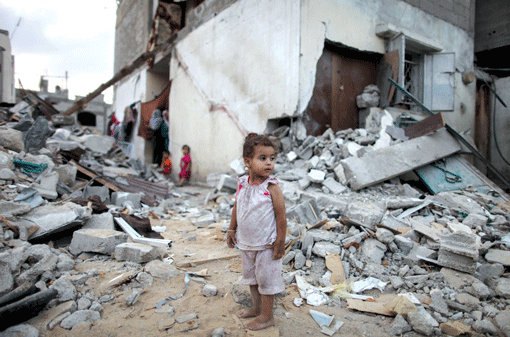 "The report of this committee has already been written," Netanyahu said following a meeting with visiting New York Gov. Andrew Cuomo. "The committee chairman has already decided that Hamas is not a terrorist organization. Therefore, they have nothing to look for here. They should visit Damascus, Baghdad and Tripoli. They should go see ISIS, the Syrian army and Hamas. There they will find war crimes, not here."
Israel has been down this road before. Following the end of the last Gaza conflict, in early 2009, its government refused to cooperate with a U.N. investigation led by the South African jurist Richard Goldstone. The probe, dubbed the Goldstone Report, alleged that Israel had intentionally targeted civilians, though Goldstone later personally retracted that allegation. Israel rejected the original report as inaccurate and biased.
This time, the commission will be chaired by William Schabas, a Canadian-born professor of international law at Middlesex University in London. Schabas said in an Aug. 12 interview with Israel's Channel 2 that it would be "inappropriate" to assert that Hamas is a terrorist organization. Last year, Schabas said that Netanyahu would be his "favorite" leader to see tried at the International Criminal Court.
Schabas' father is Jewish and he sits on the advisory board of the Israel Law Review. In the Channel 2 interview, he said he would not let his personal opinions affect his investigation.
"What someone who sits on a commission or a judge has to be able to do is to put these things behind them and start fresh, and this is of course what I intend to do," Schabas said. "It's in Israel's interest to be there in that discussion and give its version of events. If it doesn't, then that leaves an unfortunate one-sided picture of it."
Israeli cooperation could have softened his report's conclusions, Goldstone wrote in the 2011 Washington Post op-ed in which he backed down from the report's most scathing criticism of Israel. Goldstone noted that subsequent investigations by the Israeli military indicated that it was not Israel's intent to target civilians.
"Although the Israeli evidence that has emerged since publication of our report doesn't negate the tragic loss of civilian life, I regret that our fact-finding mission did not have such evidence explaining the circumstances in which we said civilians in Gaza were targeted, because it probably would have influenced our findings about intentionality and war crimes," Goldstone wrote. "Israel's lack of cooperation with our investigation meant that we were not able to corroborate how many Gazans killed were civilians and how many were combatants."
Among Israeli legal experts, there is broad agreement that Israel must do its part to present its version of events, even while disagreeing about how best to do that. Only Israel's state comptroller has indicated that he will be investigating the Gaza conflict.
Amichai Cohen, an international law expert at the Israel Democracy Institute, said the comptroller's probe is insufficient and that Israel should launch an investigation by experts.
"The comptroller himself doesn't have knowledge in international law, in criminal law, in military law. That's not his specialty," Cohen told JTA. "You need something independent and transparent."
Hillel Neuer, executive director of the Geneva-based NGO UN Watch and a vocal critic of the Human Rights Council's treatment of Israel, said Israel should do what it did in 2009: publish accounts from the conflict that show its side of the story without directly cooperating with the investigation.
"If the U.N. decides to have a one-sided inquiry, they will write a one-sided report," Neuer said. "I'm confident Israel will make sure that the commission will have no excuse to say they didn't have the information."
Shlomy Zachary, an Israeli human rights lawyer, noted that Israeli cooperation with previous U.N. investigations has helped mitigate criticism of Israel — for example, in a 2010 U.N. investigation of the so-called flotilla incident.
That probe, known as the Palmer Commission, was charged with investigating the storming of a Turkish boat aimed at breaking Israel's naval blockade of Gaza. The report ultimately condemned the raid, but it also criticized the conduct of protesters on board the ship and determined that the Gaza blockade was legal.
"When Israel cooperated with international bodies, the results were in favor of Israel," Zachary told JTA.
Neuer agreed that the 2010 probe was a good model for U.N. investigations, but he noted that it was supervised by the U.N. secretary-general, not the Human Rights Council. Neuer said that given the commission's record of bias, Israel's options are more limited.
Ultimately, the conclusions of the latest investigation will not be legally binding on Israel. But if its conclusions are harsh, it could further ratchet up international criticism. Cohen said that could put added pressure on Israel to exercise restraint should another round of conflict take place.
"The point in these commissions isn't just to research the past, it's to tell the future," Cohen said. "The main problem is that a commission will say from now on, this or that should be prohibited. This is very problematic for Israel. That will make it harder next time."