By DORIS RUBENSTEIN
The accordion may be the Rodney Dangerfield of the musical instrument world – it gets no respect – but Mark Stillman certainly doesn't agree with that impression. Stillman has made a successful career out of accordion performance, and he has proof of its enduring popularity.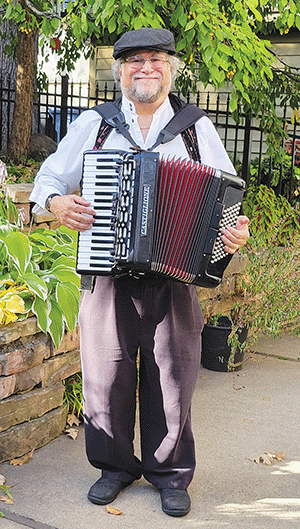 Born in Minneapolis, bred and educated in St. Louis Park, Stillman has music in his DNA. Father Sidney Stillman owned a used furniture store but was a "crooner" at heart. Mother Ruth Flatt Stillman came from a family with strong connections to the world of classical music.
Did Mark play accordion at his Bar Mitzva party at the old B'nai Abraham Synagogue? Probably not. His precollege years were taken up with piano and drums.
Stillman was a liberal arts student at the University of Minnesota, but he played and took classes in percussion there, too. Student performance groups had the opportunity of being workshopped with numerous famous conductors who were in town to perform. He credits Robert Shaw, Dave Brubeck and Charles Henry Smith with helping him to develop "real musicianship" that could be applied to any instrument.
Even before Stillman started focusing his artistic efforts on the accordion, in the 1970s he earned himself steady employment as a gig player for pit orchestras at the Children's Theatre Company, the Guthrie Theater and other local venues. Most notably, Stillman was the percussionist in a combo, The Consort, with guitarist Michel Ravaz and vocalist Andrea Sander, performing regularly at a local club, the Upper Duff.
The Consort gained the attention of numerous luminaries who came to town to perform at the Guthrie or with the Minneapolis Symphony. It was at the Upper Duff, in 1976, that legendary singer/actor Harry Belafonte developed a taste for the Stillman crew; they all became regular lunch companions at the Lincoln Del during Belafonte's sojourn in the Twin Cities.
It wasn't until he was exposed to Eastern European folk dancing and music during his academic career at the U (with Alan Kagan as his musical mentor there) that he found his calling with the accordion. A friend suggested he start playing, and Stillman admitted, "I was addicted."
Once committed to a career as a professional accordionist, Stillman took to educating himself on the instrument.
"My teachers were recordings of players from around the world," Stillman said.
His outgoing personality and reputation as a musician quickly brought him regular work. "The accordion is like a one-man ensemble," he said. "It has a great, complete sound."
In the 1980s, he performed in cabarets at all of the Twin Cities Radisson Hotels. When the Jewish actor and singer Theodore Bickel was performing in the Guthrie's production of Kurt Weill's The Threepenny Opera in 1983, Stillman's wife, Mary Ann Slavin, suggested that her husband give Bikel a recording of his accordion music and invite him to the St. Paul Radisson. Bikel accepted the invitation and thus began a 40-year friendship.
Stillman and his musical associates Jim Price, Tim O'Keefe and Francine Roche had a 12-year run performing at the Loring Café in Minneapolis. He laughed recalling, "We did a cabaret show that turned into a Jewish wedding!" Bikel even joined Stillman's group there following his curtain calls in a touring company production of Fiddler on the Roof.
The 1990s saw Stillman as part of a group calling itself Klezmer and All That Jazz. When renowned jazz trumpeter and band leader "Doc" Severinsen was conducting the Minnesota Orchestra, he invited Stillman's group to be the featured guest performers for a suite for klezmer band and orchestra, "B'Sha-ah Tovah," by Shelly Hanson. The group went on a limited tour with Severinsen performing the suite. Stillman also played accordion for Severinsen and the Minnesota Orchestra as part of their Christmas program for several years.
Stillman's most exciting memory is performing at a cast party for the Cirque du Soleil acrobats held at Theatre de la Jeune Lune in the 1990s. "It was magical," he said. "The acrobats and performers just got into the music and ad libbed some amazing stunts."
Throughout all this, Stillman's bread and butter has been playing at Oktoberfest celebrations in the region and at various holiday celebrations relating to all nations that have the accordion as part of their musical tradition. While Stillman has largely depended on word of mouth to promote his performances, he always remembers Doc Severinsen's advice to "go out there and sell it!" He had a few holes in his schedule due to COVID-19 pandemic restrictions, but he kept himself in shape by giving lessons.
Many readers of the AJW gained their often negative impressions of the accordion by watching Myron Floren perform polkas on the television in the 1950s and '60s. According to Stillman, today's youth don't have those same associations with the instrument. He says, "This is not Lawrence Welk's accordion!"
(American Jewish World, Nov. 2021)