As part of a U.S. tour promoting his new album, Passion World, jazz singer Kurt Elling returns to the Dakota
By MORDECAI SPECKTOR
Trying to set up an interview with acclaimed jazz singer Kurt Elling is tricky.
An early-June proposed interview date didn't happen, as Elling had shows in Scotland, and then flew directly to Australia, where he performed with the Melbourne Symphony Orchestra.
Earlier this year, Elling, a Chicago native, played dates across the United States — from San Francisco to Des Moines — and all around Europe.
"I keep busy, probably a little bit too busy," he commented during a phone interview last week, from his home in New York City.
Kurt Elling plays
the Dakota June 22
But his fans obviously want to see him perform — there's the popular demand.
"That's the idea," he replied. "I can't get people to just send me checks; I have to actually show up and sing."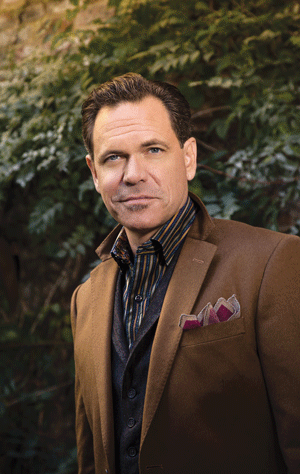 The Kurt Elling Quintet will show up Monday, June 22 at the Dakota Jazz Club in Minneapolis, for two shows, 7 and 9 p.m.
This week he performed for four nights — eight shows — at Birdland, in Manhattan, promoting the release his month of a new album, Passion World (Concord), a musical trip around the world.
Elling sings in English, Spanish, French, Polish and Portuguese. He penned lyrics for several songs on the album; and added a lyric to Édith Piaf's signature song, "La vie en rose." The album also features covers of songs by U2 ("Where the Streets Have No Name") and Icelandic superstar Björk ("Who Is It").
"I'm very happy that it's out. It's been quite a while coming," Elling said, regarding the release of Passion World.
The origin of the album goes to the songs Elling performs on his tours around the globe.
He dubs some of the tracks on the new album "charmers," songs that "extend a hand of friendship… from the different regions where I'm performing. And to show people that I know what day of the week it is, when I'm in France or Germany." Some of the numbers are performed as encores at Elling's concerts.
Among the special guests on Passion World is French virtuoso accordionist Richard Galliano. Elling said that the repertoire in shows with Galliano sparked the concept for the new album.
He mentioned another impetus for the project was performing with the Scottish National Jazz Orchestra (heard on the "Loch Tay Boat Song") and the WDR (Westdeutscher Rundfunk) Orchestra and Big Band (featured on "La vie en rose"), "and folks like that out in the world, alongside my own small group; then it seemed like that wanted to become something more and now it has. I'm really happy with it."
Among the gems on Passion World is "After the Door," with music by guitarist Pat Metheny and lyrics by Elling, who sings, "The songs I already know, lovely as they are, should grow into something more / There's a world of love and music, after the door."
Gary Versace, who will play piano in Elling's group at the Dakota, contributes a number of scintillating solos on Passion World. He has a gift for unspooling compelling mini-dramas on the ivories.
In addition to Elling and Versace, the group hitting on the Dakota stage will include John McLean, guitar; Clark Sommers, bass; and Christian Euman, drums.
Getting back to Passion World, another notable musician guesting on the CD is Arturo Sandoval, the renowned Latin jazz trumpeter. The song "Bonita Cuba," with Sandoval's plaintive melody and lyrics by Elling and Phil Galdston, evokes the pain of dispossession from one's homeland. Sandoval also provides a bluesy solo that enriches the melancholy number.
Although Elling is not Jewish — usually an integral story angle in this newspaper — he certainly has an affinity for the Jewish tunesmiths who have had an outsize influence in American popular music.
The AJW talked to Elling about three years ago, after the release of his album titled 1619 Broadway: The Brill Building Project, an homage to the songwriters who toiled in the fabled Manhattan hit factory. As mentioned in that story, Jews had a hand in writing nine of the 11 songs on the album (10-12-12 AJW).
For 1619 Broadway, Elling selected songs written by Jerry Leiber and Mike Stoller, Barry Mann and Cynthia Weil, Burt Bachrach and Hal David, Sammy Cahn and James Van Heusen, Gerry Goffin and Carole King, Paul Simon, et al.
The album also was the Chicago native's tribute to New York, his adopted home.
And it should be mentioned that Elling attended Gustavus Adolphus College, in St. Peter, Minn., so the June 22 Dakota gig will be sort of a homecoming.
"It's always nice to come back to Minnesota. I have a lot of friends from Gustavus come out. It's a real pleasure to be a professional singer and come and reconnect with friends from one of the happier parts of my youth."
***
Kurt Elling and his band will play two shows, 7 and 9 p.m. Monday, June 22 at the Dakota Jazz Club and Restaurant, 1010 Nicollet Ave., Minneapolis. For tickets, call 612-332-1010, or go to: dakotacooks.com.
(American Jewish World, 6.19.15)