Baseballs, Basketballs and Matzah Balls,
by Mitchell Smith, Ph.D., AuthorHouse, 276 pages, $22.95
Reviewed by RABBI NORMAN M. COHEN
If you have ever had the discussion about attending religious school or going to the big game scheduled at the same time as Bar Mitzva rehearsal, then you know what conflict can emerge from the American Jewish way of life that includes our love of sports and our Jewish identity.
If you like sports and you like Judaism, you will find much to enjoy in Baseballs, Basketballs and Matzah Balls by Mitchell Smith, Ph.D. Some of you will be predisposed to admiring his work:
• Those who know him and his family. Mitchell grew up in St. Paul's Highland Park neighborhood.
• Those of you who are rabbis and like to see other rabbis do things in addition to pulpit work. Mitchell is an ordained Reconstructionist rabbi who is the director of Sport Psychology Services at Florida Atlantic University and the founder of the Center for Sport and Jewish Life, an organization that aims to promote Jewish identity, Jewish learning and Jewish values through sports.
• Those of you who are sports fans.
• Those of you who like seeing the connection between Judaism and sports.
I have the distinct advantage of falling into all of those categories. But even if I did not, I would enjoy this book immensely for its keen insight and observations about the connections between the wisdom of the Jewish tradition and some of the ideal lessons found in the many different popular sports of our day.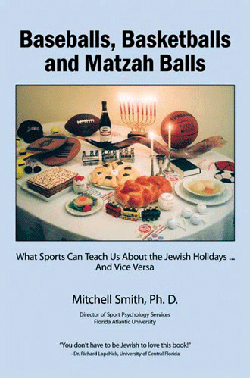 Smith's artistry is in weaving into his recounting of contemporary sports figures, events and moments, many well-known and arcane stories from Judaism's treasury.
This is not one of those books that merely make you feel good to know that Sandy Koufax refused to pitch on Yom Kippur right here in Minnesota. Yes, it refers to many Jewish athletes who have brought pride and enthusiasm to those who love "bragging rights." But more importantly, it is based on Rabbi Smith's deep and sophisticated knowledge of the great Jewish sources — the Bible, Talmud, commentaries, etc. — and his ability to convey the ageless wisdom to contemporary life.
The book is formatted like a Jewish calendar, beginning with the High Holidays, using his sermons, articles and original writings for this book in a way that captures the essence of the holiday's theme. His experiences of attending the Maccabiah games in Israel and his personal interviews with many stars of the American sports world all blend to create a very readable book.
Smith's sense of humor is an essential ingredient, yet it is his deep knowledge of Judaism and his ability to cast it in such an accessible form that makes this book a great one to share with others. I think it could serve as a fascinating text for an adult education class in the synagogue.
Although the book is occasionally confusing because of the wide variety of boxes, cartoons, different kinds of print, and sometimes the chapter suggests a few different endings, it is well worth the time to add to your knowledge of sports and Judaism.
The book's photographs would have been more effective in color. There is even a picture of Smith and his family hitting golf balls as their version of Tashlich!
Smith uses Jewish texts from as far back as the Bible to contemporary voices such as Mordechai Kaplan and Abraham Joshua Heschel.
Most chapters begin with an assortment of quotations from Jewish traditional texts and modern media. Smith's cleverness extends to the minute details — he follows a quotation of Bill Bradley with one from General Omar Bradley.
If you are not a sports fan, you may become one after reading Smith's book. Whether you are Jewish or not, you will learn a great deal about the values and insights that are so readily available to those who have limited background in Judaism or sports. If your interest in both is already quite developed, there is still much to enhance your love and pique your interest.
Your perspective will be widened and you will look forward to the author's next publication. And you will want to visit the Web site of the Center for Sport and Jewish Life or at least the Web site that gives you more information about his book and how he lives in these two worlds of sports and Jewish knowledge: www.JewishSport.org.
***
Rabbi Norman M. Cohen is the spiritual leader of Bet Shalom Congregation in Minnetonka.