Sky Tinged Red, by Isaia Eiger, translated by Dora Eiger Zaidenweber, Beaver's Pond Press, 415 pages, $19.95
Reviewed by NEAL GENDLER
As gentile witnesses stood in their doorways laughing, Isaia Eiger and 100 more Jewish men were arrested in Radom, Poland, on April 28, 1942, to be sent into the horror of Auschwitz. At war's end, only three of those men were alive.
Eiger soon was raggedly clad at Auschwitz II, Birkenau, a killing factory where men not gassed were beaten daily, many to death, for any reason or none beyond the whim of their tormenters. Jews with authority could be equally savage in what Eiger's newly published memoir calls "a hell where humans turn into beasts."
He says, "The sad but inescapable conclusion I came to was that surviving the kind of hardships we were subjected to here was predicated not on youth, fitness, physical or spiritual strength but…solely on luck and chance."
I've heard the same from his daughter, Dora Eiger Zaidenweber, who arrived at Auschwitz in August 1944 with her mother, Hanna Rose. Brother David and husband Jules were on the train but were sent elsewhere.
Dora has translated her father's Yiddish narrative beautifully, his typewritten portion — to autumn 1942 — 30 years ago. The rest, handwritten, wasn't found until 2007; by then, her vision was severely impaired. She worked eight hours a day for 10 months.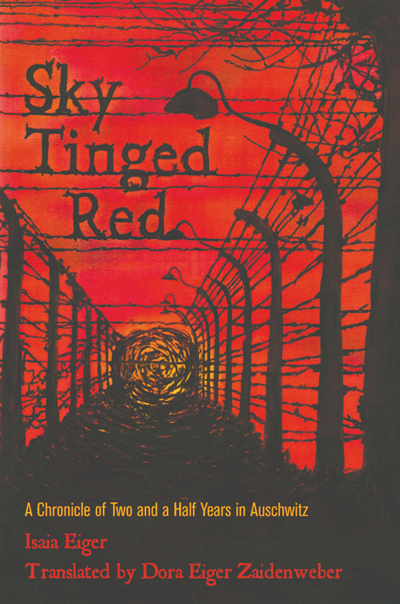 In her introduction, Dora — with whom I've long been friendly — says Eiger wrote the narrative in 1945-46 "with the experiences of the camp still fresh in his mind." Sky Tinged Red is a family project that deserves distribution by a national publisher. It's a careful account by an articulate, observant participant who'd been a successful accountant, community leader and speaker of six languages.
"Every detail is clear in my mind," Eiger writes. "I strained my memory in order not to forget any important event, but try as I may, I could not possibly relate all the suffering of so many."
Suffering and cruelty as purpose may explain the astonishing dysfunction of Birkenau, which impeded its killing of Jews by retaining some for work, yet reducing their productivity through starvation and abuse. What else but sadism explains Nazi guards' laughter at beating Jews "mercilessly" while forcing them into filthy cattle cars?
"Our deepest torment was an amusement to them, our suffering their pleasure," Eiger says.
Eiger describes how hundreds in his barrack were beaten to death or strangled in the first month. Worn from physical labor and blows while enlarging Birkenau under the oft-applied clubs of SS and kapos, he concludes: "None of us will survive here."
But Eiger and others fought death — stealing food, seeking easier work and plotting to destroy the camp with explosives women smuggled from arms-plant work. (Eventually, two prisoners prematurely blew up a crematorium.) Several times he expected to be killed, and one especially horrible day, "one dejected thought went through my mind repeatedly: the sooner to die the better."
His languages helped him survive, becoming a Schreiber — a registrar of arrivals not immediately gassed. The Schreiber "commando" got better food, clothing and quarters.
Registration could be exhausting, especially in spring and summer 1944, when more than half of Hungary's 825,000 Jews arrived and "the killing proceeded with speed and efficiency to turn living innocent people into ash." The book's title comes from his poem about the sky red with crematoria flames.
As the Soviet Army approached, Jews were sent west. Traveling to Sachsenhausen-Oranienburg in Germany, Eiger was delighted to see much of Berlin was rubble. Later, Ohrdruf was even worse than Birkenau; in cold mud, shoeless men were worked and beaten to death by SS and Ukrainian guards. In one heavy-labor unit, only half those sent out in the morning returned in the evening.
Eiger's ordeal ended at Terezin on May 9, 1945, and he was reunited with Hanna and Dora, then with David and Jules. Hanna, who never fully recovered, died in 1948. The others immigrated to America, with David, Dora and Jules becoming successful professionals.
Eiger's Shoah memoir, available on Amazon, is an elegant, fascinating account of courage and perseverance, written at professional quality. Enhanced by an index of individuals' experiences, camp-layout drawings and family photos, Sky Tinged Red is uncommonly worth reading.
***
Neal Gendler is a Minneapolis writer and editor.
For information on the book, visit: www.skytingedred.com.
(American Jewish World, 6.7.13)