Upbeat local author and chef Margie Zats offers stories, recipes in new book
By ERIN ELLIOTT BRYAN /Â Community News Editor
Margie Zats, of St. Louis Park, has always loved to cook.
"I was the only kid in seventh grade who enjoyed home ec[onomics]," she told the AJW in an interview last week. "As a child, I would sit in my sandbox with my little metal cake and pie forms, and I'd use the wet sand to make brown sugar pastries, putting them on display for my reluctant parents."
Zats is a Paris-trained pastry chef who created diabetic and calorie-controlled meals for patients at Mount Sinai Hospital and taught French cooking at Byerly's in St. Louis Park. She also spent 11 years at the helm of Margie's Marvelous Munchies, a custom gift basket company.
Margie Zats
But following that experience, Zats wanted a new challenge — something that wasn't as physically taxing as cooking and catering.
"My feet were hurting and I wanted to do something sitting down," Zats said. "I'd had enough of the kitchen. I wanted to see the rest of the house."
Zats, the daughter and sister of publishers and the aunt of a freelance writer, majored in journalism in college. So she decided to put pen to paper.
"I felt I had something to say," she said. "I felt, at this point in my life, I've acquired some insight. I really wanted to lighten people's hearts."
Zats' first book was The Elegant Touch, a cookbook for diabetics that included vignettes about food and food experiences, which she published in 2004. She followed that up with Great Recipes from Someone Who Loves to Eat, Garnished with Humor (Nodin Press) in 2006 and Stories from Someone Older than Television (Beaver's Pond Press) in 2009.
Her latest book is A Platter of Chatter: Charming Stories and Terrific Recipes (Amber Skye Publishing), a delightful collection of stories, recipes and illustrations that capture Zats' optimistic attitude about life and life experiences — both the "totally joyful" and those "tinged with reality."
Zats will sign copies of A Platter of Chatter, now in its second printing, on April 8 at Byerly's in St. Louis Park; April 15 and 16 at Fresh Seasons Market in Minnetonka; and May 3 at the Bookcase in Wayzata.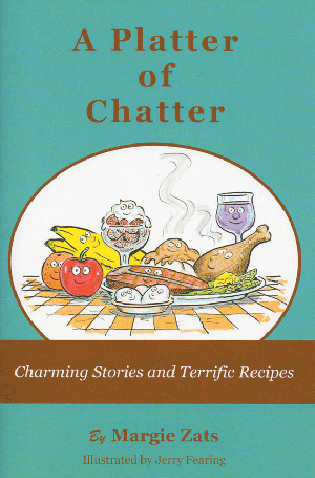 "As long as you can get out of bed in the morning and know who you are, you have no excuse not to keep trying to stretch and demanding more of yourself," Zats said. "I also feel, as I was writing this book, that I'm too old to be one-dimensional. It's wonderful to be amusing; however, I have learned hard lessons."
According to Zats, who writes her stories in longhand while sitting on her prized red velvet chaise longue, she takes the "essence of truth" and makes it into a good story. She said it's the reader's job to "figure out where truth ends and fiction begins."
Her writing stemmed from a need to leave something behind for her three sons and five grandchildren.
"I wanted to have a memory bank for my kids," she said. "I didn't want to leave them a filing cabinet. I wanted to give them something to remember me by."
The recipes included in this volume, which are pulled from the stories, are unique to Zats — something that was very important to her, both as a former cooking instructor and as a mother and grandmother who wanted to share her legacy.
"If I just take a recipe out of a cookbook, what did the students need me for?" Zats said. "I took classics and did my rendition."
A Platter of Chatter is illustrated by Zats' friend, Jerry Fearing, who also illustrated Stories from Someone Older than Television. Fearing spent 26 years as a political cartoonist at the Pioneer Press and his satirical Rooftop O'Toole cartoons appeared in 110 American dailies.
Zats said Fearing did a great job capturing the "mischief" she intended with her stories.
"As I'm getting older, I can tell you a sense of humor is the best weapon you can have going for you," she said. "You can laugh at yourself and at how ludicrous life can sometimes be."
Though she is considered retired, Zats still cooks for family and friends and, she says, "no one gets out of here without a doggie bag." But, she admits, "writing gives me gratification."
"Life is short. It's thrown out as a phrase, but it's a truism," she said. "Now I'm more passionate to make a contribution. We have to let the world know we were in it and contribute an inch for all the space we took up."
***
Margie Zats will sign copies of A Platter of Chatter: Charming Stories and Terrific Recipes 1 p.m. Friday, April 8 at Byerly's, 3777 Park Center Blvd., St. Louis Park; 3 p.m. Friday, April 15 and 11 a.m. Saturday, April 16 at Fresh Seasons Market, 14400 Excelsior Blvd., Minnetonka; and 7 p.m. Tuesday, May 3 at the Bookcase, 607 E. Lake St., Wayzata.
Zats will demonstrate recipes from the book at Byerly's and Fresh Seasons Market.
* * *
A Zats recipe
The following recipe is from A Platter of Chatter by Margie Zats:
Teatime Apple Butter Cookies
1/2 C. sugar
1 C. butter
2 C. apple butter
2 tsp. baking soda
2 tsp. baking powder
4 C. flour
1 tsp. salt
1 C. buttermilk
1 tsp. vanilla
1 C. each raisins and chopped pecans
Cream sugar and butter. Mix in apple butter. Sift dry ingredients together. Add dry ingredients alternately with milk and vanilla to butter mixture. Stir in nuts and raisins. Bake on greased cookie sheet at 350 degrees for 12 minutes.
Yield: 4 dozen
(American Jewish World, 4.1.11)