HBO film about New York's garment district premieres Oct. 19
By CURT SCHLEIER
Schmatta: Rags to Riches to Rags Again is more than an exercise in nostalgia — though there's plenty of that. It is a cautionary tale, a sort of parakeet in the mineshaft, about what the future holds for America. And like many warnings of late (about terrorist threats, about hurricanes in New Orleans), it's been, and continues to be, ignored.
Filmmaker Marc Levin (Protocols of Zion) takes us on a journey from the early sweatshop days of the garment industry in New York to the start of the International Ladies Garment Workers Union (remember the union's commercial in song, "Look for the Union Label"?), and through the industry's glory days.
Part of the joy of the film — especially for people of a certain age — is to see old and now sadly forgotten faces, like that of ILGWU (International Ladies Garment Workers Union) president Dave Dubinsky, who had the power to get politicians to do his bidding.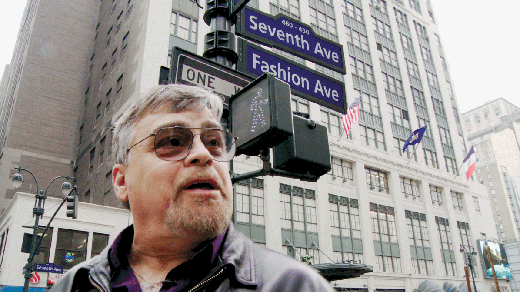 New York was the port of entry for immigrants then, and there were always jobs in the garment center, which ran from about Herald Square to Times Square along Seventh Avenue. It was a step up to the middle class. And while it didn't make any of the workers rich, it provided a stable income and allowed their children to become doctors, lawyers — and even a writer for a Jewish paper.
When my parents came here, my father went to work as a cutter, a job he held for more than three decades, until his plant moved to a nonunion facility in the South.
That's all gone now. Joe Raico, a cutter, and union local executive, says what went on in the garment business "is a microcosm of everything going on in this country. We don't produce anything anymore. We're giving it all away. Everything is made in China."
There's plenty of blame to go around. Ronald Reagan firing the air traffic controllers created a union-busting mindset. Clinton's NAFTA didn't help. Large corporations taking over family-run businesses and making unrealistic profit demands forced more production overseas.
The statistics are mind-blowing. In 1965, 95 percent of the clothing Americans wore was made in this country. In 1975, it went down to 80 percent. It was just 70 percent in 1985; 50 percent in 1995; and currently only 5 percent of our clothing is manufactured in this country.
One of the benefits of globalization is lower cost. But cheaper goods come at a price. This is not a New York story. This is a must-see for what's happening to our middle class.
***
Schmatta: From Rags to Riches to Rags airs 8 p.m. Monday, Oct. 19 on HBO (check local listings).
(American Jewish World, 10.16.09)