Andrea Alban pens young adult novel about the European Jews who fled to Shanghai during World War II; she will speak at Sabes JCC on March 7
By ERIN ELLIOTT BRYAN / Community News Editor
San Francisco writer Andrea Alban referred to her father, Yan Abramovitch, as a "great storyteller." And she grew up hearing fascinating stories about his childhood in the French Quarter of Shanghai, China, where he was born after his family fled the pogroms of Odessa, Ukraine, in 1927.
"Specifically, my grandfather, Issai Abramovitch, was threatened with execution for not joining the Communist Party," Alban told the AJW in a recent phone interview. "They fled Stalin's secret police and that threat."
Alban began researching this little-known chapter of Holocaust history — and her father's story of finding an abandoned Chinese baby in a gutter — in her early 20s, knowing that she wanted to write about her family's experiences. Years later, when her son Jake was in high school, Alban went back to school to finish her degree in creative writing as well as her novel.
Alban has written Anya's War (Feiwel and Friends), a young-adult novel based on her family's experience in China, which she recommends for ages 12 and older. Alban will read "compelling short excerpts" from the book on Monday, March 7 at the Sabes JCC, where she will also present a slide show of family photos and serve Russian piroshki and Chinese dumplings with chopsticks. A question-and-answer session about the Shanghai Jews will follow.
"The reason that I was lucky enough to get to do this in Minnesota is because my second cousin is having her Bat Mitzva," Alban said. "I put the two together for a trip."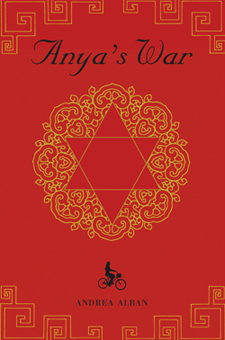 Alban's mother, Donna Waterman, is a native of Albert Lea and her side of the family lives in the Minneapolis area. Among other relatives, Alban's aunt is Gail Mirviss; her great-aunt is Maxine Robbins.
Anya's War takes place over one Shabbat in 1937 — the eve of World War II — and is narrated by 14-year-old Anya Rosen, a character based on her father's sister, Lily. At first, Anya's life in Shanghai is privileged and relatively carefree: she has crushes on boys, fights with her mother and follows the headlines about her hero, Amelia Earhart. Then Anya finds an abandoned newborn and Amelia Earhart goes missing, and Anya learns that no place is safe.
"This is, to my knowledge, the first teen novel about the time period," Alban said. "I wanted to frame this rich story that told of a life that most of our children, in our country, don't know about. They don't know what it's like to be in a war zone or in a foreign land where they're newcomers. I wanted to show the juxtaposition between the sacred day of rest and this exotic setting, full of terror but also strong family bonds."
Alban originally began writing the story as an adult novel with Anya's brother, Georgi (based on her father), as the narrator and exploring his relationship with his mother, a Ukrainian opera singer.
"As I was writing it, however, the voice of Anya, the older sister, just opened up for me and she, as a character, took me in new directions," Alban said.
Alban is also the author of inspirational parenting books and children's picture books. When she told her editor about Anya's War, she was encouraged to write it as a young adult novel.
"[My editor] convinced me that it would be a great thing for me to do so that it could possibly be included in school curriculums, and be another perspective of Holocaust history education," Alban said.
Andrea Alban
According to Alban, more than 20,000 Eastern European Jews were allowed into Shanghai without visas to escape Nazi persecution during World War II. In her author's note, Alban writes that at war's end, the Shanghai Jews packed up their lives, "leaving no marker of the places they'd live in, no trace of who they were."
Alban's father sailed for the United States at the age of 17, and studied at UCLA and Stanford Medical School. He did his pediatric internship at the University of Minnesota, where he met Alban's mother, and completed his residency at Johns Hopkins in Baltimore, where Alban was born.
He changed his name to Alban when he became a doctor.
For 48 years, Dr. Jan Alban was a pediatrician in San Francisco — inspired to help children by his experience finding the abandoned baby in Shanghai — and was the only Jewish physician in the city who spoke fluent Mandarin, Russian, French and English.
"Most people who study the Holocaust or have heard the stories know about the Eastern European Jews and what happened in the concentration camps. This is another perspective across the world," Alban said. "And Anya's story is very much a story of girl courage. As she's dealing with finding her place in the world in general and in Shanghai, this new location for her, she's dealing with all the same things that happen to young people… And despite societal pressures and religious persecution, she was able to make a stand for what she wanted to do with her life."
***
Author Andrea Alban will speak 6:30 p.m. Monday, March 7 at the Sabes JCC, 4330 Cedar Lake Rd. S., St. Louis Park. The cost is $8 per family for the general public or $5 per family for JCC members. For tickets and information, call 952-381-3499 or e-mail: tickets@sabesjcc.org.
(American Jewish World, 2.18.11)