Reviewed by NEAL GENDLER
Simon Sebag Montefiore's Jerusalem: The Biography is monumental, not only for size but for thoroughness, which is both its strength and its problem.
Named the Everett Family Foundation Jewish Book of the Year, the massively researched Jerusalem tells us some of everything we might have wanted to know about the history of this city so elevated in Western thought — plus much that we probably didn't.
It starts in 1458 B.C.E. and ends with the city's last conquest, in 1967. Going beyond, Montefiore says in his preface, would require updates "almost hourly." But he covers much since 1967 in an excellent 21-page epilogue.
Book jacket quotes from high-powered news outlets use terms such as "magnificent," "triumphantly epic," "magisterial" and "dazzling," all of them true. But what is it like for most of us ordinary folks to read it? I agree with "fluent" and "compelling," but it's not "impossible to put down."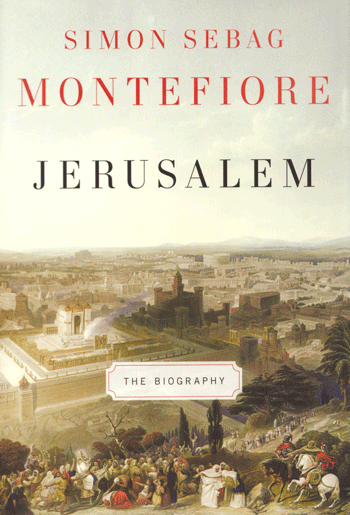 The main problem is a surfeit of completeness. By nature something of a history of the ancient Middle East, Jerusalem provides a prolonged, gory recitation of kings, queens, mistresses, lovers, intrigues, empires, conquerors, battles, slaughters, murders and tyrants gaining or retaining power by killing their parents, siblings, spouses and even children. Chapter after chapter of this is laudably thorough. The effect is numbing.
And we're totally disabused of any romanticized image of the Crusades as just and noble. They were floods of blood.
Montefiore says his aim was for a Jerusalem history "in its broadest sense for general readers." He succeeds in clarity and uncomplicated sentences, but how many of us know circumvallation, cyclothymic, soi-disant, cataphracts, thaumaturge, coenobite, terpsichorean and seneschal? "Louche," used often, is of French origin for "not reputable or decent."
His riveting prologue describes the fall of the Second Temple, but much of the book is, of necessity, something of an overview — covering 3,500 years in 544 pages of narrative. Some periods, including the First Temple and Herod the builder, get extra attention. The Six Day War, which intensified the confounding dilemma of conflicting claims, gets just two and a half pages. The book includes maps, photos and rulers' family trees.
The burden of length is reduced a bit by organization into nine themes and 53 chapters, which are further divided with subheads, providing easily digested short units. Still, I found it hard to keep straight the less significant portions of this saga until I got to the more recent and familiar territory of the Ottomans.
Many Jews won't like Montefiore's slightly pompous preface, which says Jerusalem"belongs to no one and exists for everyone in their imagination." But then, that's much of the problem: Those who treasure the city feel entitled to possession.
Some writing problems include redundancy — "Christian evangelists and Jewish rabbis," "Jewish synagogues" — and word choice. The first section, "Judaism," uses "Jesus Christ" when "Jesus" alone would suffice, neither bestowing nor denying messianic certitude. The author once inaccurately says "Jewish Old Testament"; in fact, the Hebrew Bible is the Christians' Old Testament, Jews having only one book. The wonderfully concise, balanced and insightful epilogue inaccurately calls the 1949 armistice lines "1967 borders."
I was surprised to learn of a non-aggression pact between the pre-independence Zionists and Jordan's King Abdullah, allowing him to occupy the so-called West Bank — areas allotted for a Palestinian Arab state — in return for not opposing the United Nations' borders for Israel. And we get a previously unpublished story of a (futile) dig on the Temple Mount for "Solomon's treasures."
Internet sources say Simon is a great-great-nephew of Sir Moses Montefiore, the 19th century British philanthropist who created the first Jewish neighborhood — and its landmark windmill — outside the Old City. Sir Moses and his wife had no children.
So is this big book worth reading? Absolutely, even if its length intimidates you. (I don't recommend it, but you could skim or skip parts that least interest you, perhaps coming back to them.)
Jerusalem is a first-rate, dispassionate history that puts the lie to many myths being disseminated widely to distort or deny claims to possession.
***
Neal Gendler is a Minneapolis writer and editor.
(American Jewish World, 2.17.12)