After many years of planning and research, Judith Brin Ingber has completed a masterful book on Israeli and Jewish dance
By MORDECAI SPECKTOR
Here are images of Jewish bodies in motion: Hasidic men dancing the "bottle dance"; kibbutzniks in the 1940s dancing in a celebration of Chag Ha'Bikkurim (Festival of the First Fruits); Kurdish elders in a line dance at the Dalia Festival in Israel more than 50 years ago; the elegant Pearl Lang, arms outstretched and a leg raised high, in her solo Song of Deborah, about the first biblical woman judge; and Minneapolis resident Stuart Pimsler in a prayerful pose, towel draped over his head like a tallis, from his postmodern Schvitz (Sweat), a nostalgic piece about Jewish steam baths.
These photos and dozens of others illustrate Seeing Israeli and Jewish Dance (Wayne State University Press), a beautiful, large-format art book, comprised of erudite articles, edited by Judith Brin Ingber. The Minneapolis native is a renowned dancer, choreographer and educator who knows and has worked with virtually everybody who is anybody in the wide world of Jewish and Israeli dance. She is perhaps best known locally as a co-founder, with David Harris, of Voices of Sepharad, the Sephardic music and dance troupe.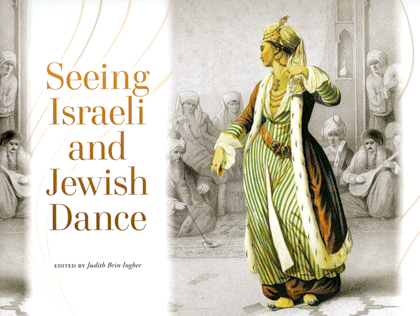 Seeing Israeli and Jewish Dance, with 182 illustrations and photographs, is a beautiful, dazzling, encyclopedic work about Israeli folk dance and Jewish dance in the Diaspora that quite simply deserves a place in any Judaica library.
Brin Ingber recently stopped by the Jewish World offices to talk about the creation of her amazing book, her voyage into Israeli dance while living in Israel in the 1970s, and the sources of dance in the Jewish scriptures.
The book's origins go back to when Brin Ingber was teaching the history of dance at the University of Minnesota. Two young teaching assistants won grants to help her do research, which eventually was published in 2000, as a special "Jewish Dance" issue of the Jewish Folklore and Ethnology Review.
"Wayne State was really interested in reprinting that journal," Brin Ingber recalled, about the university press' offer in 2002. She suggested that "a more balanced treatment" would be needed for the subsequent edition.
Brin Ingber wrote the introduction to the book — it is titled "Coming into Focus," and each section of the volume is named with a visual or cinematic concept: "Montage," "Zoom in and Then Pan," "Jump Cut," etc.
Brin Ingber and her husband, Jerome Ingber, a lawyer, lived in Israel from 1972-1977. She started the first dance magazine in Israel, Israel Dance Annual, with Giora Manor, a native of Prague, who wrote an article about traditional Jewish wedding dance that appears in Seeing Israeli and Jewish Dance. The book is dedicated to Manor, Fred Berk (Brin Ingber wrote his 1985 biography, Victory Dances), and Claudia Vall Fein, who danced with Berk in the Viennese troupe led by Gertrud Kraus, prior to World War II.
In Israel, Brin Ingber also taught apprentices at the Bat Dor and Batsheva dance companies. Among the neophyte dancers was the current director of the renowned Batsheva Dance Company. "He's a very famous choreographer," she commented, about her former student, Ohad Naharin.
In Israel, Brin Ingber also worked for Sara Levi Tanai (1911-2005), "who created the first modern dance company in Israel, for the new state; and it's based on Yemenite Jewish culture. I was her assistant at the company and I taught ballet classes."
Levi Tanai's article about her impoverished origins in Israel, "From Street Urchin to International Acclaim," appears first in the book.
Amid her varied activities, Brin Ingber also found time to write an article, "Shorashim: The Roots of Israeli Folk Dance," which appeared in a 1974 edition of Dance Perspectives and is reprinted in her new book.
On the way to publishing Seeing Israeli and Jewish Dance, Brin Ingber met some younger historians, including Josh Perelman, who contributed the article about Sophie Maslow, a Popular Front choreographer in the 1940s who was trained by Martha Graham, and worked with Woody Guthrie and other left-wing artists.
Brin Ingber admits that she had a "hard time figuring out" a logical way to organize the book, in order to "make it more lively." She laid out 182 photos on her living room floor, and eventually came up with the visual concepts that define each section of Seeing Israeli and Jewish Dance.
The artwork on the book's cover is a detail from a 19th century painting, "Danse de la Fiancée: Noce Juif à  Smyrne (The Bride's Dance: Jewish Wedding in Smyrna)," by Camille Rogier. Brin Ingber learned that the painting was part of the local Gross Family Collection, and obtained permission to use the piece.
With this comprehensive book, our local dance luminary wanted people to see that "dance has always been a part of Judaism."
Brin Ingber said that the "biggest lesson" she learned while in Israel was that "dance could be part of a living tradition in Judaism and in the different kinds of communities we have," rather than just an "artist's fiction" made from personal biography and viewpoints.
"All of the important moments in Judaism are marked by our sense of celebration, which includes dance," she added. "It's a very Jewish time, at a wedding; it's a very Jewish time at the crossing of the Red Sea, when we become identified as a group, and Miriam became a prophet because of the victory dance she did with the women."
Through many generations, and in far-flung lands, Jews have danced.
"It shows that we're alive; it shows that we embody the joy of living," Brin Ingber explained. "We understand the sorrows, we understand the difficulties; but even Nazis trying to kill the Jewish body did not stop dancing in the camps…. Under duress, in celebration, we never stopped dancing."
***
Judith Brin Ingber will discuss and sign copies of Seeing Israeli and Jewish Dance at 7 p.m. Thursday, Sept. 15 at Birchbark Books, 2115  W. 21st St., Minneapolis (across from Kenwood School). The reading will be preceded by a prix fixe dinner at the adjacent Kenwood Cafe. For details, call Birchbark Books at 612-374-4023 or e-mail: info@birchbarkbooks.com.
(American Jewish World, 7.22.11)