Steve Katz has written an amusing memoir of his rock years, with the Blues Project and Blood, Sweat & Tears
By MORDECAI SPECKTOR
A theme running through many music biz memoirs is internecine rivalry. Put another way, band members occasionally come to hate each other's guts.
A case in point, as depicted in Steve Katz's entertaining new memoir, Blood, Sweat and My Rock 'n' Roll Years: Is Steve Katz a Rock Star? (Lyons Press), is David Clayton-Thomas, former vocalist for the highly successful rock band Blood, Sweat & Tears.
Twin Cities Jewish Book Series
presents Steve Katz on April 14
Katz was a founding member of BS&T. The original vocalist in the group was Al Kooper, who also played with Katz in The Blues Project.
(Katz writes: "The Blues Project was like a brotherhood — a micro-minyan of five dysfunctional lunatics, but a brotherhood nonetheless. It was a snake pit of neuroses and pent-up frustration, five barely adult musicians who had nothing more in common than their Jewishness and their love of the blues.")


So, Katz and the other BS&T members decided that the group was being held back by Kooper's vocals and sought to replace him. They found Clayton-Thomas, a Canadian who "had the perfect voice," writes Katz. "Of course, like most things in life, nothing is really perfect. Although David was a great singer, he never scored any points in the human being department…"
Katz devotes several pages to the singer's "madness" and abusive behavior. "I regret the day we hired him," Katz writes about Clayton-Thomas, "and every day after that when I didn't make a move to get rid of him."
Katz, who's now 70 and lives in northwest Connecticut, chalks up the BS&T situation to being "caught up in the madness of rock stardom and success." Katz also didn't get along too well with Kooper, although he ended up in two different bands with him.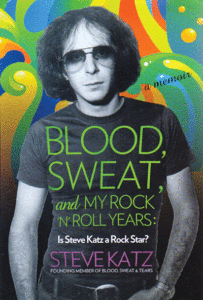 On April 14, Katz will discuss his career in music and his new memoir, and play some songs at the St. Paul JCC. The event is part of the Twin Cities Jewish Book Series, co-presented by St. Paul JCC and the Sabes JCC.
During a phone chat with the Jewish World, Katz ranged over a number of topics, including a bit about his early days in Greenwich Village.
He remembers a young singer-songwriter showing up at Dave Von Ronk's apartment, proudly clutching the cover of his new record. That would be Bob Dylan, from Hibbing, Minn.
In 1963, Katz joined his first ensemble, the Even Dozen Jug Band, which included such luminaries as Stefan Grossman, David Grisman and John Sebastian. Katz played washboard and sang.
"That was my roots, mainly folk blues," Katz recalls. "I met Stefan in Washington Square one Sunday, where all us folkies were hanging out. When I do my performance now, the first quarter of my show I go back to doing country blues. I do a Bessie Smith song ["Young Woman's Blues"] that I've been doing since those days."
Katz adds, "And it's a joy for me, at my age, to go back to my early days and be able to do this alone, without having a band meeting in the morning after a gig."
In New York, Katz was exposed to some of the great first-generation blues artists: Mississippi John Hurt, Son House and Skip James. He also took guitar lessons from the legendary Rev. Gary Davis.
"I only took about three lessons with Rev. Davis, and then I was also his driver for a while," he comments.
I also was fascinated to read in Katz's memoir about some of the great jazz musicians who were part of the Blood, Sweat & Tears lineup at different times. Katz has some amusing stories about a young and very stoned Randy Brecker, the trumpet ace. Also, the great tenor saxophonist Joe Henderson played with BS&T.
"He was in the band for a few months," says Katz, about Henderson. "I used to sit next to Joe… and say to myself, 'What am I doing here?' I learned how to finger pick, Travis pick, with Dave Von Ronk, and I'm sitting next to one of the great legends of all time."
In his memoir, Katz also mentions spending time with Richard Rodgers, of Rodgers and Hart, and Rodgers and Hammerstein fame. His first wife's mother-in-law was Rodgers' personal secretary. Rodgers, as Katz writes, "would sit in his office most days, mostly by his piano, with not very much to do. He welcomed my visits. The office was also where librettos were sent out all around the world."
Also in the celebrity vein, Katz writes about his very brief affair with Joni Mitchell.
Again, Blood, Sweat and My Rock 'n' Roll Years is a very entertaining read (it's better than Al Kooper's memoir, Backstage Passes and Backstabbing Bastards). And don't miss the Steve Katz show at the JCC.
***
Steve Katz will discuss his memoir and perform 7 p.m. Thursday, April 14 at the St. Paul JCC, 1375 St. Paul Ave. Tickets are $10.
The Twin Cities Jewish Book Series is presented by the St. Paul JCC in partnership with the Sabes JCC, and generous support from The Friends of the St. Paul Public Library and the George Kaplan Memorial Foundation.
(American Jewish World, 4.8.16)