By MORDECAI SPECKTOR
I wrote a story in the Jewish World's Feb. 29, 2008, edition about an Israeli film, The Band's Visit. I had interviewed the film's director, Eran Kolirin, when a cross-country publicity junket brought him to Minneapolis, ahead of the film's local theatrical screening.
As I wrote: "In the new Israeli film The Band's Visit, an Egyptian police band, resplendent in their powder blue uniforms, gets misdirected during a visit to Israel. Instead of catching a bus to Petach Tikva, they end up in Beit Hatikva, a desolate town in the Negev that time forgot."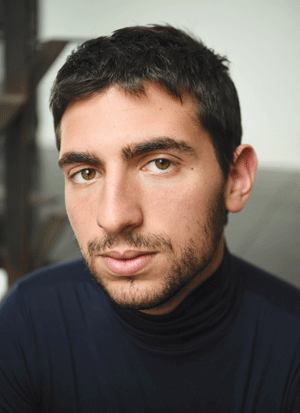 It didn't occur to me at the time that this wonderful 2007 film would be adapted as a musical. After an off-Broadway run, The Band's Visit — with music and lyrics by David Yazbek, and a book by Itamar Moses based on Kolirin's film — opened Nov. 2017 on Broadway. It won 10 Tony Awards, including Best Musical.
Tewfiq, the Egyptian band leader in the film, was played by renowned Israeli actor Sasson Gabai, who also is playing the role in the musical's first national tour, which comes to the Orpheum Theatre in Minneapolis, Dec. 10-15.
In a bit of unusual casting, Sasson's son, Adam Gabay, 21, also is in the cast of the touring show, playing the role of Papi, an Israeli who is a "shy guy who cannot speak with women," in the words of Adam, who recently talked on the phone with the Jewish World. He was in Cleveland at the time, on tour.
"Great! It's an amazing experience," Gabay responds to a question about how the tour's going. America is new to him, "no connection… it's like zero to 100, as they say in Hebrew." He praised the audiences in the States and remarked about the special pleasure of doing the show with his father. (As it happens, Sasson Gabay will be on vacation when the show plays Minneapolis.)
Gabay comments that the musical "is all about human beings and connections" — specifically, the social interactions between Egyptian musicians and Israelis in a sleepy desert town without cultural attractions.
The young actor recently finished his Israeli military duty, working in an IDF public relations unit. Then he was cast as Avishai, a troubled yeshiva student, in Our Boys, the HBO dramatic series about the shocking murder of a Palestinian teen by several Jewish Israelis. Gabay turns in a remarkable performance as the stuttering, anxiety-ridden Orthodox teen who aids and abets the brutal kidnap and murder crime.
Our Boys is based on actual events: the 2014 kidnapping and murder of three Jewish teenagers by Hamas members, which was followed by the kidnapping and murder of Mohammed Abu Khdeir, whose burned body was found in the Jerusalem forest.
Our Boys sparked controversy in Israel, over its focus on the murder of Abu Khdeir. Prime Minister Benjamin Netanyahu called it "anti-Semitic" and advocated a boycott of the Israeli TV network that aired the series.
For his part, Gabay says that he doesn't see Our Boys as anti-Semitic, and he's happy that "American audiences can see more and more Israeli creations." In this vein, he mentions Shtisel, a series about Orthodox Jews (including Sasson Gabay, a native of Iraq, playing an Ashkenazi rabbi) which has become a streaming hit; the spy thriller Fauda; and Euphoria, the gritty HBO teen drama that's based on an Israeli series of the same name.
Musing on his featured roles in Our Boys and The Band's Visit, Gabay remarks, "It's a unique time in my life."
The U.S. tour of The Band's Visit will hit 27 cities. Gabay is contracted to perfrom in the show through June 2020, and he can't say what comes next.
For Minneapolis theatergoers, Gabay recommends The Band's Visit: "It's one night to put politics aside and talk about life, love, dreams."
***
The national tour of The Band's Visit comes to the Orpheum Theatre in downtown Minneapolis, Dec. 10-15. For tickets and information, go to: orpheumtheatreminneapolis.